I've written about these posters before (although not on this site), but since Mondo will be selling the leftovers sometime tomorrow I figured this might be a good chance to highlight some of my favorite Olly Moss Rolling Roadshow prints from their remaining inventory. I was really lucky, in that I went to the screening of Jackie Brown in Los Angeles AND went to Fantastic Fest in Austin, so I had two chances to pick up pretty much whatever Roadshow prints I wanted - a chance that most folks didn't have. For that reason I'm really excited that, even though all nine posters aren't available this go-around, the people who didn't have a chance the first time (and didn't want to spend $150+ in the secondary market) are able to pick one or more of these beautiful Moss prints up.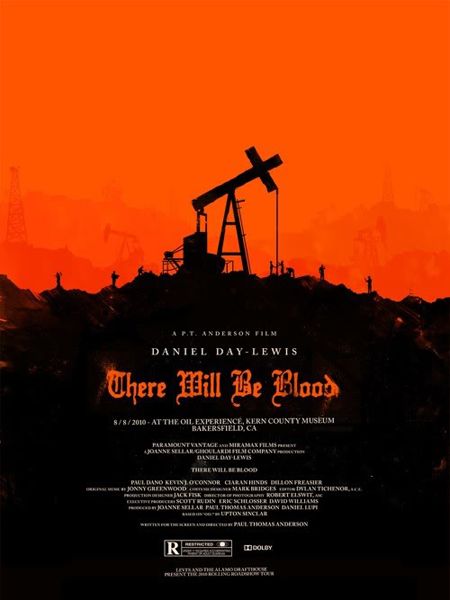 There Will Be Blood
Out of all the posters in the Rolling Roadshow series, this one was my favorite. I love how the different shades of orange and red create a sense of depth and really go a long way in creating a fully fleshed out landscape. The way he plays with color to create that third dimension reminds me of what he did with his
Stars Wars
posters
,
which I
wrote
about not too long ago, and
his gorgeous
Evil Dead
poster
. Olly is a very clever chap by combining the religious with the oil/business here. He takes these two symbols and pulls a Carrot Top-like move (minus the steroids and bright red hair) by combining them and creating a disturbing but ultimately very accurate representation of a central theme in film - using spirituality or religion as a tool to manipulate.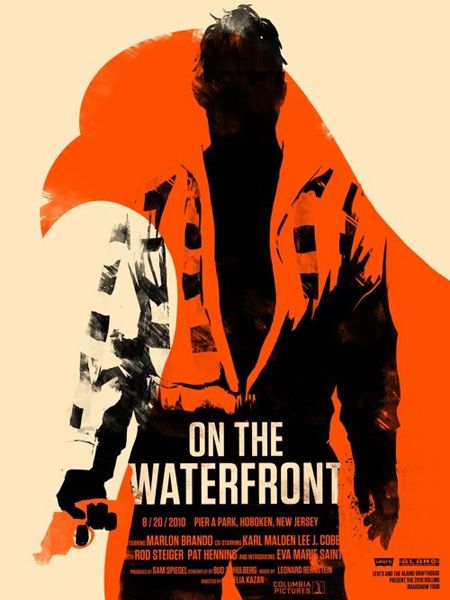 On the Waterfront
It took a little while before I warmed up to this poster, but now I'm head over heels in love. I was able to pick this one up during Fantastic Fest and it really is a beauty to behold. Not only could this poster have been a contender, it IS a contender. Alright, even I admit that was a pretty awful joke. Brando as the protagonist Terry Malloy, looks as badass and rebellious as ever. I have to admit film posters don't get much classier than this. A great poster for a great film. If you haven't seen Elia Kazan's
On the Waterfront
, you're really missing a classic piece of cinema.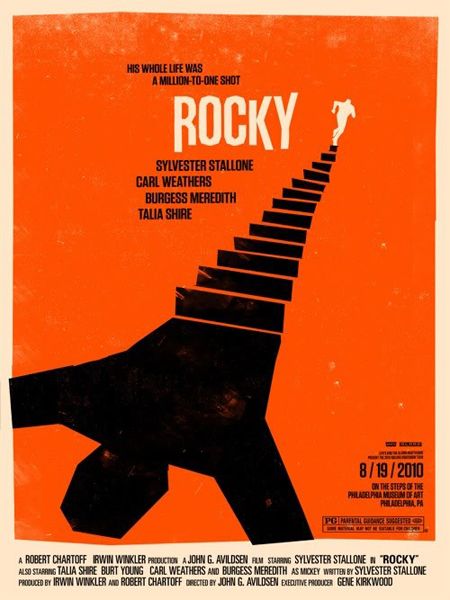 Rocky
Olly Moss again shows us why he's the master of the minimalist poster. Looking at his
Rocky
print, is a little like watching someone win a game of chess in only four moves; it's sparse and yet perfectly captures the film and its titular pop culture icon. I remember when these posters first came out and the majority of posts/articles I read cited the
Rocky
print as their favorite. How are these still available? I'm going to guess that these will sellout first.
Mondo
will selling all of the posters listed above as well as prints for
Convoy
,
Jackie Brown
and
The Godfather: Part 2
through the
Mondo
website at a random time tomorrow (2/3). As usual, be sure follow
@MondoNews
to get the alert when these go on sale. All of the posters measure 18" x 24" and come in different numbers of editions and varying prices.
| | | |
| --- | --- | --- |
| Convoy | Jackie Brown | The Godfather: Part 2 |