I've read some disappointing things about Favreau's latest film, but I'm hoping for the best and I'm still pretty excited. No matter how the film turns out, one thing's for sure: the movie will be sporting some fantastic artwork thanks to
Mondo
and four very talented artists.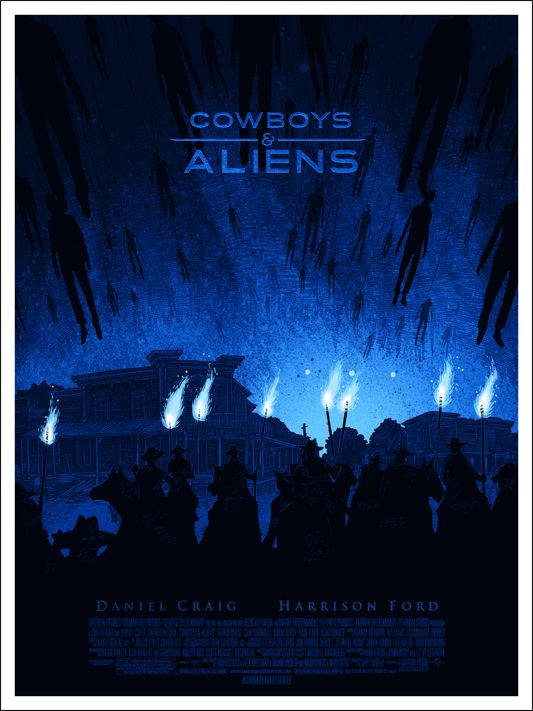 Cowboys & Aliens Movie Poster
Daniel Danger
18" x 24"
$40 - Edition of 420
This was one of the many posters that were released at SDCC, and it's positively brilliant in person (I totally grabbed one). I don't know too much about the film's story other than its titular premise, but the poster seems to suggest that humans are being abducted from the streets via airborne cables (kind of creepy). I only bring that up because, except for the title of the film, it looks like Danger favored the western aspects of the movie over the alien elements and I'm the happier for it. And by working primarily with several variations of the color blue he's really captured that nocturnal apprehension we've all experienced before - that moment sometime between twilight and complete darkness when things go bump in the night (whether they're actually there or not). I wrote the majority of this post before I read the the
LA Times piece
on these prints, but I thought this quote from Danger was very informative about his approach when creating this poster (gleefully pilfered from the
LA Times'
article, "
Cowboys & Aliens Gets Mondo Poster Treatment
"):
"In this case, I've been playing with a reoccurring motif of ghosts and spirits floating above old houses for years, so when I saw the scenes where citizens of the town are yanked into the air by the alien cables, I knew I could use that narrative element to create an image that's specific and iconic to the movie, but also feels like a piece I would have created myself. I didn't want the spacecraft to be terribly prominent, so I used just glimpses of lights and beams to show their presence…but between that and the cables, it's just enough to show that whats going on here is out of place in a traditional western."
Daniel Danger's
Cowboys & Aliens poster
will be available through
Mondo
tomorrow (7/29) at a random time for $40. The
poster
is limited to an edition of 420 and measures 18" x 24". Be sure to follow
@MondoNews
for the exact release time and visit Danger's site at
tinymediaempire.com
. I'd also recommend reading the
LA Times article
, not just for the interviews, but also for a very cool Daniel Danger process video. Oh yeah, and it sounds like there's going to be a wood variant of this as well.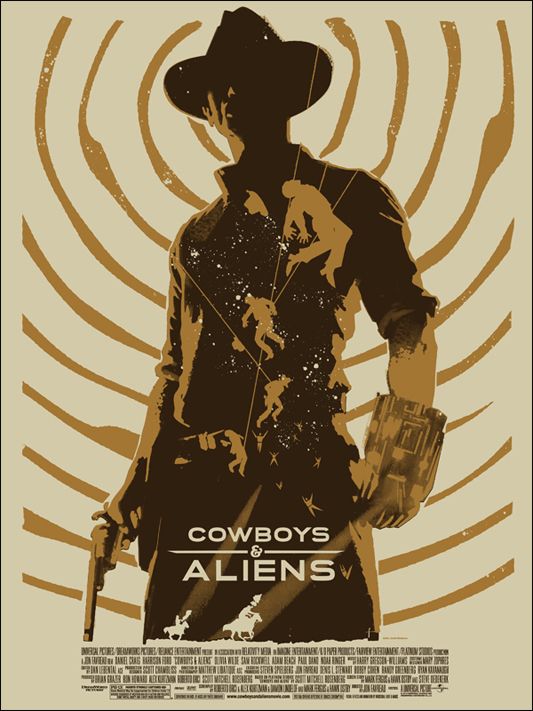 Cowboys & Aliens Movie Poster
Janée Meadows
18" x 24"
$35 - Edition of 170
I've never heard of Janée Meadows before, but I'm starting to realize that that was a serious gap in my (decidedly limited) artistic education. This poster is wonderful to stare at and perfectly straddles the line between weird science fiction and badass gunslinger western. Just looking at this print makes me long for a glass of water as the arid yellow tones immediately evoke an inhospital desert heat. I'm not sure whether the previously mentioned Danger poster or this one is my favorite, but I'm thinking I might try for Janée's print come morning (tomorrow morning to be precise). Janée Meadows'
Cowboys & Aliens poster
is limited to 170, will cost $35 and measures 18" x 24". Like all of the
prints
mentioned in this post, Meadows'
artwork
will be available tomorrow (7/29) through
Mondo
. To learn more about the artist be sure to visit
janeemeadows.com
. I'm really hoping we see more Mondo-commissioned work from her in the future.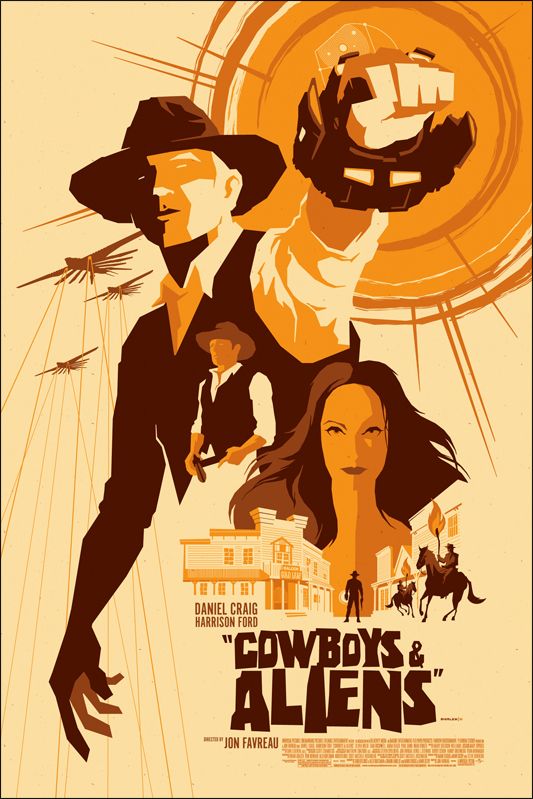 Cowboys & Aliens Movie Poster
Tom Whalen
24" x 36"
$35 - Edition of 190
I don't usually bring up the price of the poster until the very end of my review, but wow, this is a steal at $35. Think about it, Tom's poster measures 24" x 36" and only costs $35. Sorry, I just had to mention that at outset of this write-up. I really dig Whalen's layout here. The way the figures are arranged starting small in the lower right-hand corner of the canvas and as you move upward and to the left getting larger and larger - it reminds me of a classic Struzan one sheet, but with Whalen's more minimal and very distinct aesthetic. And again with the sun. Both Meadows' and Whalen's posters really nail the tangibly blistering locales from the film, and more precisely, from pretty much every western ever made. Since I normally don't have artist quotes to play around with, you'll have to forgive me if I'm being over indulgent. Tom Whalen on his motivations and methods for creating the
Cowboys & Aliens
poster (rudely lifted from
LA Times'
"
Cowboys & Aliens Gets Mondo Poster Treatment
"):
"The seed for this poster was planted while reading an interview with Jon Favreau during the movie's production. I was excited when I heard that he intended it to play as a straight western… that just happened to have aliens in it. When I received the assignment to design a poster for the film, I remembered that intent and wanted to channel some of the incredible spaghetti western poster design that graced movie theaters in the 1960s. Much like the tone of the film itself, I wanted my design to read as a western poster first and let the alien references throughout slowly reveal it to be something much more."
I've already mentioned the price, so I'll just tell you that Tom Whalen's
poster
will be available tomorrow (7/29) at a random time on Mondo's
website
. The
poster
measures 24" x 36 and is limited to an edition of 190. To see more of Tom Whalen's impressive body of work head over to
strongstuff.net
.
And that's about it. Florian Bertmer will also have a
Cowboys & Aliens print
available, but we won't get to see it until tomorrow morning. I'm sure Bertmer's print will be fantastic. Be sure to follow
@MondoNews
for all the release details. Have a great night / day (whenever you're reading this)!