My horror geek brain just imploded on itself! Alex Pardee, who I'm pretty sure I've never covered on this blog before, has created two masterpieces in the form of his
Scream
and
A Nightmare on Elm Street
posters. I'll be brief about it, because I've still got quite a bit of packing to do, but I'm completely in love with both of these posters, which are part of Mondo's Wes Craven Director's Series.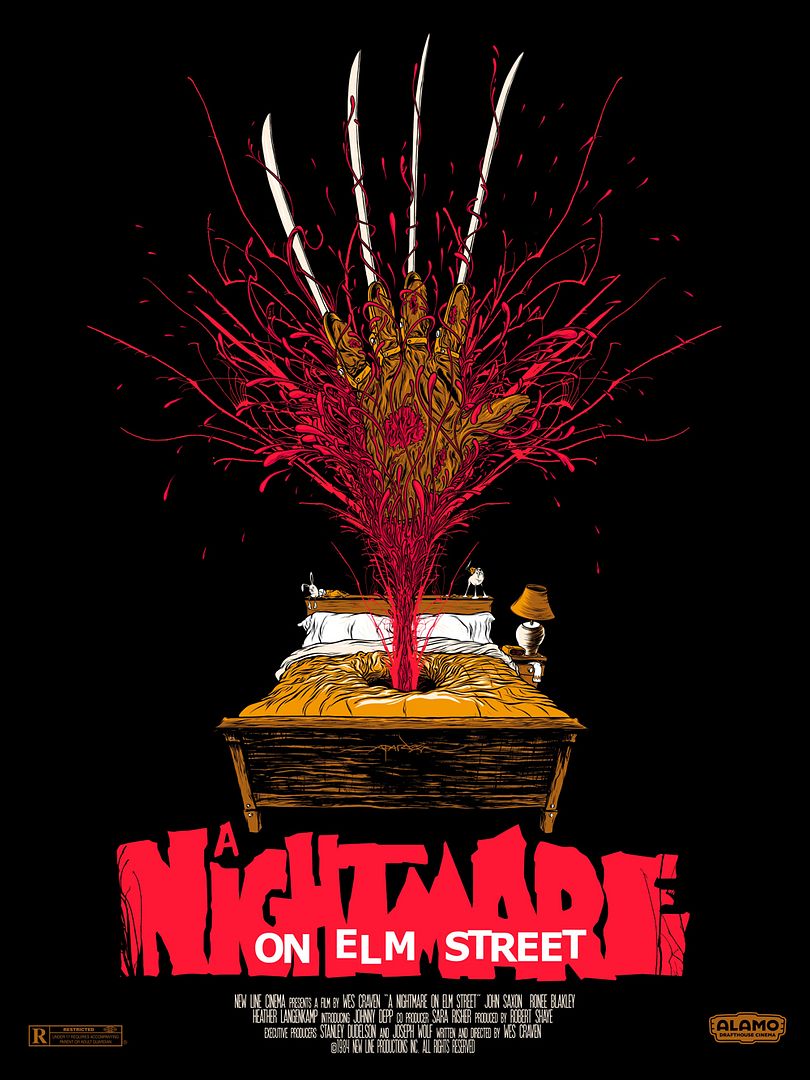 A Nightmare on Elm Street
This is probably my favorite of the two, but that's because
A Nightmare on Elm Street
played a huge role in my childhood (that's probably not very healthy). I still remember being the only kid in school with a subscription to Fangoria and making my mom take me to see the tongue-in-cheek
Freddy's Dead
(complete with ridiculous 3D). This poster depicts Johnny Depp's (that's right,
A Nightmare on Elm Street
was Depp's first on screen credit) supernatural and technically brilliant death scene (they created an upside down room to make the blood look like it was shooting upwards). I could go on an on about how this poster kicks incredible ass, but I'll just sum it up by saying Alex Pardee's twisted visual style fits in perfectly with the terrifying world Wes Craven created in his 1984 classic. Pardee's
A Nightmare on Elm Street poster
will be available on Thursday (4/14) through
Mondo
for a very reasonable $35. The
print
measures 16" x 24" and is limited to an edition of 160. Be sure to follow
@MondoNews
for the exact release time (I recommend waking up early that day). And if you love
A Nightmare on Elm Street
as much as I do, I highly recommend picking up the amazing documentary
Never Sleep Again: The Elm Street Legacy
. If you're digging either of these posters you should also be sure to check out Pardee's
blog
and
online store
.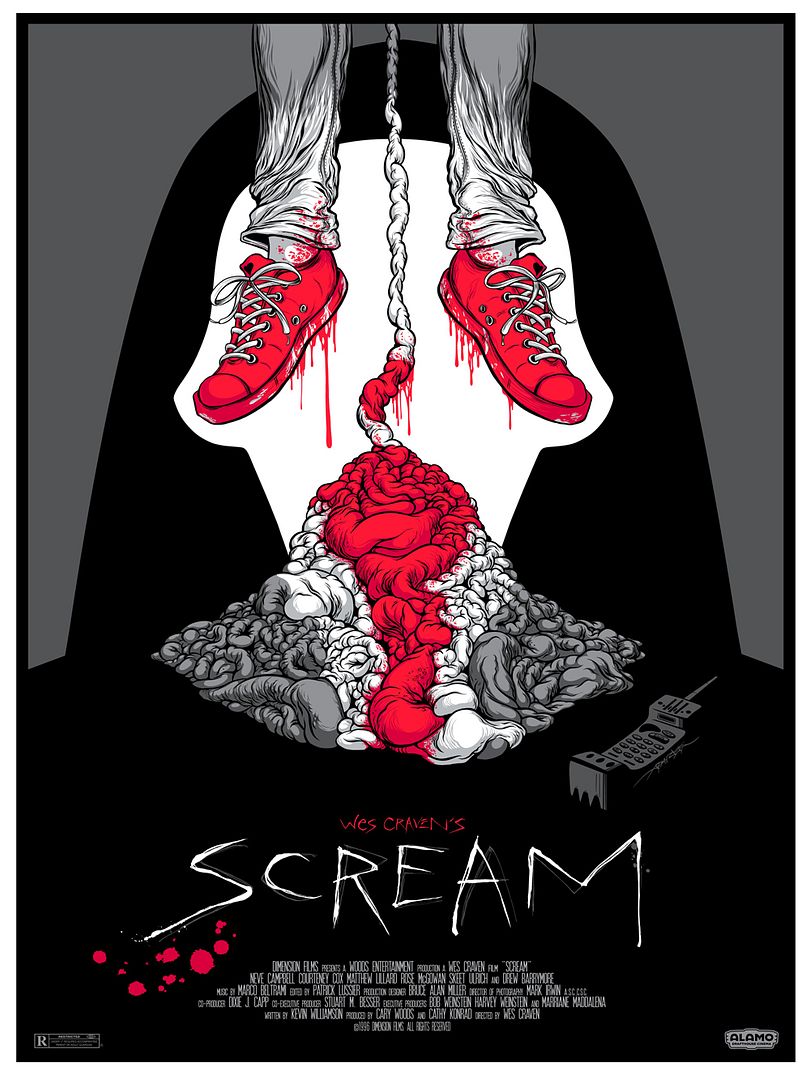 Scream
I showed this to my girlfriend and she immediately shook her head. "Nope. There's no way that's going anywhere near our walls." But you know what? I think if she sees it in person she'll change her mind immediately…or she'll make me put it in my flat file, either way I'm going for it. Pardee's grotesque
Scream
poster is not for the faint of heart, but then again, a lot of what Alex dreams up isn't. As usual, whenever I see an Alex Pardee print or painting I know I'm in for some incredibly detailed work. I mean look at that viscera, it's absolutely disgusting, and that's a very good thing in this case. Much like his
Nightmare poster
, Alex's disturbing
Scream print
measures 16" x 24", costs $35 and will be available this coming Thursday (4/14) through
Mondo
. The poster is limited to an edition of 140. Wow, I can't believe
Scream
is already 15 years old. What's your favorite scary movie?
My final post this week will be dedicated to
Phantom City Creative's
insane Back to 80's poster series. I can't wait!