Joshua Budich is an artist I've been watching for the better part of two years now and with every print he releases he seems to be one-upping himself. His "KILL BILL" print is no exception, and as far as I'm concerned is his best looking poster yet. If you weren't able to get your hands on Tyler Stout's jaw dropping
Kill Bill: The Whole Bloody Affair
poster then here's your second chance to grab a gorgeous piece of
Kill Bill
inspired artwork.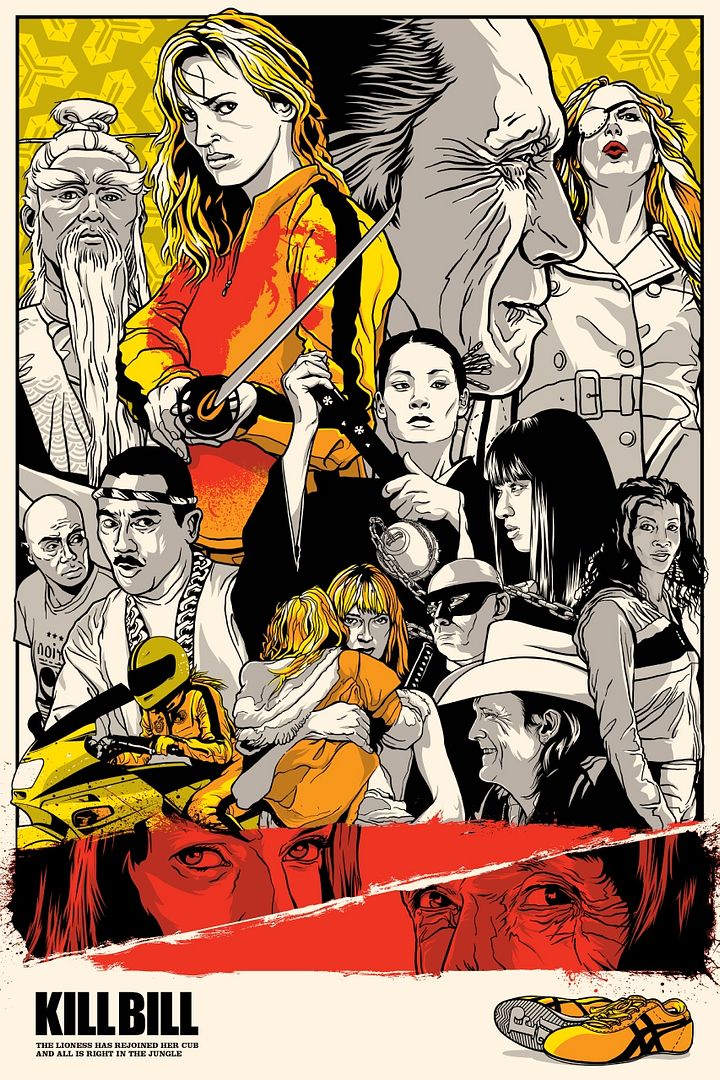 KILL BILL
The first thing that struck me when I saw this print was just how detailed all of the faces are. Joshua Budich took the beautiful (Uma Thurman) and the wizened (David Carradine) visages of the film's cast and brought them all to life by making every nook, cranny and wrinkle perceptible. In many ways Budich's character profiles reminds me of the incredibly realistic line work that Martin Ansin, one of my favorite poster artists, is so well known for - and in my opinion, that's one of the highest compliments I can give. Budich's layout is also deserving of praise, because it manages to balance the abundant (characters standing in front of, behind, beside, and diagonal to other characters) with the minimalist (a pair of shoes against a white background, a simple title in a conservative font - pretty much the opposite of
Stout's poster
) while also maintaining a consistent tone. It's a beautiful poster and I'm really hoping we'll get to see a lot more movie related prints from Joshua in the near future.
Of the 75
prints
initially available, 35 were sold (and consequently sold out) through Spoke Art's "Quentin vs. Coen" art show, and the remaining 40 (plus a few APs) are being sold tomorrow (4/12) at a random time through
Budich's online store
. Joshua's "
KILL BILL
" six-color screen print measures 24" x 36", and is limited to an edition of 75. It probably wouldn't hurt to sign up for his
mailing list
in the meantime and I'd be sure to keep at least one window to his storefront open and a finger on the F5 key for good measure. If
Kill Bill
isn't your thing, fear not, he's still got some mini prints of his "
Save Ferris
" poster available too!