I promise this isn't becoming a Mondo blog, but I did want to briefly write up Tom Whalen's fun
Who Framed Roger Rabbit
poster. I'd previously
written
about Whalen's
Steamboat Willie
and
Paul
posters, but I honestly think this print trumps both of those.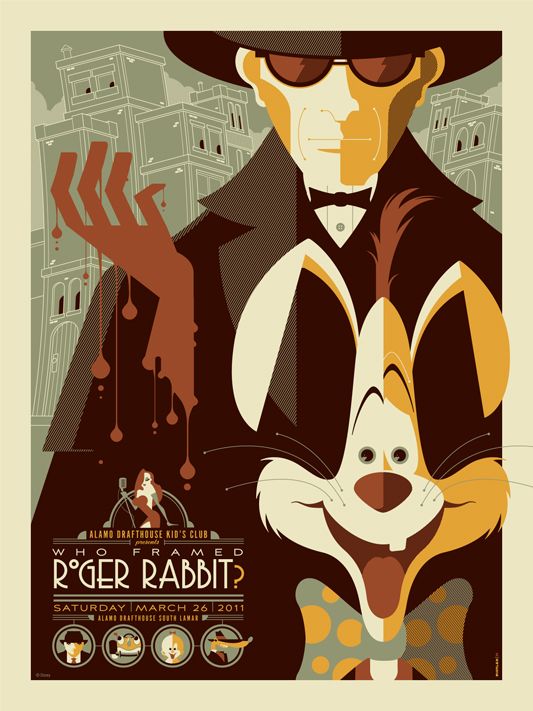 Who Framed Roger Rabbit
Who Framed Roger Rabbit
is one of those movies that I loved as a kid, and then re-watched as an adult and was totally floored by how much had gone over my head in the 80's; the film has something for everyone. I love all of Tom's smaller touches that don't immediately hit you until you look a little closer, like the anthropomorphized buildings in the background and the dripping ink of Judge Doom's glove. With that said, I wish Bob Hoskins had played a bigger role in the design instead of just a thumbnail in the lower left corner, however I appreciate Tom trying to keep the poster simple and clean. All in all this looks to be a fantastic poster and would be a feather in one's cap (did I really just use the term "a feather in one's cap"?) for anyone who's a fan of the film, animation, or the filmography of Robert Zemeckis (before he started working exclusively with all that motion capture nonsense, that is).
Whalen's
Who Framed Roger Rabbit poster
will be available at a random time tomorrow (4/8) through
Mondo
. Their drops usually happen around 9 AM Pacific, but the Tyler Stout
Kill Bill
poster dropped at around 8:30 earlier this week, so anywhere between 8:30 and 9 would probably be a safe bet (of course I could always be wrong). The
poster
measures 18" x 24", is limited to an edition of 210 and will cost $40. For more Tom Whalen goodness be sure to check out his website at
strongstufftom.blogspot.com
. Th-th-th-that's all folks!