Are you as excited about
Prometheus
as I am? While I've read several reviews suggesting it may not in fact be the greatest film ever made, I'm still holding out hope. Ultimately, whether I love the movie or not, I can at least thank Ridley Scott's latest for prompting me to revisit the original 1979
Alien.
It's been a while since I've seen the film, and the upcoming
Prometheus
was just the kick in the pants I needed. Which leads me to tonight's posters. I present, for your viewing pleasure, N.E.'s jaw-dropping "Special Order 937."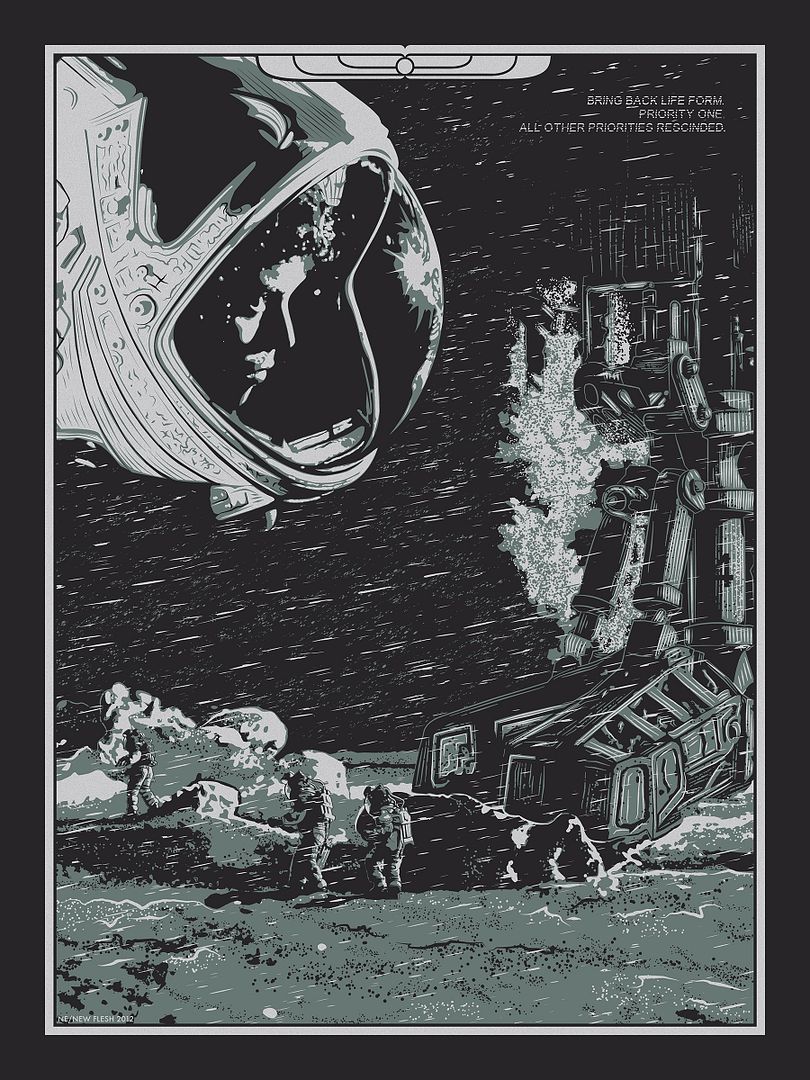 "Special Order 937" Art Print (Regular)
N.E. (New Flesh Prints)
18" x 24" (Screen Print) - Signed and Numbered
$25 - Limited to 75
Inspired By: Alien
I'm starting to sound like a broken record at this point, but this is truly the best work I've ever seen from N.E. and New Flesh Prints. I am completely convinced this could just as easily have been something offered by Mondo - it's that good. N.E.'s skill and style continue to evolve, and the man is showing no signs of slowing down. Besides completely nailing the design of the astronauts' suits in
Alien
, the artist has filled just about every nook and cranny on the page with a variety of textures. Whether it be dust, steam or smoke, these prints very cleverly manage to make even the vastness of space look genuinely suffocating and not terribly inviting - something the film also does magnificently. And much like yesterday's
Warriors poster
by Brandon Schaefer, "Special Order 937" doesn't go the obvious route and simply recreate the menacing Xenomorph in vivid, disgusting detail. Nope. Instead we're presented with a beautiful, but grimy landscape that's as much
Alien
as, well, the aliens. I have a sneaking suspicion these posters will be showing up in my annual "Best of Year" post.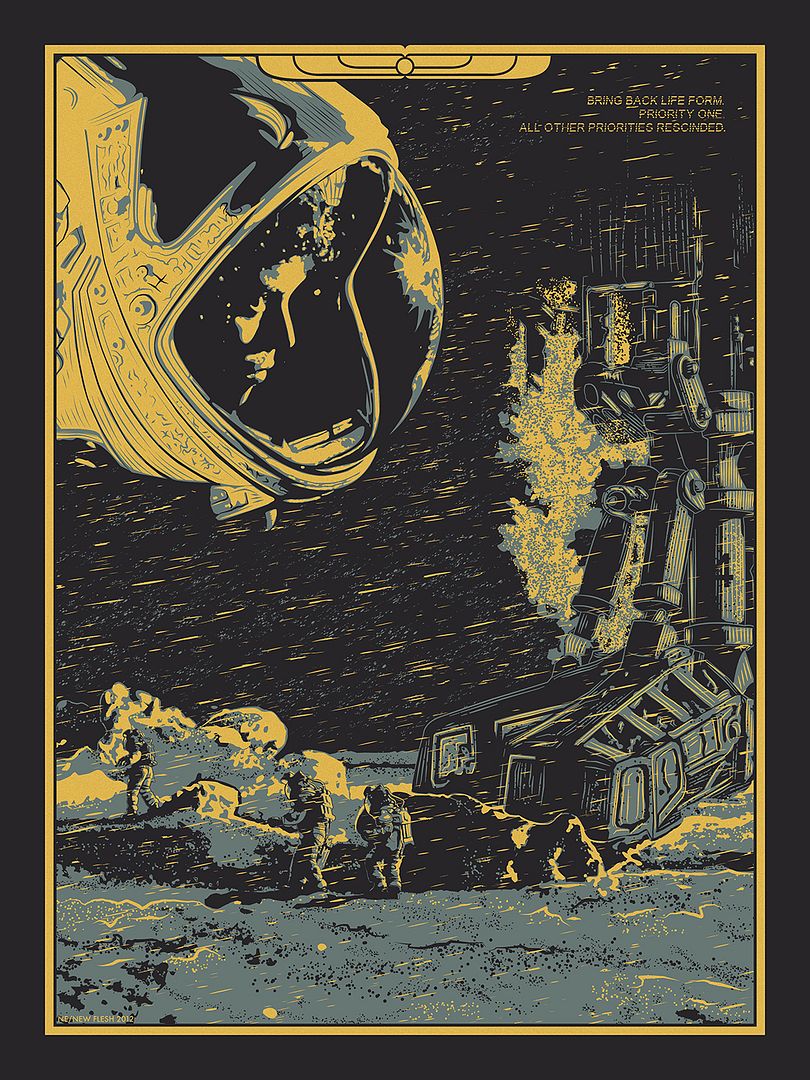 "Special Order 937" Art Print (Variant)
N.E. (New Flesh Prints)
18" x 24" (Screen Print) - Signed and Numbered
Sold Out - Limited to 15
Inspired By: Alien
N.E. on his motivations and concept:
"The concept behind 'Special Order 937' was to capture the sense of the unknown in space. I find the sheer volume of emptiness in space to be overwhelming. Now apply that to a planet's surface that is very chaotic and atmospheric with only the safety given to you by your space suit. I wanted to express this with mostly negative space. The texture gives a sense of depth and movement while the clean lines of the space suits give the impression of isolation in the midst of chaos."
N.E.'s
"Special Order 937" art print
will be
available
on Friday (6/1) at 10 AM CST. The variant is already sold out, but there will be a
regular version
available for $25, which is a total steal! The
poster
measures 18" x 24" and is limited to an edition of 75. To keep up on all things New Flesh Prints, be sure to follow
@newfleshprints
and
@NEnewflesh
on Twitter, sign up for
the newsletter
, and visit
newfleshprints.com
obsessively. Good luck folks!