You may remember
Dark Hall Mansion
as the company behind Laurent Durieux's insanely gorgeous
Gigantor prints
. Well, it seems the folks at Dark Hall are it again, this time teaming up with the incomparable Tom Whalen to tackle The Beatles' animated classic
Yellow Submarine
. I'm not entirely sure how they managed to work out a deal with Live Nation Merchandise (The Beatles' North American Licensing Agent) and Apple Corps Ltd. (the conglomerate formed by The Beatles), because it certainly couldn't have been easy, but thank goodness they did. As you can see below, everything turned out wonderfully.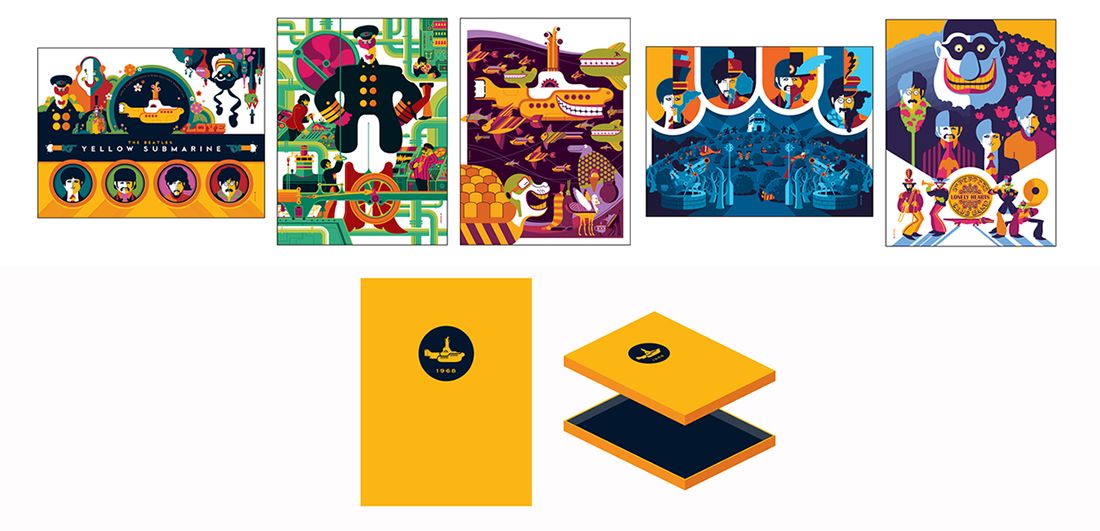 Yellow Submarine Art Print Folio (Standard Edition)
Tom Whalen
Five 18" x 24" Prints - Numbered
$300 - Limited to 797
Inspired By: Yellow Submarine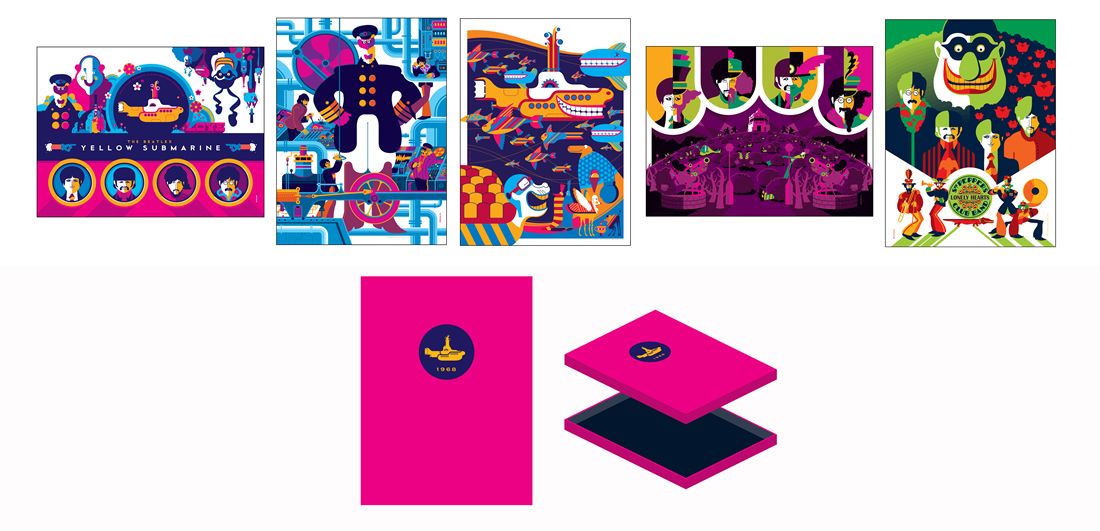 Yellow Submarine Art Print Folio (Variant Edition)
Tom Whalen
Five 18" x 24" Prints - Numbered
$450 - Limited to 135
Inspired By: Yellow Submarine
Tom's meticulously designed posters perfectly capture the kooky and deliriously twisted tone of the film. I'm not sure why Whalen's art works so well with animated content, but there's no doubt that it does. Maybe it's his illustration style, which seems to favor perfectly round edges, a sometimes unnatural symmetry, and a preference for solid shapes over textured halftones. Then again, maybe the memory of all the Disney posters he did for Mondo has somehow found its way into my brain and is now inextricably linked to his name. Whatever the case may be, this is definitely a win for Whalen and a victory for anyone who appreciates great art and psychedelic animation. I should also mention the wonderful color palettes employed by all three versions of the
Yellow Submarine
print folios. I often find that variants, while usually more collectible than their standard version counterpart, are almost always without fail the uglier choice of the bunch because of their jarring and often limited range of color. These posters, on the other hand, all seem appropriately eye-popping in the color department and appear to be in line with the film. All in all, Tom Whalen has created another beautiful body of work, though I am looking forward to seeing more live-action inspired stuff from him in the near future. Seriously, I'd love to see Tom tackle some horror movie stuff for Mondo. I think his style set against a really disturbing story / cast of characters would be brilliant! I can already picture his version of Pennywise from
It
!
Yellow Submarine Art Print Folio (Elite '68 Edition)
Tom Whalen
Five 18" x 24" Prints - Signed and Numbered
$675 - Limited to 68
Inspired By: Yellow Submarine
Tom Whalen's
Yellow Submarine print folios
are currently (yes, right now people) on sale through the
Dark Hall Mansion store
. While the Elite '68 edition is already sold out, the
standard
and
variant editions
are
available
for $300 and $450 respectively. Every set comes with five 18" x 24" prints and is numbered. To learn more about Mr. Whalen, be sure to visit
strongstuff.net
and follow Tom on Twitter
@strongstufftom
. And if you like what you see today, I'd strongly recommend you head over to
darkhallmansion.com
and follow them
@darkhallmansion
.