Not that I'm complaining, but it's almost overwhelming how many posters Mondo is releasing nowadays. Concluding his excellent series of Disney-centric prints, Tom Whalen has created an impressive and jam-packed work of art honoring Pixar's first bona fide hit that's sure to please any fan of Woody, Buzz and their toy box crew.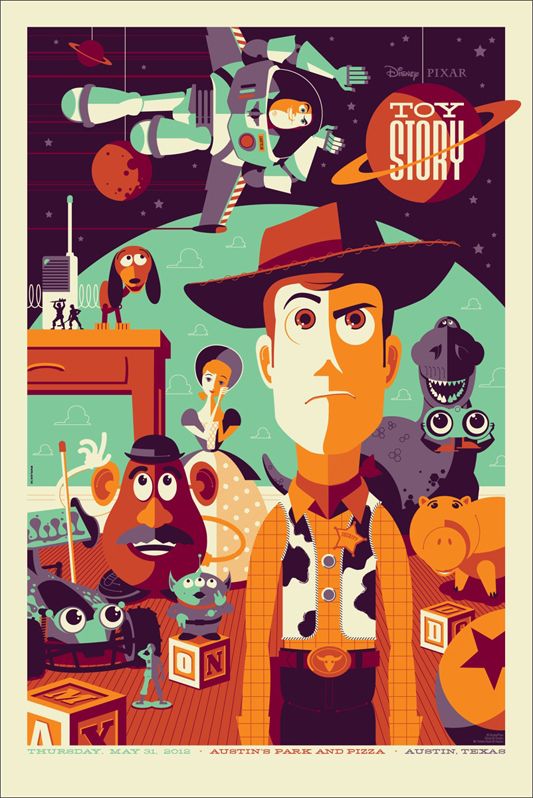 Toy Story Movie Poster
Tom Whalen
24" x 36" - Numbered
$50 - Limited to 540
Whalen's clean and immaculately constructed poster perfectly compliments
Toy Story's
super polished look. And wow, he managed to fit just about every character in this thing. Speaking of, I would have loved to have seen a variant featuring all of the DIY creepy toys! It was
Toy Story
that featured the doll's head erector set spider, wasn't it? While I haven't been crazy about all of Whalen's Disney stuff, I think this is a damn fine print and some of his best work yet (although his recent
Black Keys gig poster
may be my all time favorite Whalen). Here's what Tom had to say about his
Toy Story
artwork (taken from
strongstuff.net
):
"My goal here was to capture the awe and wonder that swept all of the toys in Andy's room (with the notable exception of Woody) when Buzz arrived on the scene. At any rate, I think it's only fitting that this poster series ends with the first Pixar film, which unbelievably, was released all the way back in 1995."
Tom Whalen's
Toy Story movie poster
will be
available
tomorrow (4/10) through
Mondo
at a random time. The
poster
measures 24" x 36", is limited to an edition of 540, and will cost $50. Be sure to follow
@MondoNews
on Twitter for up-to-the-second release info, although it never hurts to work that F5 muscle. To see more of Whalen's work, head over to
strongstuff.net
and follow
@strongstufftom
. To infinity and beyond!