I like Mondo as much as the next guy, nay, I feel entirely comfortable saying I love Mondo more than the next guy. I mean, for all I know, the next guy doesn't even collect posters. Maybe he's obsessed with creepy dead-eyed porcelain dolls. And why won't he tell me his name? Does he really expect me to refer to him as "The Next Guy" whenever I talk about him? I don't like it. Seems shady. So, in summation: I love Mondo. But as fond as I am of Mondo (and dislike "The Next Guy"), I'm just as excited, maybe even more so, about what's going on with galleries and groups like Spoke Art. The reason? Competition is good thing for us art lovers. It forces both Mondo and Spoke Art, among many many others, to consistently step up their game. And as you'll see below, San Francisco-based
Spoke Art
in collaboration with
The Castro Theatre
has really hit this one out of the park.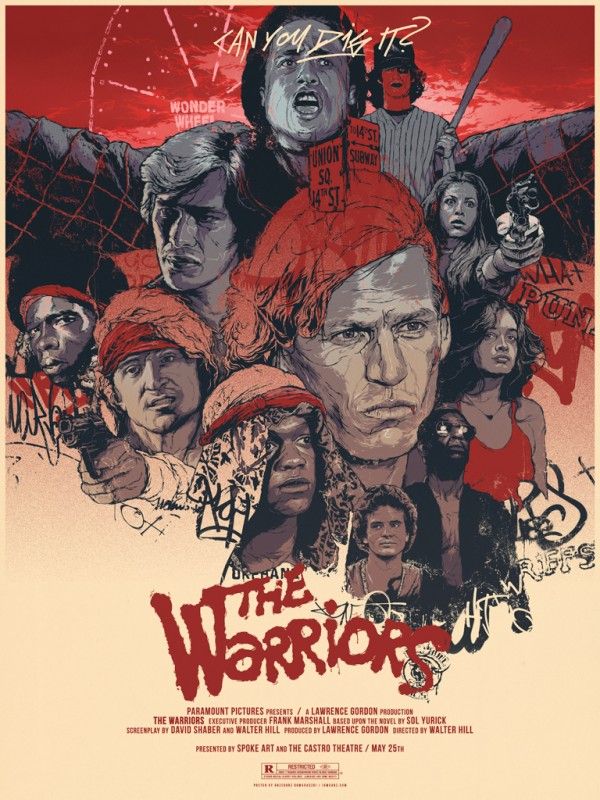 The Warriors Movie Poster
Grzegorz Domaradzki
18" x 24" (Giclée) - Signed and Numbered
$40 - Limited to 100
I'd like to start this review off with a quick "Hell yes!" because
Grzegorz Domaradzki
(AKA Gabz) is officially back in action. Hell yes! I last
wrote
about Gabz in October of 2011 and it's been far too long since he released any movie inspired art. Thankfully, Spoke Art and The Castro Theatre have seen fit to remedy this problem, commissioning him to create a poster for the 1979 cult classic
The Warriors
. In a word: electric. Domaradzki's illustration feels alive and possibly even dangerous. A lot of that tension comes from his line work, which is precise, unerring and completely unpredictable, suggesting we, the viewer, may not be able to fit these people or their actions into neat little boxes. Alright, I'm stepping off of my pretentious soap box now. It's time for a simple truth. This poster is just plain kickass. And I haven't even mentioned the aggressive crimson color palette, the wonderful use of negative space, and the seamlessly interspersed graffiti, all of which give this poster an appropriate "don't mess with me or I'll blow you're f**king head off" vibe. Much scarier than the
Stop! Or My Mom Will Shoot
vibe, isn't it? Yeah, I went there. Unfortunately, this print is already sold out, but there's always eBay or Expresso Beans for the truly ravenous. To learn more about artist Grzegorz Domaradzki, be sure to checkout
iamgabz.com
and his
Facebook page
.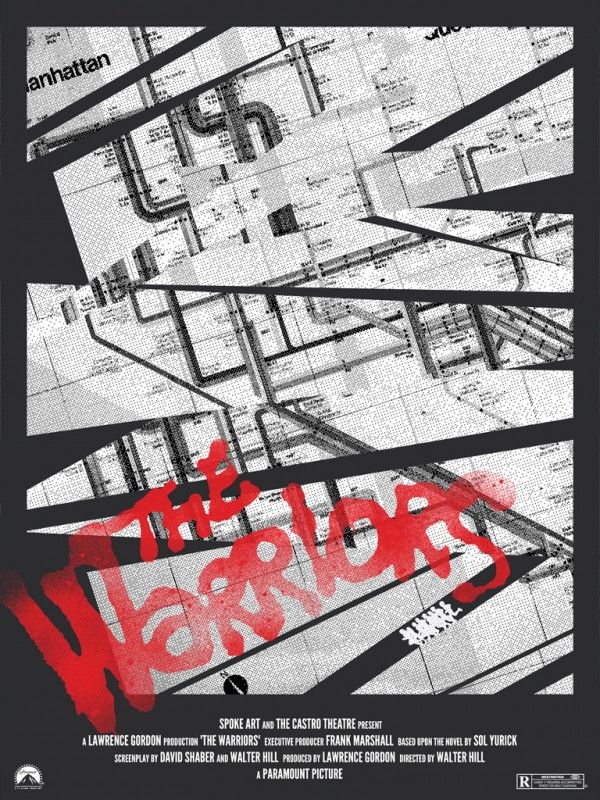 The Warriors Movie Poster
Brandon Schaefer
18" x 24" (Giclée) - Signed and Numbered
$40 - Limited to 100
I feel a little sick. I've been following Brandon Schaefer of
seekandspeak.com
fame for quite a while, and I'm only now mentioning him on Posterocalypse. I remember first discovering Mr. Schaefer's work after picking up a
Monty Python and the Holy Grail poster
of his from Gallery 1988's "Crazy 4 Cult" show a few years back and have kept track of the guy ever since. Anyway, I'm glad I finally get to write about his work, and definitely plan to cover more of Brandon's art in the near future. Now, onto the reason why you're actually here. Schaefer's
Warriors
print could not be more different than Grzegorz's, and that's exactly why it works. The majority of
Warriors
posters, including the first design included in this post, tend to highlight the crazy players over the locales. And why wouldn't they? The costumes and make-up are pretty outrageous, but in my opinion, each location is just as important to the story and could easily qualify as a character unto itself. Brandon's poster is one of the few to truly highlight the locales over the gang members, which is a pretty novel idea and seems wholly appropriate given how important the setting, and more specifically, the subway system, is to the film. It's a beautiful print and is sure to be treasured by any
Warriors
fan, although I'm a little bummed this wasn't a screen print, as it looks like the perfect candidate for the process. Brandon Schaefer's gorgeous
Warriors movie poster
is currently
available
through the
Spoke Art store
for $40. The
poster
measures 18" x 24" and is limited to an edition of 100. If you're interested in seeing more of Brandon's art, head over to
seekandspeak.com
and follow him on Twitter
@seekandspeak
.
One last thing. This goes without saying, but be sure to visit
Spoke Art
, their
Tumblr
, follow them
@spoke_art
, sign up for their
newsletter
, and peruse their
store
!