When I think back to 2010, the emergence of artist
Olly Moss
comes to mind. His ability to make a clever minimalist design out of pretty much anything was, and still is, incredibly impressive and stood in stark contrast to the bursting-with-detail artwork of
Tyler Stout
and
Martin Ansin
. Well, I may be a bit presumptuous in saying this, but I feel like 2012 will definitely be the year that Jay Shaw (AKA Iron Jaiden) hits in a big, big way. Don't believe me? Take a look at his amazing poster for Drafthouse Films'
Bullhead
below.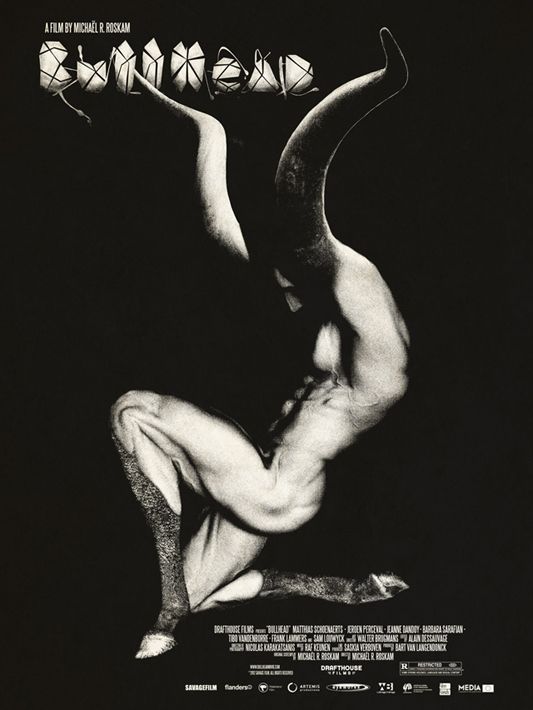 Bullhead Movie Poster
Jay Shaw (AKA Iron Jaiden)
18" x 24" - Numbered
$30 - Limited to 80
Not only is Jay a clearly talented artist, his work thus far has shown a remarkably deep knowledge of art and film history. He created a loving tribute to the Blaxploitation gem
The Spook Who Sat by the Door
for Cinema Overdrive. He crafted a retro and surreal print for Drafthouse Films'
Comin' At Ya! 3D
and now he's channeled the strange and dreamlike style that has long been the trademark of Polish poster art for the film
Bullhead
. There's already been a
great article written on this print at HitFix
, but I did want to briefly talk about my take on Shaw's work and the movie itself. I remember seeing
Bullhead
at last year's Fantastic Fest and being completely blown away.
Bullhead
isn't a thrill-a-minute action film, it's a thoroughly contemplative story about Matthias Schoenaerts' hormone-injecting (in more ways than one) Jacky Vanmarsenille and his attempt to negotiate his personal and professional demons. He's a flawed-man who's had to deal with some very intense and personal traumas of both the physical and psychological variety. I probably couldn't be any vaguer, could I? Due to these issues, there are many scenes where he's on the precipice of full-on rage, much like a bull ready to gore its agitator. See where I'm going with this? Jay has captured the animalistic nature of both the man and his chosen line of work with pitch-perfect execution. The desolate background behind the hoofed man, whose body has been partially transformed into that of a beast, only further echoes the harsh world Jacky, the film's lead, tries to survive in. My final take: great poster, killer typography, and a beautiful fusion of new and old.
Jay's
Bullhead movie poster
will be
available
through
Mondo
at a random time during today's Oscar broadcast. The
poster
measures 18" x 24", is limited to an edition 80, and will only cost $30. To receive up-to-the-second notifications on the print's drop, be sure to follow
@MondoNews
on Twitter. You can also follow the artist Jay Shaw (AKA Iron Jaiden) on Twitter
@tweetofnonsense
. And if you're interested in seeing more of Mr. Shaw's artwork, be sure visit to visit his
Kingdom of Nonsense
website. Oh yeah, and the following four prints will ALSO be released during today's Oscar broadcast through
Mondo!
Hugo Movie Poster (Regular)
Kevin Tong
24" x 36" - Numbered
$45 - Limited to 295

Hugo Movie Poster (Variant)
Kevin Tong
24" x 36" - Numbered
$65 - Limited to 100