While
Drive
may not have received a lot of Oscar love, the film has clearly made an impact on us poster geeks the world over. There's not one, not two, not three, but more like 40 or 50 amazing
Drive
prints available online, and I'm more than happy to write about all of them, but there are a select few that really impress. Case in point: Dan Sherratt's excellent
Drive
inspired art print.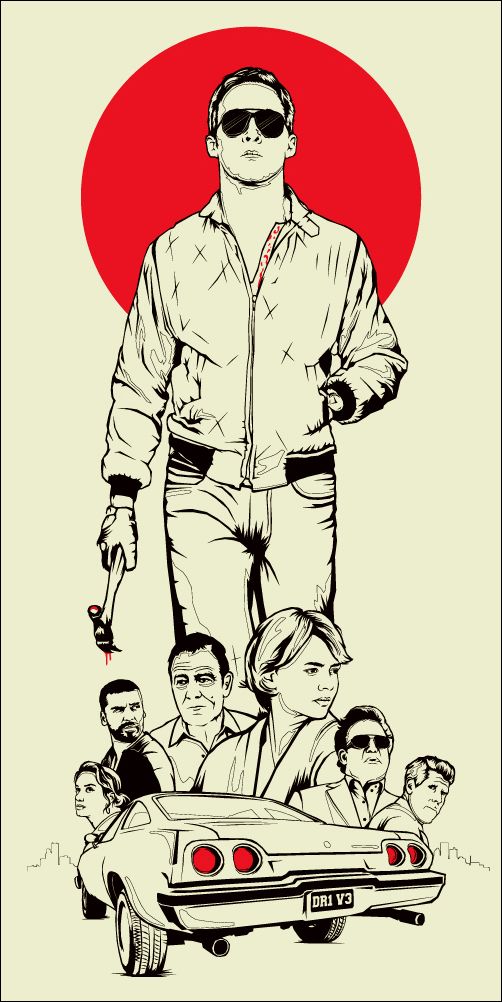 "Drive" Art Print
Dan Sherratt
12" x 24" - Signed and Numbered
£25 (approximately $40) - Limited to 30
Inspired By: Drive
So much has been said about the
film
(by me and by others), that I don't really feel the need to deliver a lengthy sermon on why this movie rocks so much. It just does. But I'm more than happy to talk about Dan's insanely cool print. To start, I love his restrained use of color, which makes the red pop all the more and beautifully connects the film's intense bursts of violence with the Driver's intimate connection to his car. Gosling, who towers above the supporting cast, looking stoic as ever, is deified by the red halo / sun / giant brake light as the patron saint of driving fast and kicking ass. I also love the little touches, including the "DR1 V3" license plate and the faintly visible skyline silhouette. Ultimately, it's the simplicity of Sherratt's poster that really impresses me and, in many ways, mirrors the psyche of the Driver - it's stripped-down and incredibly focused. Here's what Dan had to say about his print:
"I went with the most iconic thing about the film - Gosling. There can't be many people that don't have a man crush on him after 2011. I saw the process pictures for the official poster and one of the original ideas was a grand theft auto / 1980's style character poster and I thought it looked fantastic. No idea why they didn't go with it in the end but that's what they get paid for. Decided to give it a go myself, really happy with the results."
Yeah...Dan nailed it. I'm definitely one of those guys with a man crush on Gosling after
Drive
.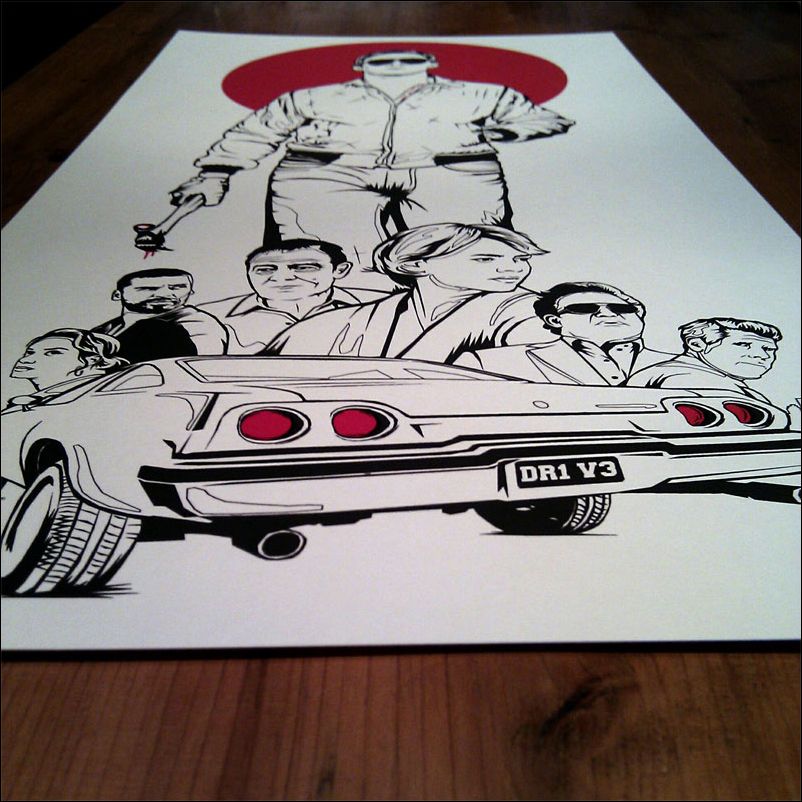 "Drive" Art Print Photo
"Drive" Art Print Photo
Dan Sherratt's
Drive inspired art print
is currently
available
for £25 through his
Drawn Chorus storefront
. The
poster
measures 12" x 24" and is limited to a run of 30. If you have any interest in this
print
, I'd highly recommend locking it down quickly due to its incredibly limited edition size. To learn more about the very talented Dan Sherratt, be sure to visit his
storefront
, his
website
,
Tumblr blog
and follow him on Twitter
@reworkingtitles
.