UPDATE (3/17): Thanks so much for entering everyone, this was one of Posterocalypse's most successful giveaways yet, hopefully the good times will keep rolling! Random.org has picked a winner and it's Mike (lucky contestant number 5)! Congrats Mike! He'll be receiving the 12 Angry Men movie poster later this week. I've got a lot more posters to hand out, so be on the lookout for another giveaway next week. Most importantly, thanks for reading!
It's February already? Well, I guess that means it's time for another contest and this one might be my favorite yet, or at least tied with last month's in terms of awesomeness. You may or may not remember I
wrote
about the amazing
Kingdom of Nonsense
curated "The Machines Are Winning: A Tribute to Sidney Lumet" show last September, where I specifically called out some of my favorite pieces. If you happened to
read my post
, or better yet, purchased some artwork from the show, you probably saw
Kevin Ang's
gorgeous
12 Angry Men
print. Surprise!
Mr. Ang's
breathtaking work of art will be this month's giveaway. Yes, you read that right. You could own this lovely poster just by leaving a comment. Simple, right? Take a look at the rules and instructions below and good luck!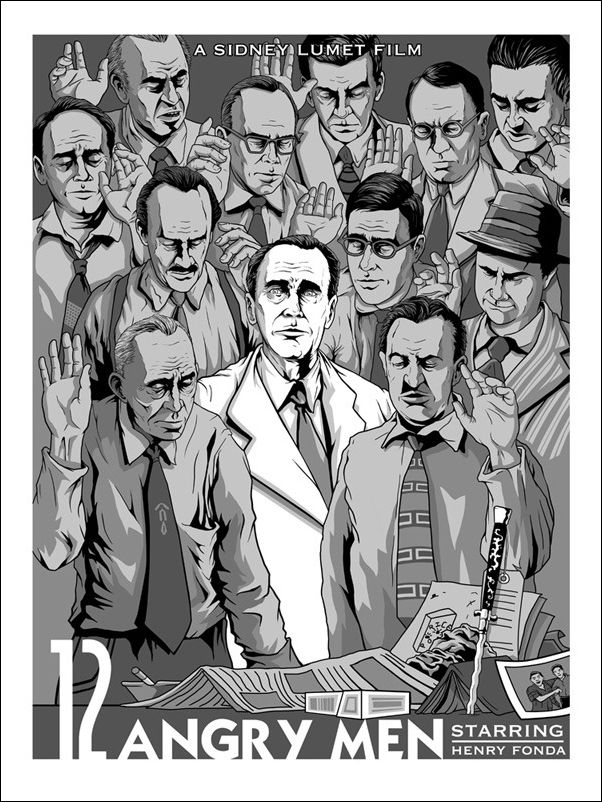 12 Angry Men Movie Poster
Kevin Ang
18" x 24" - Numbered
Limited to 35
1)
12 Angry Men
poster by Kevin Ang
Unfortunately, since I'm the one paying for shipping
this contest is only open to readers in the US
(sorry everyone else, international shipping can be expensive and complicated). I've decided to change the rules up a bit this time:
in order to win you'll need to leave a comment on this post with your email address, your name, and your favorite Sidney Lumet film
and on March 17th I'll randomly pick and email the winner to get his or her shipping address. Entries are limited to one person per household.