This is the first time I've ever written about artist Chris King, but if his
Army of Darkness
poster is anything to go off of, the guy's got some talent. I must also sadly admit, this is the first time I've written about Raimi's third film in the
Evil Dead trilogy
- my second favorite movie in the series! I can't believe it's taken me this long to mention it!
Army of Darkness Movie Poster
Chris King
Multiple Sizes
Multiple Prices - Open Edition
Yes, the print features the undead, a graveyard, Bruce Campbell, and what I believe to be a rather infamous Deadite Captain. And yes, all of these things, in combination or by themselves, make for a wonderfully kickass poster. But it's the style in which King chose to interpret the film which really has me floored. I know Chris used a lot of 80s fantasy / adventure one sheets for inspiration, but when I first saw this poster I was immediately reminded of movies like
Gone with the Wind
and
Casablanca
. The prominence of Ash and Sheila in the print's composition, and the largely flesh-colored palette, bring a warmth to the film I don't always associate it with. Ultimately, it's the romanticization of what's widely regarded as a schlocky horror-comedy masterpiece that I find really novel and greatly appreciate.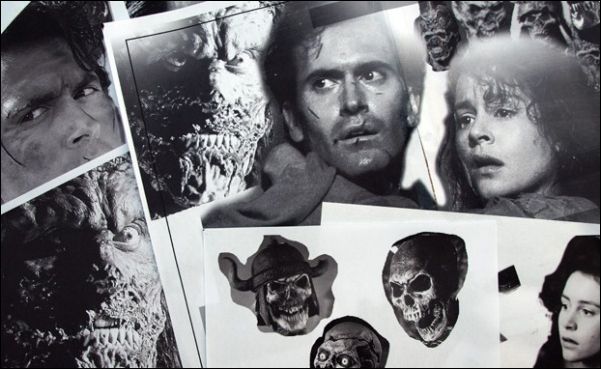 Reference Stills (taken from wingsart.net)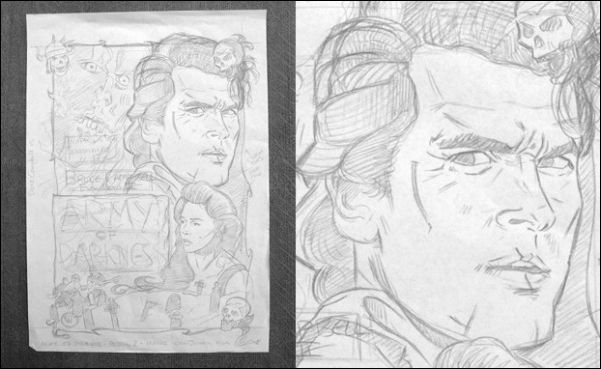 Concept Draft (taken from wingsart.net)
Here's what Mr. King had to say about the print's creation (taken from
wingsart.net
):
"...I worked on a new draft taking strong influence from 1980′s fantasy posters from amazing artists such as Drew Struzan and ended up with something that I really liked. My usual process of inking as separate parts was used, but this time I've gone for a much more rendered look (mixing inks and pencils which I don't usually do) as this felt appropriate and something i've wanted to try. Tonal values are put down in grayscale first and then worked over in colour (Photoshop) to finish. Hey presto! One Army of Darkness poster and a new self-promotional piece I'm pretty pleased with. Hail to the King baby!"
Chris King's
Army of Darkness print
is currently
available
through Society6 and is an open edition. The
poster
comes in five different sizes, each at a different price point. You can learn more about the artist by visiting
wingsart.net
or by following him on Twitter
@wingsart
. And if you'd would like to purchase more of Chris' work, be sure to check out
society6.com/wingsart
!