Deep Red
is one of my favorite Argento films, not my all-time favorite mind you, but definitely in the top three. Not only does it feature one of the coolest, albeit short, intros ever put to celluloid (I love the theater with its massive red curtains and the smooth tracking footage escorting us through its hallways), the film also boasts one hell of a freaky children's song (I picture a choir exclusively populated by the kids from
Village of the Damned
). There's a lot to like about
Deep Red
or as it's known in its native land,
Profondo Rosso
, and thankfully
Malleus Rock Art Lab
has again joined
Dark City Gallery
to continue their excellent
Argento poster series
, crafting an exquisitely grotesque print in celebration of Dario's fifth film.
Profondo Rosso Movie Poster (Regular)
Malleus
19.5" x 27.5" - Signed & Numbered
£40 - Limited to 145
I'm going to start this review by mentioning the first thing that entered my mind when I saw these prints:
is that a freaking eyeball?!
Yes, extreme close-ups of eyes don't exactly reside in my comfort zone. I think it has something to do with the fact that our eyes are so vulnerable to the elements, both natural (sand) and not so natural (a rusty blade, a screwdriver, probing fingers, sharp needles, dull needles, basically any type of needle), but the skill and style with which Malleus has made the eye and its lashes a framing device is super impressive. More than that though, the eye plays an important part in the movie's plot and is a fitting inclusion in the print's design. It should be noted that
Deep Red
was a film that featured not only some visually striking kills, but also played around with some rather heady ideas about gender roles and sexuality. For example, Argento specifically uses a
close-up of an eye
with mascara being applied to possibly suggest the killer may be of the female variety, but wait a minute, throughout the film's running time we meet other characters, not all women, that could also potentially fit this mold.
Deep Red
is a film that continually asks you rethink your assumptions and this is a poster that ably draws on that ambiguous imagery to do the same.
There's a lot of other great touches too, including the addition of the
zipper from the killer's leather gloves
, the depiction of
Helga's death
with the eye's surface acting as her shattered window (complete with broken glass below), and the revoltingly beautiful typography that's sinuously growing from the thinly drawn eyelashes. These are beautiful posters and deserve to be in the home of anyone who appreciates both good design and a genuine giallo masterpiece.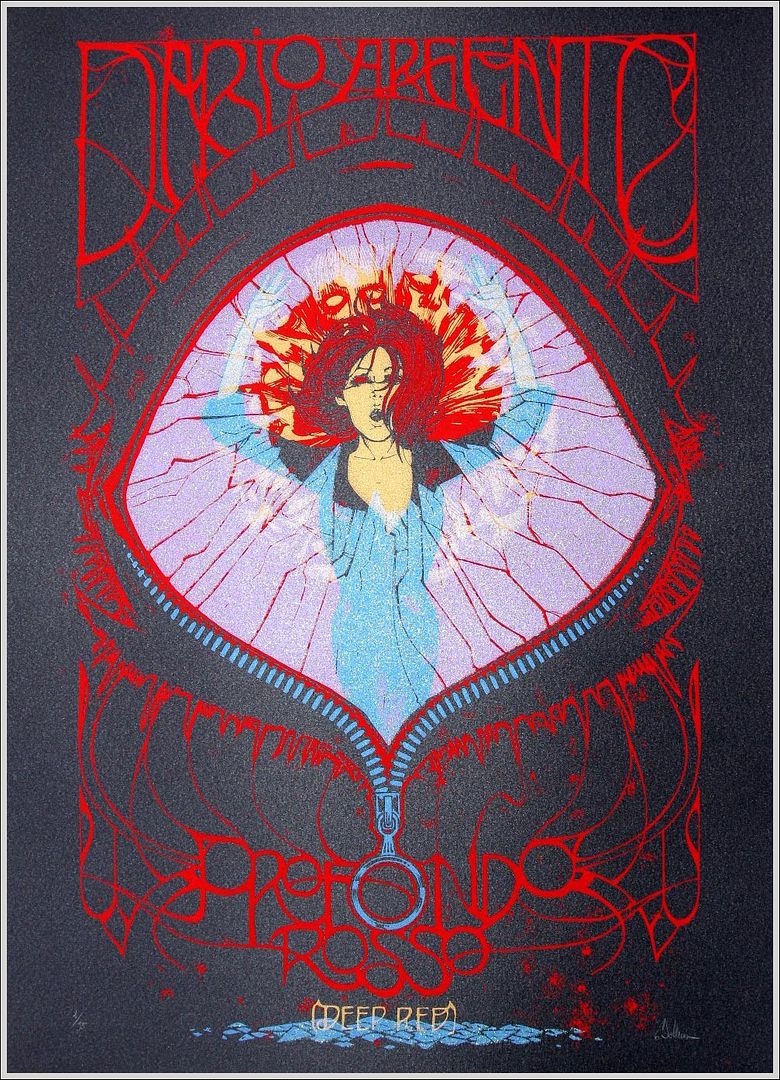 Profondo Rosso Movie Poster (Variant)
Malleus
19.5" x 27.5" - Signed & Numbered
£60 - Limited to 95
Both the
regular
and
variant versions
of Malleus'
Profondo Rosso (AKA Deep Red) movie posters
are currently
available
through
Dark City Gallery's online storefront
. The
regular print
costs £40 (around $63) and is limited to an edition of 145, while the
variant
is limited 95 and costs £60 (approximately $94). If you'd like to know more about Dark City Gallery and see what else they have for sale, be sure to visit
darkcitygallery.com
and follow
@darkcitygallery
. And to learn about the artist collective known as Malleus Rock Art Lab head over to
malleusdelic.com
and follow them on Twitter
@malleusdelic
. And if Blue Underground's impressive
Deep Red blu-ray
is just a bit too much money for you, the film is currently
streaming on Netflix
! Go watch it! After you buy a poster, that is.