I'm not sure if anyone has heard (they've been keeping it pretty hush-hush), but there's a little film called
The Avengers
opening nation-wide tomorrow (5/4). "Hold your horses," you frantically exclaim. "How have I not heard anything about this moving picture?!" I know, I know, I was as shocked as you, maybe even more so, but we've got to accept that a film the majority of us have been looking forward to for the last several years is finally coming to the big screen on Friday, and that's not all. Gallery 1988 will be hosting an
Avenger
inspired art show titled
"Assemble,"
and it's opening in a few hours! But wait! There's more!
New Flesh Prints
, a Posterocalypse favorite, will be featured in tonight's exhibit (their first Gallery 1988 show no less) and have created a jaw-dropping poster honoring America's most charming alcoholic superhero (and no, I'm not talking about Hancock), Iron Man! Check it out below and head over to the always excellent
Crome Yellow
for a great write up and
some words from the artist
.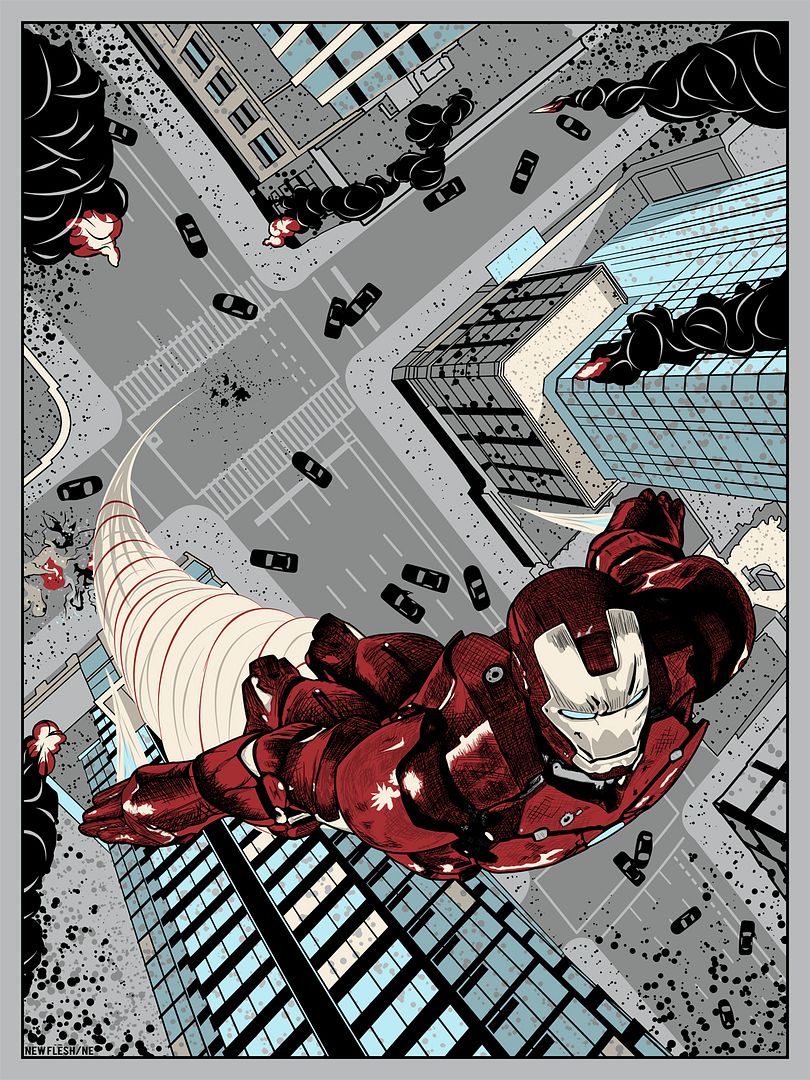 "I Am Iron Man" Art Print
N.E. (New Flesh Prints)
18" x 24" - Limited to 175
$45 - Numbered
Inspired By: The Avengers
N.E.'s "I Am Iron Man" print stands as his best work to date, and it's becoming quite clear that with every new release N.E. has no problem with changing and evolving his style. This poster is just so damn dynamic! No matter where you look there's something going on. Whether it's the rubble, fire and smoke, or a dude with rocket boots flying directly into your face, N.E. has crafted something that will instantly make any wall exponentially more cool and exciting. With that said, the artist knew exactly where everyone would be staring and has poured so much detail into Iron Man's armor, you can practically smell the smoke still rising from each singed fragment of fire-blasted metal. If "I Am Iron Man" is any indication of what we can expect from the folks at New Flesh, I think we'll be seeing a lot more of their work at Gallery 1988 and have a much trickier time purchasing their prints.
New Flesh's
"I Am Iron Man" poster
will be
available
for $45 at
Gallery 1988's "Assemble" show
later tonight and will (hopefully) be available through their
site
in the coming days. The
poster
measures 18" x 24" and is limited to an edition of 175. If you'd like to learn more about the fine folks at New Flesh, you've got quite a few options, including:
newfleshprints.com
,
@newfleshprints
and
@NEnewflesh
on Twitter, and I think there might even be a
Facebook page
and
storefront
. Long live the New Flesh!