UPDATE 1 (8/5): Joshua Budich's "Marla Variant" of his Fight Club print is available through his store right now! The print measures 18″ x 24″, is limited to an edition of 75 and only costs $40. Pick one up before they run out.
With the "
Crazy 4 Cult 5
" show only a few days away now, I think it's safe to say the Internet is in full on excitement / hysteria mode. In an attempt to add fuel to the fire, I wanted to go over some of my favorite pieces I've seen previewed so far. The vast majority, if not all of the images in this post, were found at
/FILM
. These will all be available during the show's premiere on Friday (7/8) night, and who knows, maybe a few will be available after, either through
Gallery 1988's site
or the artist's.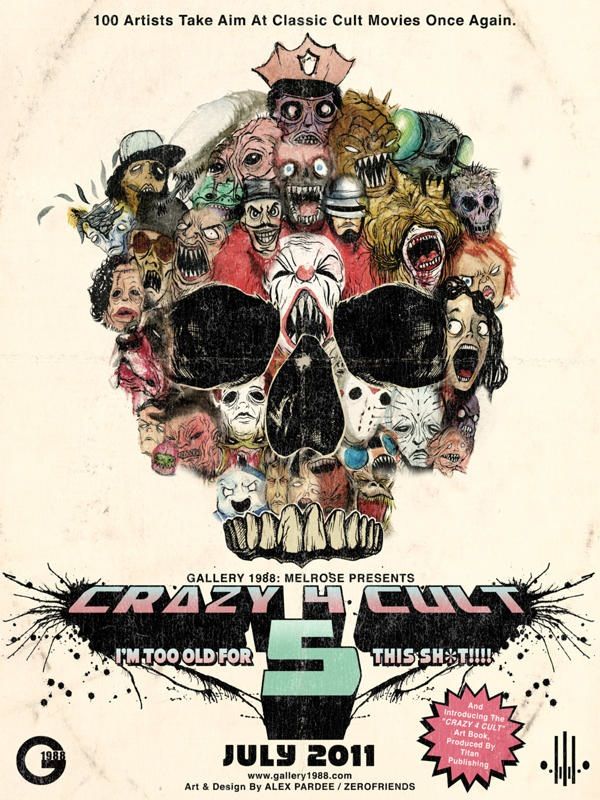 "Crazy 4 Cult 5: I'm Too Old for This Shit" Show Poster
Alex Pardee
I thought I'd start with the show poster itself. I think this may be my favorite "Crazy 4 Cult" poster yet, although Mike Mitchell's print from last year was pretty great as well. The thing I like most about these images, besides the crazy amount of skill involved, is the sheer quantity of movie characters present. I mean, you've got Jason, Freddy, Robocop, It, the Fly - there's just so much going on. The planning it must take to get so much content onto such a small canvas always impresses me. This poster will definitely be available at the show, and very likely after the show on Gallery 1988's website
gallery1988.com
. To learn more about the artist Alex Pardee, head over to his
blog
and
website
at
eyesuckink.com
.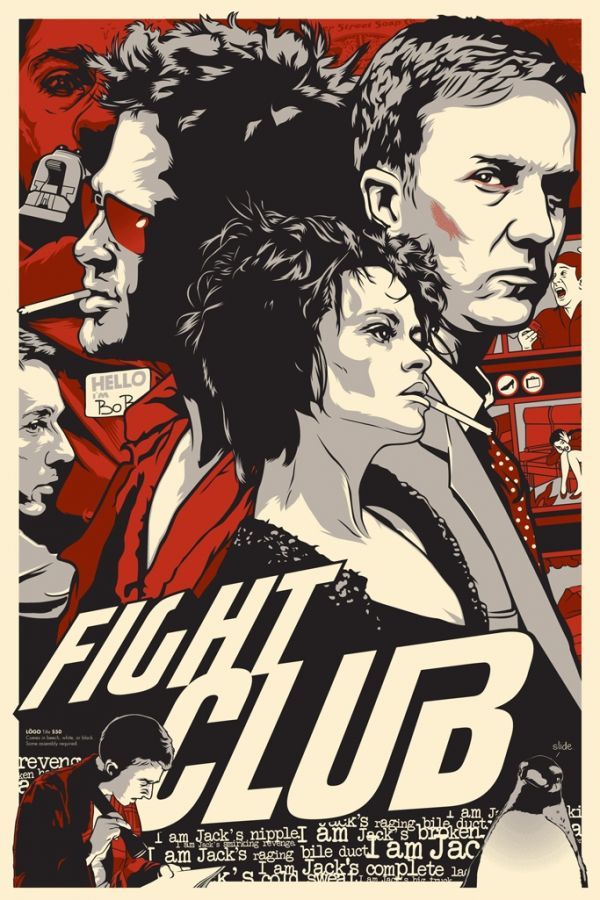 Fight Club Movie Poster
Joshua Budich
24" x 36"
Limited to 100
Joshua Budich has completed yet another killer poster, this time for the 1999 classic
Fight Club
. This poster is perfect in all the right ways and includes some fantastic little details from the film (e.g., the in-flight safety card, the narrator's power animal, and of course the "Bob" name tag). I'm not sure if this, his
O Brother poster
, or his
Pulp Fiction poster
is my favorite, but I can say without any uncertainty that this is one of his best and is sure to sell out quickly. Joshua Budich's
Fight Club
poster measures 24" x 36" and is limited to an edition of 100. The poster will be available for purchase at the show on Friday (7/8), but a few will also be available through Joshua's
website
after the show. To see the rest of Joshua Budich's work visit
joshuabudich.com
.
"Rubber" Art Print
Alex Pardee
Inspired By: Rubber
Huzzah! I can't believe
Rubber
has finally made it to the hallowed grounds of "Crazy 4 Cult," and it's an Alex Pardee piece to boot. I guess I can't really be shocked; it does have the word "cult" in the title of the show after all. If you haven't seen this movie, please
stream
or
buy
it right this second.
Rubber
is bizarre, clever, and most importantly a fun deconstruction of cinema's language. Oh yeah, and it's about a sentient, telekinetic tire named Robert who can explode people - that too. I know this sort of artwork probably has a rather small target audience, but I pray that this will be a print (rather than a one off) and I'll be able to get it online at some point after the show. If you'd like to Pardee on (even I know that was lame) be sure to visit
eyesuckink.com
.
"They Live" Art Print
Andrew DeGraff
Inspired By: They Live
For me, this is essentially a picture of an action figure from the 1980s I never knew I wanted. Andrew DeGraff's
They Live
art print is awesome and hilarious in equal parts, much like John Carpenter's 1988
film
. Our favorite bubblegum chewing, ass kicking hero, George Nada, is sporting both the "Rowdy" Roddy Piper-approved kilt and the formaldehyde face visage - some may say fashion faux pas, I say brilliant! To check out more Andrew DeGraff artwork be sure to visit his
blog
and
portfolio
at
andrewdegraff.com
.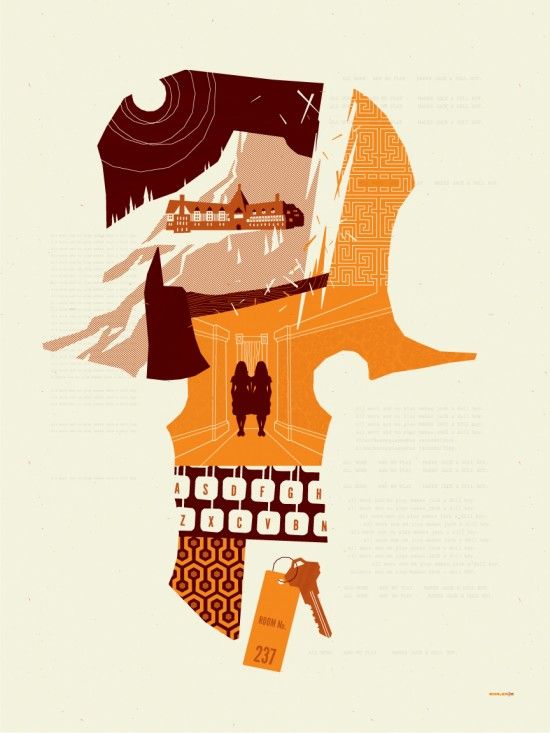 "Room 237" Art Print
Tom Whalen
16.9" x 22.5"
Limited to 80
Inspired By: The Shining
Finally, we come to Tom Whalen's amazing
Shining
-inspired print, titled "Room 237." It's not a "Crazy 4 Cult" show unless there's at least one piece of awesome artwork based on a Stanley Kubrick film. Whalen brings his characteristically clean lines to this print, but there's also a sense of chaos and asymmetry in the design, at least more so than in his previous work. I especially enjoy the barely visible typing that seems to be hiding just beyond your vision. Tom Whalen's "Room 237" print will measure 16.9" x 22.5" and will be limited to an edition of 80. If you'd like to learn more about Tom Whalen be sure to check out his growing
portfolio
at
strongstuff.net
.
And that's it. I hope everyone who has a chance to check out this show has a great time and picks up some beautiful artwork. Be sure to visit
Gallery 1988's website
for more information on this barmy, beautiful thing known as "Crazy 4 Cult."