UPDATE: All sold out folks! Be sure to visit Jeff Proctor's blog, he may release some APs down the road.
Angered by all of the attention given to "Crazy 4 Cult 5" this week (every word prior to this parenthetical statement is false), Mondo has decided to release a gorgeous
Texas Chainsaw Massacre
movie poster by one of my favorite artists, Jeff Proctor. I think you'll agree that this may well be Proctor's best poster effort to date and has solidified in my mind just how talented the guy is.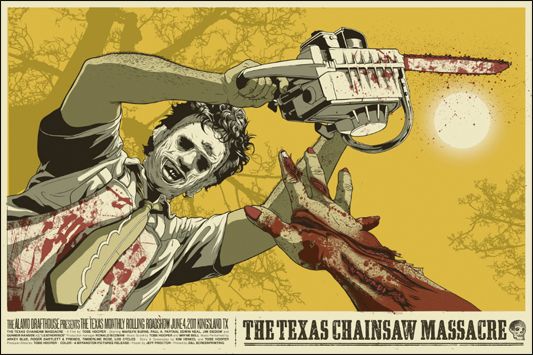 The Texas Chainsaw Massacre
Jeff Proctor
24" x 36"
$40 - Limited to 345
This poster is truly a horrifying spectacle. I love the fact that Proctor decided to use the victim's point of view as she faces the infamous Leatherface in a very one-sided battle. The bloodied arm, complete with flayed skin and serrated carpals, is at once captivating and repulsive. And the yellow Texan sky, very eerie. It's actually kind of perfect, because I'm reading
Shock Value
right now, which is pretty much an
Easy Riders, Raging Bulls
-type book, but for horror movies, and it includes a section that chronicles the creation of Tobe Hooper's
Texas Chainsaw Massacre
.
This
poster
will go on sale tomorrow, or rather later today (7/8) at a random time through
Mondo
. If you aren't already, you should definitely be following
@MondoNews
for all of the release details. Proctor's
Texas Chainsaw Massacre
poster measures 24" x 36", is limited to an edition of 345 and will cost $40. If you aren't lucky enough to grab one in the morn, be sure to check out Jeff Proctor's blog at
makenonsense.com
for some possibly upcoming APs. You should probably head over to his
store
as well, you know, just 'cause.