Well it's been about a week since "
Crazy 4 Cult 5
" premiered, and now it's time to take a look at Gallery 1988's
inventory
and see what's left. As a heads up, there's a lot more available than what I'm mentioning here, the posters below just happen to be a few of my favorites.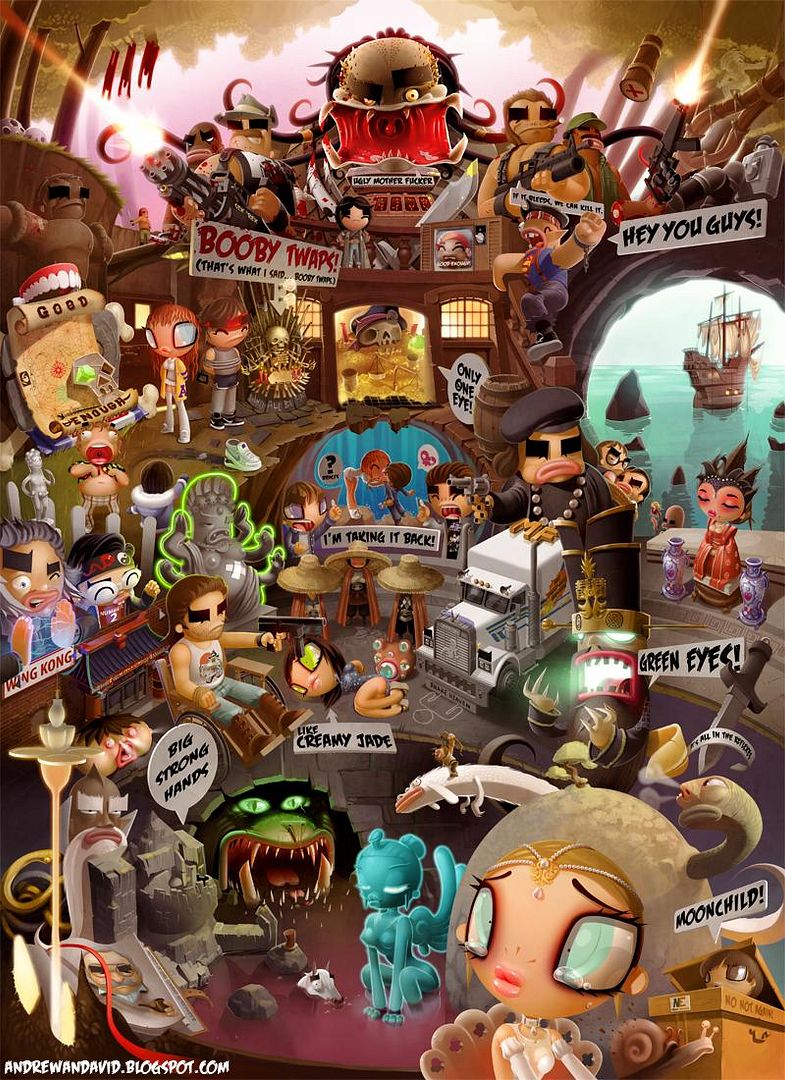 "1984-1987 at 1988" Art Print
Andrew Wilson
18" x 24"
$70 - Limited to 88
Inspired By: Predator, Goonies, Big Trouble in Little China, and The NeverEnding Story
This poster is a perfect condensation of my childhood. You've got Arnie kicking some Predator ass, a gang of kids set on discovering a long lost treasure, Kurt Russell kicking some mystical wizard ass, and a kid named Bastian riding a dog/dragon/Mr. Snuffleupagus-type creature named Falkor through the sky - yep, the 80s were a strange/awesome period for blockbuster films. To get a better picture of all of the details that went into making "1984-1987 at 1988" such a success, I highly recommend checking out the preliminary
digital sketch
. The
"1984-1987 at 1988" giclee
is currently available through the
Gallery 1988
website for $70. The signed and numbered
poster
is limited to an edition of 88 and measures 18" x 24". For more information on artist Andrew Wilson, be sure to visit his blog at
andrewandavid.blogspot.com
.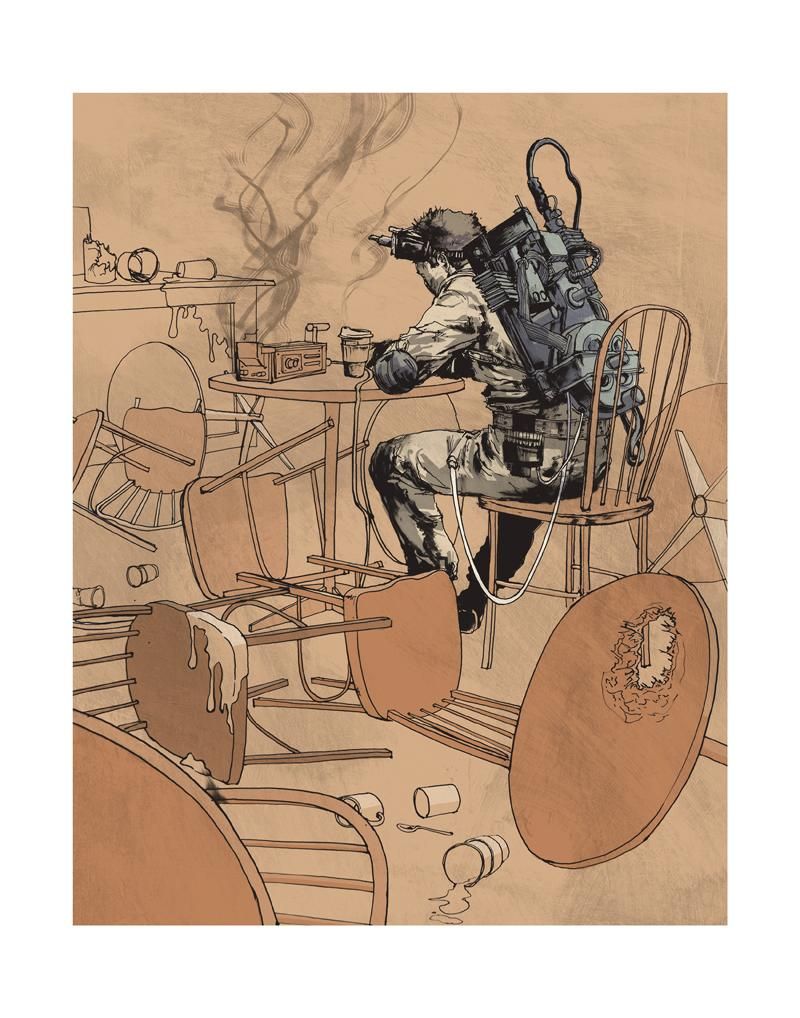 "Coffee Break" Art Print
Pat Kinsella
11" x 14"
$50 - Limited to 55
Inspired By: Ghostbusters
Pat Kinsella really nailed this. All the little details, like the smoking Ghost Trap, the tabletop with the hole blasted through it, and the spilled coffee…everywhere, are what really tell the tale of our lone hero and his previously precarious predicament (yeah I'm a sucker for alliteration). I've never wanted a Proton Pack this badly before. Again with the detail, I'm just blown away! The artist was totally able to delineate all of the whirring, buzzing and humming wires, cables and cogs (oh my!). Pat Kinsella's
"Coffee Break" art print
measures 11" x 14", is limited to an edition of 55 and costs $50. The
print
is currently available through
Gallery 1988
and is signed and numbered. To check out Pat's
portfolio
and
blog
head over to
patkinsella.com
. Note: I think this piece may have originally been for Gallery 1988's "3G" show, but it's listed in the "Crazy 4 Cult" inventory, so I'm going for it.
"Onda Punk" Art Print
Jay Shaw (Iron Jaiden)
19" x 25"
$30 - Limited to 40
Inspired By: Repo Man
I love
Repo Man
, it's such a strange combination of genres and seemingly incongruous elements that somehow mesh together to make a zany, fun little piece of 1980s magic. There's a lot of good things I could say about this poster, but I think the artist sums it up best (taken from the Jay's
website
):
"'A Onda Punk' was the title given to the American film Repo Man for it's release in Brazil. The title literally translates to 'The Wave Punk'. Brazilian film posters of the 60s, 70s and 80s often incorporated very bright colors coupled with absurd imagery. The idea was to make the posters more appealing to young Brazilians than the films themselves. This approach to film advertising was taken because most of the movies released in Brazil during that period were goofy comedies considered culturally harmless by the military dictatorship that ruled the country from 1964 to 1985. A Onda Punk was not released in Brazil until 1986 after the dictatorship fell. Rumor has it the inclusion of the Circle Jerks song 'Coup D'Etat' in the beginning of the film was the primary reason for the delay in release. A Onda Punk was never given a proper poster for it's Brazilian theatrical release so I thought it would be fun to make one now. It features Fox Harris' character, Frank, wearing the grill of the 1964 Malibu as glasses while he drives around Los Angeles."
Bottom line, this is a kick ass
screen print
at an amazing price by a really talented up and coming artist. Iron Jaiden's
"Onda Punk" art print
is available through
Gallery 1988
for the surprisingly low price of $30. The
print
measures 19" x 25" and is limited to an edition of 40. To learn more about Jay Shaw (AKA Iron Jaiden) head over to
kingdomofnonsense.com
.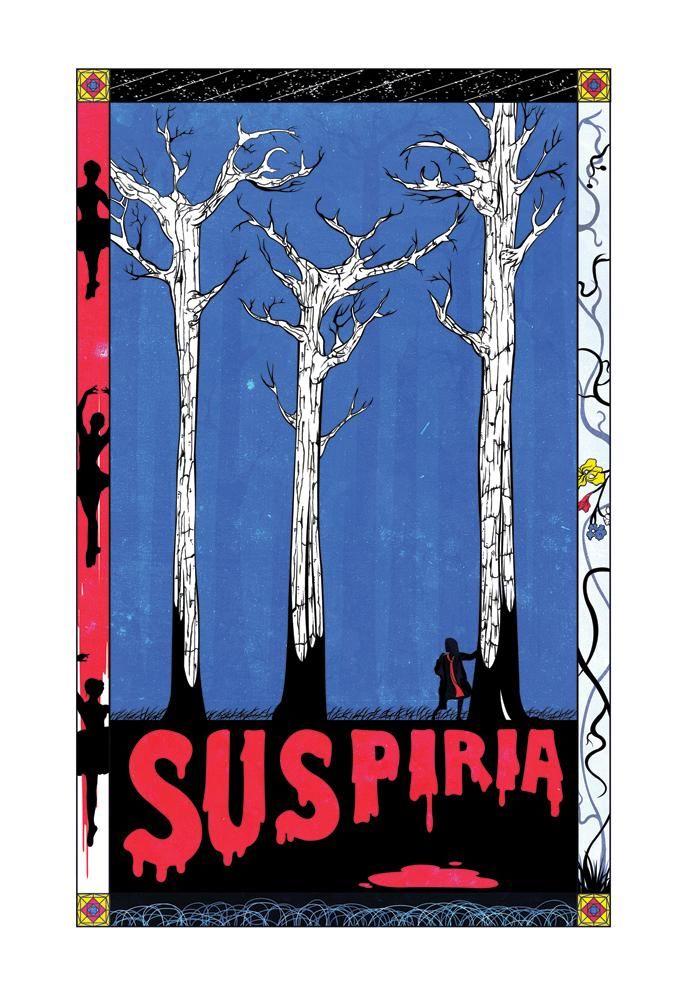 Suspiria Art Print
Keith Noordzy
13" x 10"
$35 - Limited to 20
Inspired By: Suspira
This one is particularly awesome. I haven't seen
Suspiria
since I was a little kid obsessed with mutilated corpses and armed with a subscription to
Fangoria
(that came out a lot creepier than I intended it to be), but I remember how elegantly and stylish was despite my initially low expectations. Pretty impressive. Keith Noordzy has created a wonderful ode to Argento's masterpiece and has somehow captured the spirit of the 70s with this print. Like all of the artwork included in this post, Keith's
Suspiria print
is available through
Gallery 1988's website
. The
poster
is limited to an edition of 20, measures 13" x 10" and costs $35. For more info on Keith Noordzy check out his blog and portfolio at
quid-squid.com
.
Conclusion? It's amazingly cool to see "
Crazy 4 Cult 5
" artwork in the gallery, but if you can't see it in person, at least you and I have a chance to pick up some fantastic prints after the fact. I recommend checking out the rest of
Gallery 1988's offerings
when you have some time, because there's far more available than what I've included here.
By the way, I just realized this is my 100th post! I think I should buy a poster in celebration, or something.