UPDATE 1 (9/12): 75 copies of this print will be released during a screening of Frankenstein at the New Beverly in Los Angeles tonight. Each print will cost a total of $285 and will be signed and numbered by Drew Struzan. The print is limited to an edition of 325.
This one has already made the rounds, but it's kind of a big deal (and awesome), so I feel it bears repeating. Drew Struzan, the man behind some of the most iconic movie posters in existence, in collaboration with
Mondo
, has created a truly brilliant poster for the monster classic
Frankenstein
.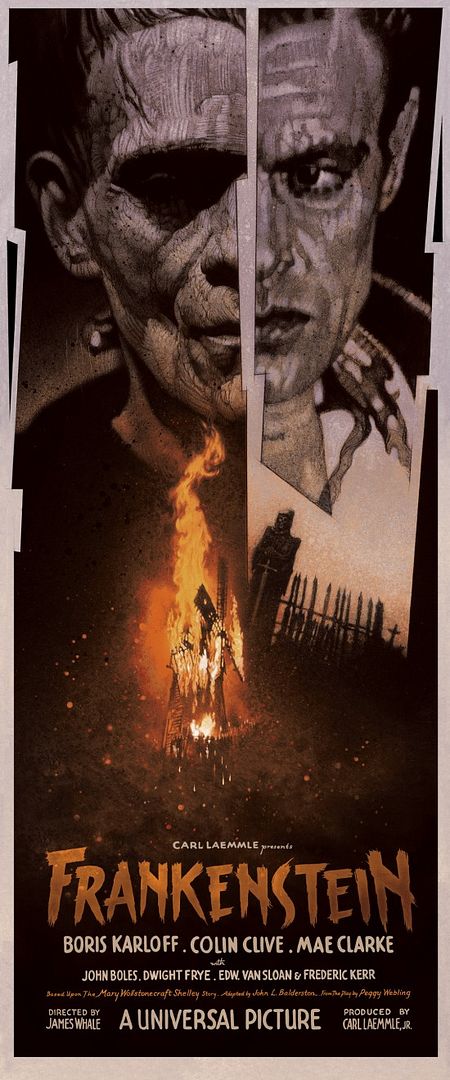 Frankenstein Movie Poster
Drew Struzan
These guys are certainly doing something right. Not only was
Mondo
recently contacted by The Academy of Motion Picture Arts and Sciences to archive all of their forthcoming posters, they also got to work with legendary artist Drew Struzan to create the kickass poster you see above. Struzan crafted an insanely beautiful poster for the Karloff-starring
Frankenstein
that seems to both pay respect to the 1931 film, as well as interpret the movie through a more modern design aesthetic. Using fragments of Dr. Frankenstein and Frankenstein's monster to create a whole person, separating them with the only the tiniest fracture, not only says something about the characters and the schism between them, it also happens to look pretty sharp. I imagine Struzan created this print using his standard airbrush and color pencil method, but even if he didn't, the crazily detailed photo-realistic look of his posters is perfectly retained with his first (of hopefully many) Mondo poster(s).
I don't really have any information on when this poster is going to be released, but I can tell you it's going to be nearly impossible to get a hold of.
/Film
recently posted a great
interview
with main Mondo man Justin Ishmael, but one line in the article has me more than a little worried:
"There's no information yet on price (but it'll be expensive), edition size (smaller than most) or release date, but that'll all be announced on @MondoNews very soon."
Why on Earth would they want it to be a smaller edition size than most? You would think a Drew Struzan Mondo screen print would be a great reason to make the edition size larger than most. But who knows, I'm sure
Mondo
has a good reason, or maybe something was just lost in translation. Either way, I'll definitely be trying to grab one of these and I'll be sure to update this post as I receive more information. To learn more about the amazing Drew Struzan, I recommend visiting his portfolio at
drewstruzan.com
, but even more so I'd advise you to pick up the amazing book
The Art of Drew Struzan
.