UPDATE 2 (7/28): Rich Kelly's APs are now available through his store!
UPDATE 1 (7/15): Sold out! Be sure to keep your eye on Rich Kelly's online storefront, because he may eventually put some APs on there.
Yet another poster that should probably be part of my "
Criterion Connection
" feature, but I'm (very) lazy, and I want to get this post up before it goes on sale tomorrow (those Criterion posts take me a long time to put together). This print is very easy to like for two main reasons: not only was it created in order to help keep the financially struggling hotel from the film
Bottle Rocket
open, it also features an amazing design by artist Rich Kelly.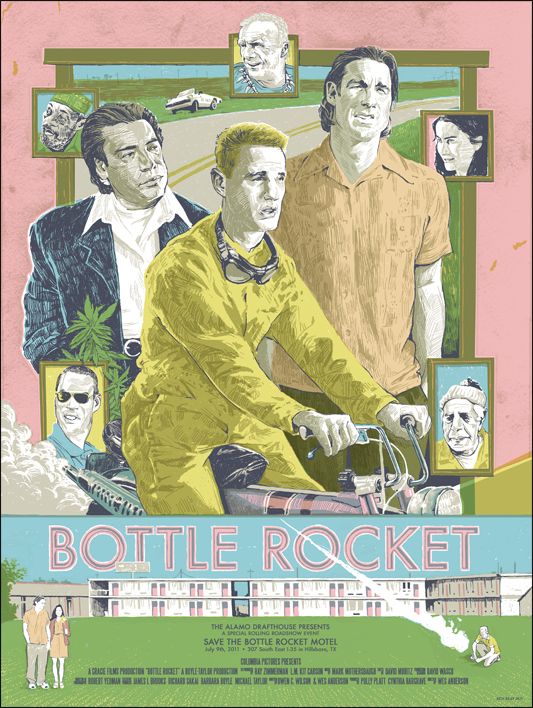 Bottle Rocket Movie Poster
Rich Kelly
18" x 24"
$40 - Limited to 225
It looks like Rich Kelly chose to play this one a little straighter than he's usually apt to do, but there's no denying that this poster was created by an artist who enjoys finding humor and absurdity in his subjects. I think one of the most striking things about this print is Kelly's color palette. Anyone who's ever seen a Wes Anderson film knows the director tends to use bright saturated colors (usually primary) that manage to make everything and everyone pop. Well, it seems Rich rightly caught on to this and has perfectly captured the Anderson aesthetic, and it works marvelously. All in all, this is a wonderful print and puts a smile on my face as I'm reminded of Dignan's (played by Owen Wilson) persistant positivity and his labyrinthine plans for the future.
Rich Kelly's
Bottle Rocket movie poster
will be available through
Mondo
at a random time tomorrow (7/15). The
poster
will cost $40, measures 18" x 24" and is limited to an edition of 225. If you need any help assuaging your guilt in purchasing this
print
, remember that 15% of the profits will go to saving the
Bottle Rocket
hotel. That's a worthy cause, right? As usual, for up-to-the-minute release info on anything Mondo, be sure to follow
@MondoNews
. And if you like Rich Kelly's artwork here you'll love the rest of his work at
rfkelly.com
. He also usually release a few APs down the road through his
Big Cartel store
. Good luck all!