Taxi Driver
is easily one of my top ten films of all time and possibly my favorite Scorsese film (although I also happen to love
Casino
).
Disturbia Clothing
, a company I'm not all that familiar with has recently released a
Taxi Driver
-inspired art printed, titled "Travis Bickle." But wait, there's more. Disturbia had also previously released
The Shining
-inspired art print, titled "Redrum." Pretty cool, right?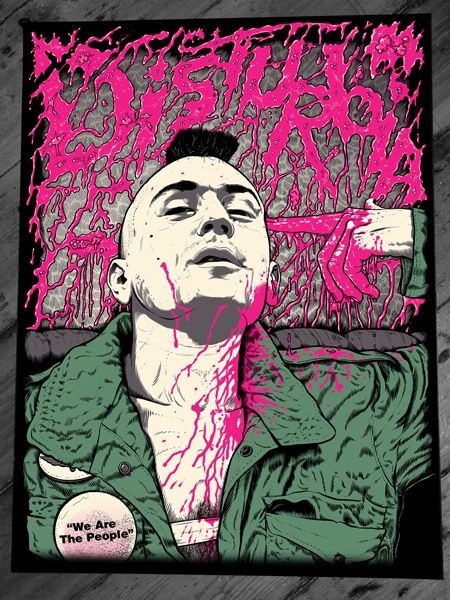 Travis Bickle
This print captures one of the films most iconic scenes (in a film filled with iconic scenes) near the very end of its runtime. In terms of photo realism, it's pretty spot on. And in a funny way, this print and the film have more in common then one would think.
Taxi Driver
, a film that really pushed the envelope of what was acceptable in cinema (as many films of the 70s did), had an issue with the MPAA and in order to get an R rating, Scorsese was forced to desaturate the color of the blood to make it less realistic looking. This print also features blood that, while not desaturated in any way (quite the opposite, in fact), has certainly been tampered with and makes the blood less realistic in appearance and indeed more stylistic. Wow - okay, that might have been a bit of a reach on my part, but you've got to respect me for trying! Anywho, the "
Travis Bickle
" art print is available through
Disturbia's
store in the '
Art Prints
' section for £17 (roughly $27) plus shipping. The screen printed
poster
measures 18" x 24" and is limited to an edition of 50. Get'em while they're hot!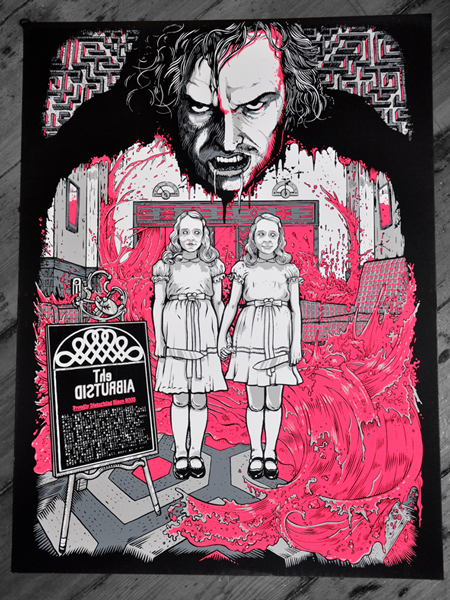 Redrum
Reprinted from a previous review I had written on the "
Redrum
" art print: Somehow Kubrick's
The Shining
is one of those rare films that continues and, in my opinion, will continue for a long long time, to inspire artist to create some magnificent (read: horrifying) artwork. What a masterful layout. Using Jack Torrance's outline as a frame for the twins and elevators of blood? Brilliant, brilliant stuff. Add to that the inspired inclusion of the labyrinth and you've got one amazing design. I have to admit I wasn't sure how I felt about the lighter almost-pink blood for about the first five seconds, but now I'm all in. The incoming flood of sanguine fluid really draws in the eye. The "
Redrum
" print measures 18" x 24" and is limited to an edition of 50 for the low cost of £17 (around $27) through
Disturbia's
online store. These have been on sale for a while, so I can't imagine there are that many left. You can check out the artist,
Michele Boscagli
, through his
Myspace
page.
As a reminder for those of you that haven't entered the Posterocalypse
Fighter giveaway
yet, I'll be giving away
The Fighter movie poster
by Alan Hynes and a mystery print on February 28th to one lucky person who leaves a comment with their name and email address (US only) in last Saturday's
blog
post (it was titled "
Giveaway - The Fighter by Alan Hynes
"). Good luck!