And yet again I write about the talented Mr. Doyle. This time the adroit artist has his sights set on
An American Werewolf in London
, the classic John Landis werewolf film featuring the insane practical effects of Rick Baker and company. I rewatched this film not too long ago and am still completely amazed by the werewolf transformation scene and Jack Goodman's constantly decomposing body - the film is total blast from beginning to end, even after 30 years.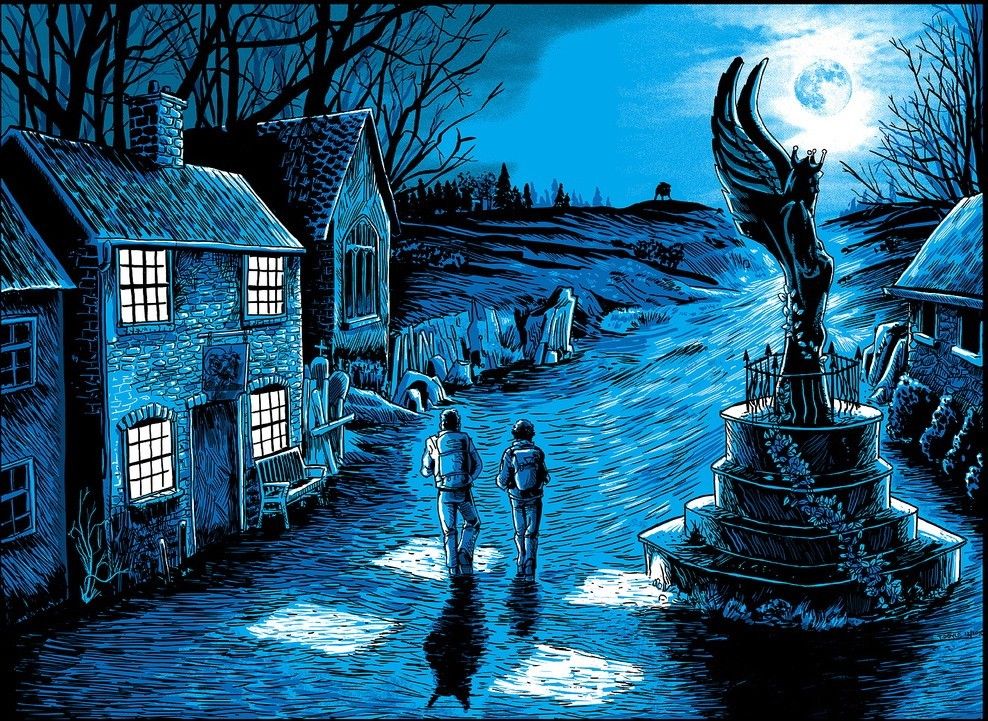 Stay Off The Moors - Regular Edition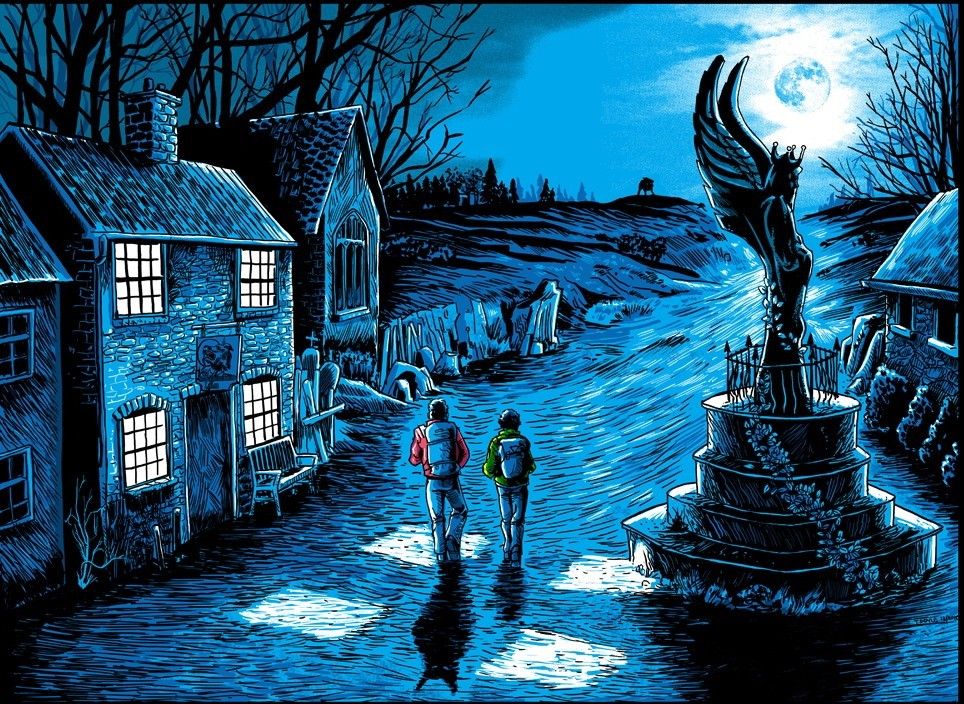 Stay Off The Moors - Variant Edition
Tim's "Stay Off The Moors" art print is a great reflection of the artist and his love for pop culture and cult films. He's littered a bunch of great references throughout the image, including David Kessler's wolf shadow (you may need to click on the image to see more detail), the werewolf standing on a small hill off in the distance and of course the "Blue Moon" (a song that played three times in the film, each time by a different artist). I'm probably way off base in saying this, but the way the ground was drawn totally reminds me of Van Gogh's
The Starry Night
, in that it looks like the ground is moving and flowing in a cadenced, almost otherworldly swirl.
The variant is also an interesting decision. I'm not entirely sure it's worth the increase in price, but it certainly does more accurately capture a moment from the film and I'm sure
An American Werewolf in London
fanatics (and there's probably quite a few) would jump at the chance to pick the slightly more colorful print up. What's also really cool, is that the regular and variant edition glow in the dark. Yes!
These prints were originally commissioned by online gallery,
Dark City Gallery
, and are available for purchase through their
website
. The regular
print
is signed and numbered, measures 18" x 24", comes in an edition of 200 and costs £30 (roughly $48) plus shipping. The more colorful
variant
comes in an edition of 50 and costs £45 (roughly $73) plus shipping. There's probably a pretty good chance that Tim will be selling some of his own copies through his
Nakatomi Inc
site at some point, so be sure to sign up for his
mailing list
and follow
@NakatomiTim
. As usual if you're interested in seeing Tim's portfolio head over to
MrDoyle.com
.