Found this one by way of
OMG Posters
and am absolutely loving it. Rhys Cooper's "Saucy Jack" print is fantastic in all the right ways. Not only is Jack the Ripper the perfect subject for Cooper's signature splatterhouse style, everything just comes together to create a creepy, but classy snapshot of the Victorian serial killer.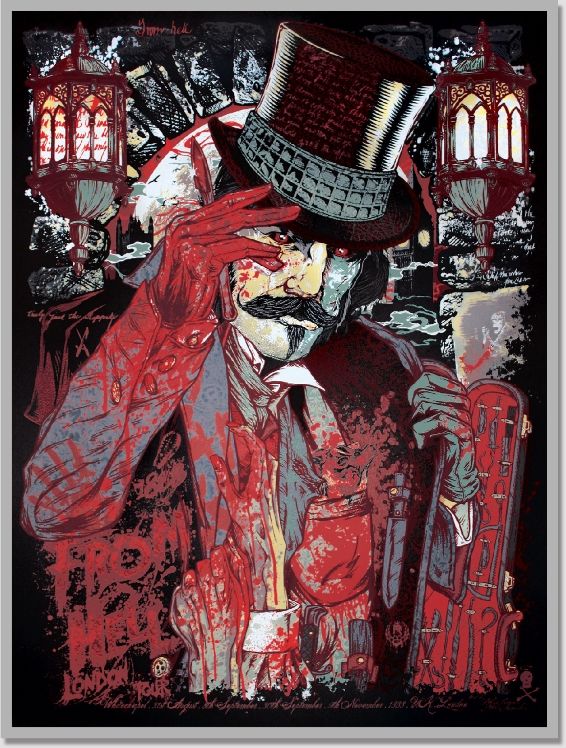 Saucy Jack
I'd never heard of
Under the Floorboards
, but much like
Dark City Galleries
, if they continue to commission cool artwork like this, they'll have a fan for life in me. I wanted to call out how brilliant Jack the Ripper looks here - he seems to be the embodiment of calm and collected, with just a hint of deranged violent lunatic thrown in for good mix. The killer's bloody/demonic eyes are especially frightening, although he does look eerily like Daniel Day Lewis from
Gangs of New York
. My favorite touch is the violin bag of rather nefarious looking instruments of torture, and of course the insanely bloody hand he's raised to his top hat.
I'm a bit late to the dance on this one and unfortunately the the variant with red and white glow in the dark ink is already sold out, but amazingly the "
Saucy Jack
" version with white glow in the dark ink is still avaiable through the
Under the Floorboards
site. The print costs £25 (roughly $40), measures 18" x 24" and has an edition of 80. For those who may have missed the boat completely, fret not, for the rest of the posters (
Under the Floorboards
only had a portion of the run to sell) will be made available through
Rhys Cooper's Facebook
page. Good luck!