I'd been meaning to write about this print for a while now, but kept forgetting until today. I guess there's just too many amazing posters out there (this is a good thing). The films of Stanley Kubrick are pretty mindblowing and I'm not sure I could ever be friends with someone who doesn't love at least a fraction of his filmography. One of my favorites is
Full Metal Jacket
(although my number one Kubrick film will forever be
Dr. Strangelove
). I really loved his take on the Vietnam war, and although I think the whole movie is a masterpiece, it's the first half, the part that takes place on Parris Island during recruit training, that truly blows me away (no pun intended).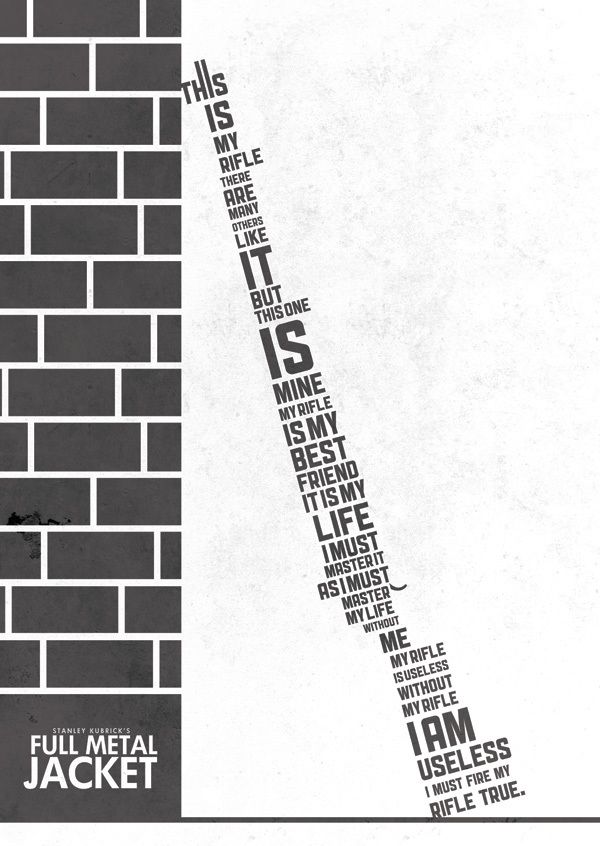 Full Metal Jacket
Artist Livia Lucie created this mind boggling typographic masterpiece in honor of one of the greatest war / anti-war films ever made. For anyone who's seen
Full Metal Jacket
, or served as a Marine for that matter, you'll immediately recognize the Rifleman's Creed that has been shaped to create the body of said rifle; it's inventive, creepy and beautiful all at the same time. I'd love to see an entire series from Livia dedicated to the films of Kubrick, each with its own clever composition. Over the span of my obsession with poster art I've seen some great type-centric posters, especially as minimalist posters have really started picking up steam over the last year, but I have to say, this may be one of my favorites (definitely top three).
The A3-sized (equivalent to 11.69" X 16.54")
Full Metal Jacket print
is available right now through the
Picmix Store
for £12 (or around $19). The storefront says it's a limited edition
print
, but I'm not seeing the edition size anywhere. If you're having any hesitation about picking one of these up, put it away, because not only will you be buying an awesome
poster
, 10% of all sales will go toward Wateraid, an organization attempting to improve access to safe water, hygiene and sanitation in the world's poorest communities. It's a win-win. To learn more about Livia Lucie head over to her
website
and check out her
blog
. If you've got some extra money lying around, would you mind commissioning her to do another Kubrick-inspired print? I'd really appreciate that. Thanks!