This poster isn't film or pop-culture related, but I thought it was just so damn cool. Angryblue's "The Hive" art print is grotesque, beautiful, and frightening all at the same time. I've long considered Angryblue an amazing artist and printer - often thanks to his disturbing attention to detail and his wonderfully morose vision.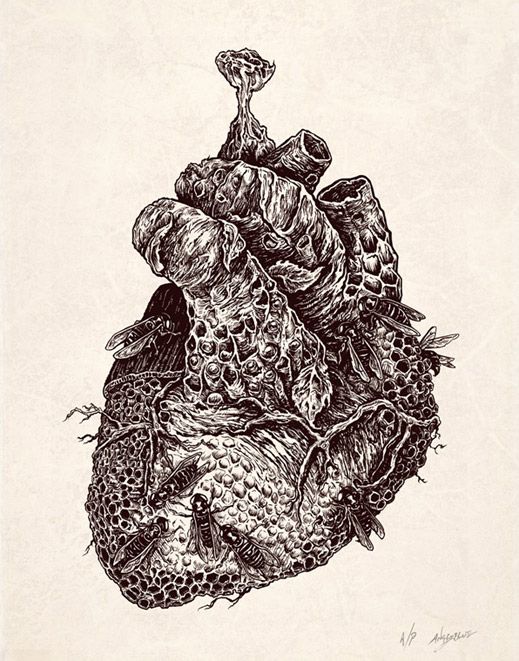 The Hive
Now I've always been fearful of bees. I'm not entirely sure why, but I think it has something to do with the fact that I've never been stung. So the anticipation of being stung is that much greater and that much more horrifying in my mind. Maybe that's why I'm so taken with this work, and so many of Angryblue's atrophied images - that sense of wonderment and fear. Angryblue's use of color, or lack thereof, has also always impressed me. He seems to prefer a muted color palette; while things are usually just in black and white, when he introduces color, it's always tastefully done and usually adds something extra to the artwork. I actually first fell in love with "The Hive" when I purchased Angryblue's and Jeral Tidwell's
Ink Alchemy: Volume 3
, where "The Hive" was prominently displayed on the cover. I wonder if he'll ever do any Mondo posters. Can you imagine if he did a poster for Cronenberg's
The Fly
, or even
The Fountain
(check out his "Mandrake"
letterpress
poster if you need proof)? That would be amazing!
"The Hive"
art print
is available through Angryblue's
site
for only $30 (plus shipping). The
print
measures 11" x 14" and is limited to an edition of 100. I recommend just browsing his
blog
as you're sure to find something that interests you (he's done a lot of stuff). If you want to get a taste for his and Jeral Tidwell's work, I highly recommend picking up their
Ink Alchemy
collection.