Finally we come to the poster that's probably the most fun out of the three Lustig prints. Yep, that's right - the
Maniac Cop 2
poster by Jason Edmiston. I'm proud (should I be proud?) to say that I've actually seen this film (thanks HBO at 3 in the morning 15 years ago)! Jason Edmiston, an artist I've been following for about a year now, has finally joined the Mondo artists' stable, and I couldn't be happier.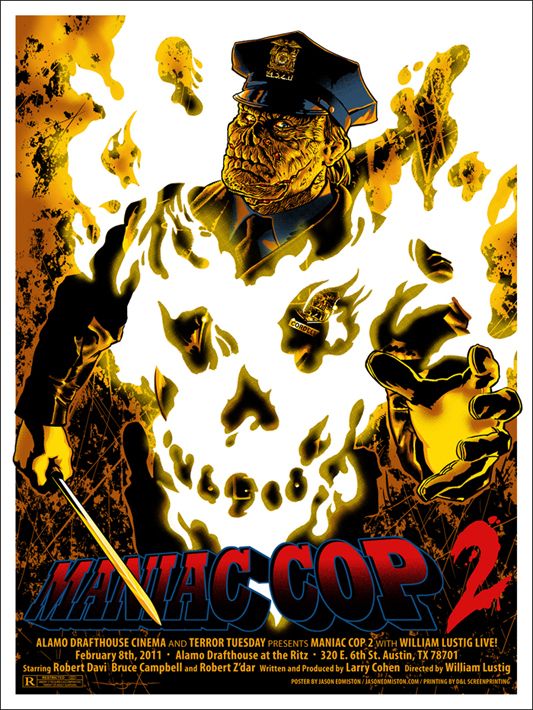 Maniac Cop 2
As I stated earlier this poster is just plain fun. It's what you would expect the cover of a
Maniac Cop 2
comic to look like; it's campy, it's cartoony, and it's kitschy just like the film. I love everything about this poster, from Robert Z'Dar's oversized horribly disfigured face to the demonic hellfire that's literally bursting from his chest. Edmiston even got Cordell's badge in there! If you're a fan of seriously deranged cult films, then you owe it to yourself to not only see the
Maniac Cop
trilogy, but to pick up this poster (that is, if they don't sell out in Austin). I'd also highly recommend checking out Jason Edmiston's
website
and Etsy
store
. I think my favorite Edmiston pieces are his "
Cobra Wants You
" and "
Source of 5 Essential Nutrients
" art prints.
According to
@MondoNew's
Twitter feed it looks like if all goes according to plan (my plan, that is) these bad boys will go on sale on Thursday (2/10) at a random time through
Mondo
. The
Maniac Cop 2
poster measures 18" x 24" and comes in an edition of 125. Also, be sure to head over to
Bloody Disgusting
for a great interview with film's director, William Lustig.