I don't know too much about this movie, but I do know a bit about the immensely talented Ken Taylor. Taylor's inimitable style often uses shadow to design characters made up of grotesque detail, and judging by his newest poster for the William Lustig-directed
Maniac
he's succeeded admirably in capturing the insanity of the film's titular maniac, Frank Zito.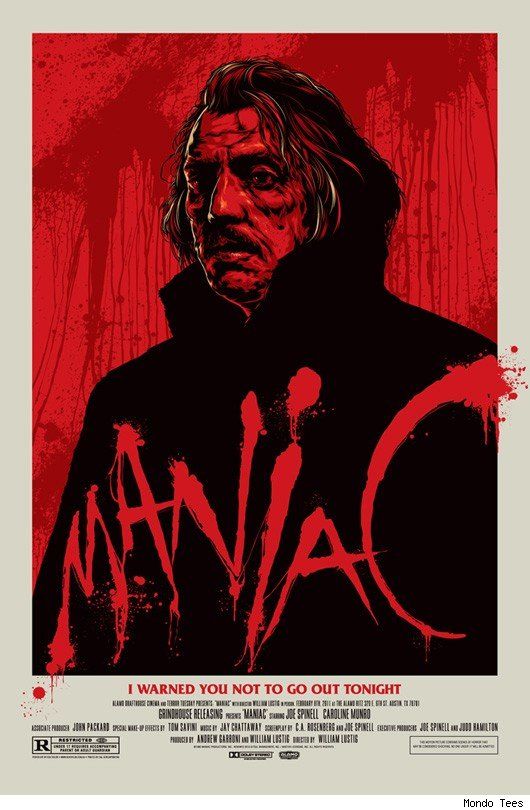 Maniac
I was immediately taken aback when I first saw this poster due to its beautiful title typography. Ken Taylor channeled the best bits of Ralph Steadman here and was able to express the ferocious and anarchic intensity of the gonzo aesthetic. The title really hits you where it hurts and keeps on hitting. Add to that, the blood stained wall behind our "schizoid serial killer" (
IMDB's
words, not mine) and you've got quite a disturbing passport photo. You've got to love the simplicity of the color scheme too - Taylor has kept it simple and kept it bloody, much like the slasher/exploitation films of the 70s and 80s. If you're interested in the poster, or more importantly, interested in the film, I highly recommend you check out
Cinematical's
interview with the film's director, who has a lot to say about the making of the film and the history of the genre.
Ken Taylor's
Maniac
movie poster will be sold at the Alamo Drafthouse when
Maniac
,
Vigilante
and
Maniac Cop 2
play in Austin tomorrow (2/8) and Wednesday (2/9). If there are any left, the rest will be sold online through the
Mondo store
on Thursday (2/10). So let's hope the Austin crowd is feeling particularly fickle those nights and us online folk get a stab (pun intended) at this amazing artwork. The poster measures 24" x 36" and is limited to an edition of 200. As usual, following
@MondoNews
is the best way to stay up-to-date on the potential release details. And to learn more about artist Ken Taylor you can visit his
site
and/or buy his gig posters through
Beyond the Pale
.