Fernando Fro Reza, better known as
Fro Design Co
on the web, has been creating and selling film / television inspired prints since early 2010 through his
Fro Design Co
blog. He's created prints based on shows like
Lost
and
The Walking Dead
, to movies like
Inception
,
The Life Aquatic with Steve Zissou
(my favorite Wes Anderson film) and now, John Carpenter's legendary
The Thing
. In collaboration with
CHUD.com
, Fernando has been, and will continue to, create monthly movie posters for Cinematic Happenings Under Development (also known as
CHUD
). Here's a much more eloquent summary of this union than I could ever produce (copied, pasted, and then slightly edited / paraphrased from
Nick Nunziato
):
"Every month for as long as we're able to keep on keepin' on, we will be saluting two films with glorious and beautiful posters that should get your gears turning real nice. What qualifies for a CHUD SALUTES honor? It's a weird combination. Some of these will be great movies. Some will be horrible movies. Some unsung classics. Some pretty obvious flicks. The end result is that when this man [Fernando Fro Reza] graces them with his eye, they're all unified in their delightfulness."
Now onto the fun stuff!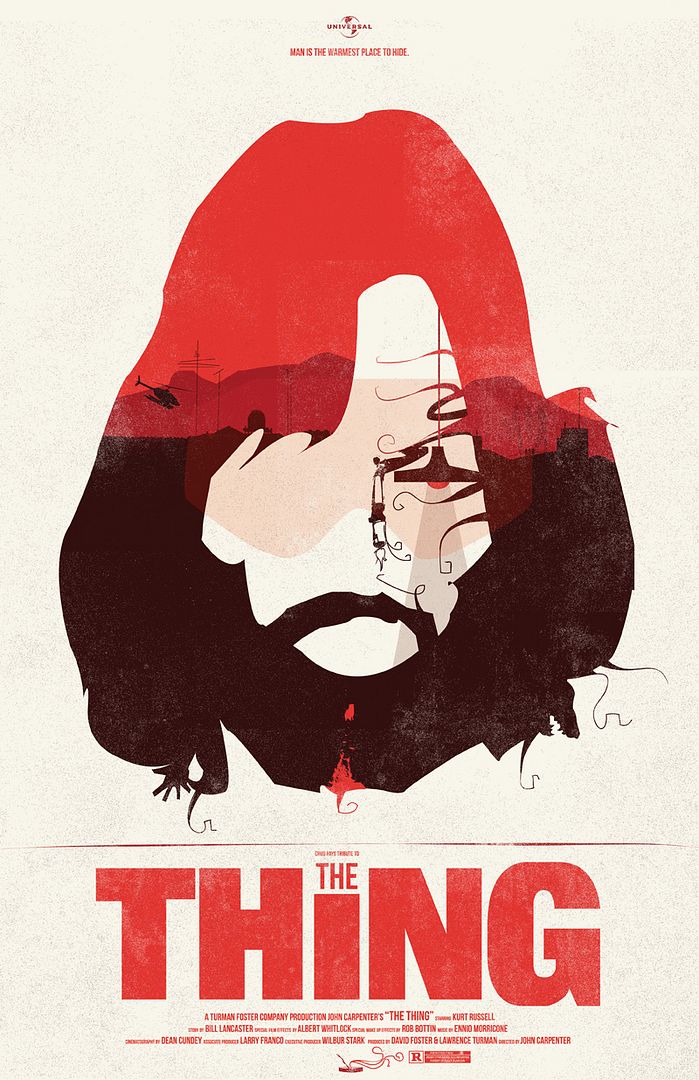 The Thing: MacReady
Fernando's
The Thing
"
MacReady
" movie poster is my favorite of the two. It's very Olly Moss, in that there's so much going on and yet it's so minimal. I'd actually recommend clicking on the image to get a better look at a larger version, you might be surprised at all of the hidden elements he's thrown in. This poster is of course an image of
The Thing's
resident badass / protagonist R.J. MacReady (played to perfection by Kurt Russell). My favorite details are the hanging light that acts as MacReady's eye and the petri dish filled with alien goo and reacting to the heat under the cast and crew credits. If like me, you never had the chance to grab one of
Stout's
amazing
The Thing
posters, then you'll no doubt be picking this one up to fill that deep, dark, vacuous void in your soul. The "
MacReady
" poster measures 11" x 17", costs $25 and is limited to an edition of 50. There also happens to be an amazing buy one get one free deal through
CHUD
, so I HIGHLY recommend heading over there
ASAP
(hint:
read
the first two paragraphs) - you won't be sorry. These will sell out quickly, so act fast!
The Thing: The First Week of Winter
The Thing
"
The First Week of Winter
" print is a bit more traditional, but definitely highlights the kick-ass-ness of Kurt Russell much more prominently, and there's absolutely nothing wrong with that. In a lot of ways these posters fit together perfectly. The "
MacReady
" print features fiery red hues, and seems to give off heat and represent action, while "
The First Week of Winter
" print represents the colder and more isolated atmosphere of the American Antarctic research station by using shades of blue; together these prints seem to create a whole picture. Much like the previous
The Thing
print, "
The First Week of Winter
" poster costs $25, measures 11" x 17", is limited to an edition of 50 and is available through the
Fro Design Co
store. Again, please be sure to check out the
CHUD
post before buying either one of these prints to take advantage of the BOGO offer.
Now it's time for the self serving aspect of this post, where I remind everyone who hasn't already done so (US only) to enter themselves in Posterocalypse's
The Fighter print giveaway
. I'll be giving away
The Fighter movie poster
by Alan Hynes and a mystery print on February 28th to one lucky person who leaves a comment with their name and email address in last Saturday's
blog post
(it was titled "
Giveaway - The Fighter by Alan Hynes
"). ¡Bueno suerte!