At some point in your life you've most likely heard or seen the Gene Kelly performance of "
Singin' in the Rain
" in the identically named film. You know, the one where he's spinning around light posts and tap dancing on puddles? It's been used in commercials and films (
A Clockwork Orange
, anyone?) and has inspired parodies and tributes galore. There's something magical and infectious about those lavish musical numbers that we just don't see anymore (apart from
Glee
, I guess). For me they represent an intangible childlike sense of awe and an everything's-going-to-be-alright naivete, which can be quite refreshing in a sometimes irony-obsessed culture. Adam Juresko's
Singin' in the Rain
poster somehow recreates that warm feeling and manages to be just as playful and optimistic as the film.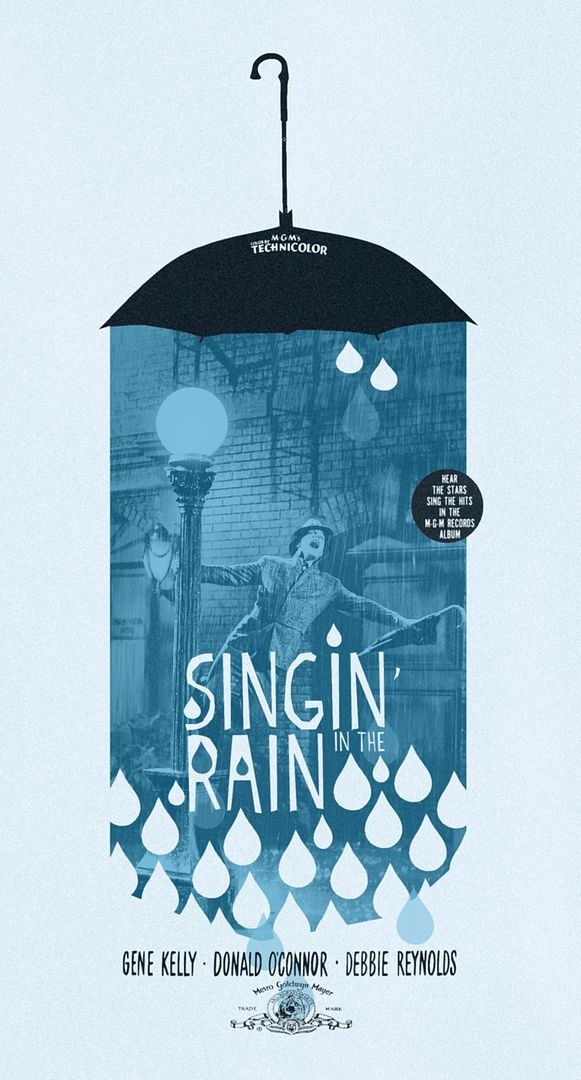 Singin' in the Rain
Not only does this poster feature a wonderfully minimalist illustration, Adam has also seamlessly included an iconic screenshot from Gene Kelly's memorable
song and dance
. I'm a little shocked this works SO WELL. The way the rain drops shape the inside of the letters and provides a transition point between the light blue paper and the darker blue photograph is brilliant to boot. For anyone who is a fan of old school Hollywood, this is a must have. I'll be following Adam closely if he keeps putting out beautiful prints like this!
The
Singin' in the Rain poster
by Adam Juresko is currently available through his
Etsy store
for a very affordable
$20
. The poster measures 11" x 17" and appears to be part of an open edition. He's got a bunch of other movie posters
available
too (one of which I will probably write about later this week), so be sure to
look
around. Adam also has a
Tumblr blog
where he posts all his new art. If you've never seen the movie, do yourself a favor and
buy
it today (or at the very least head to
YouTube
to check out Gene Kelly's sweet moves).