If you frequent
Expresso Beans
or
OMG Posters
there's a very good chance you may have heard of Iron Jaiden. If not, welcome to the party. It seems Iron Jaiden has created a kickass poster for the Cronenberg classic
Videodrome
. And the real kicker is that he created this awesome print for a movie night at somebody's house. How great is that?!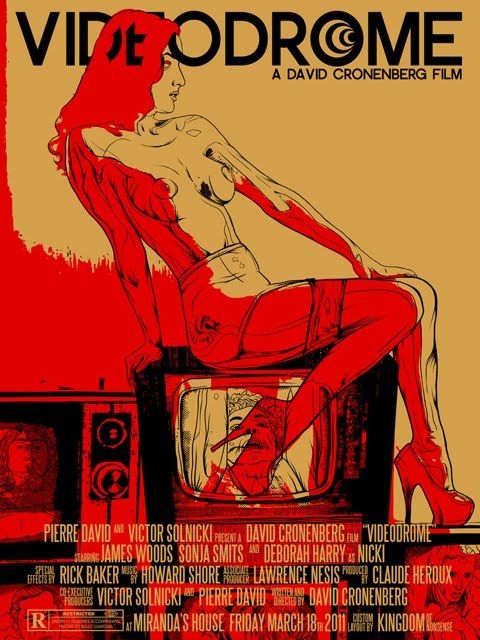 Videodrome
I love the primitiveness of this image, it's a like a rough sketch of a half forgotten dream (or nightmare). And I'm not sure if it's the colors, the drawing, or both, but this poster is sort of disorienting - I feel a bit like I've become the victim of one of Barry Convex's deadly broadcasts (and I love it). You've got the beautiful Nicki sitting on a throne of televisions with the most visible boob tube showing a shot of the titular snuff television program
Videodrome
. The only other television image I can clearly make out is of James Woods as Max Renn in the lower right hand corner. For someone who hasn't come out with a ton of stuff, I'm really impressed with what Iron Jaiden was able to pull off and I can't wait to see more (here's hoping he continues the movie poster trend).
The
Videodrome poster
by Iron Jaiden will be released on Tuesday (2/22) at Midnight (12 AM MST) through Iron Jaiden's
Kingdom of Nonsense
store. The signed and numbered
poster
measures 19" x 25", is limited to an edition of 40 and only costs $17 plus shipping. If that wasn't a sweet enough deal, Iron Jaiden will be including bonus prints and stickers in every tube. Long live the new flesh! By the way, if you haven't already, you NEED to pick up Criterion's
Videodrome
Blu-ray - it's a brilliant film and a great transfer.
As a reminder for those of you that haven't entered the Posterocalypse
Fighter giveaway
yet, I'll be giving away
The Fighter movie poster
by Alan Hynes and a mystery print on February 28th to one lucky person who leaves a comment with their name and email address (US only) in Saturday's blog post (it was titled "
Giveaway - The Fighter by Alan Hynes
"). Good luck!