UPDATE (4/3): While it certainly wasn't Dark Hall Mansion's smoothest release, all of Durieux's Metropolis prints quickly sold out the moment they went live. But fear not my friends, because Laurent has a few APs he'll be selling through his Big Cartel store on Saturday (4/6) at 9AM PST, meaning you don't have to resort to the secondary market just yet. Yay! Head over to retropolis.bigcartel.com for more info.
Hey, folks. Apologies for the lack of updates recently. I made the mistake of purchasing the
Mass Effect Trilogy
,
Dead Space 3
, and
Bioshock Infinite
for the PS3 thinking I could somehow be consistent with my blogging while not getting completely addicted to these three absorbing franchises. I was sorely mistaken. But I'm here now with what's easily one of the prettiest pieces of artwork I've seen all year. Now I might get some flack for this, but I think Laurent Durieux's
Metropolis
print dwarfs anything he's done for Mondo -- yes, even his incredible
King Kong
and
Universal Monster
series -- so far. There, I said it.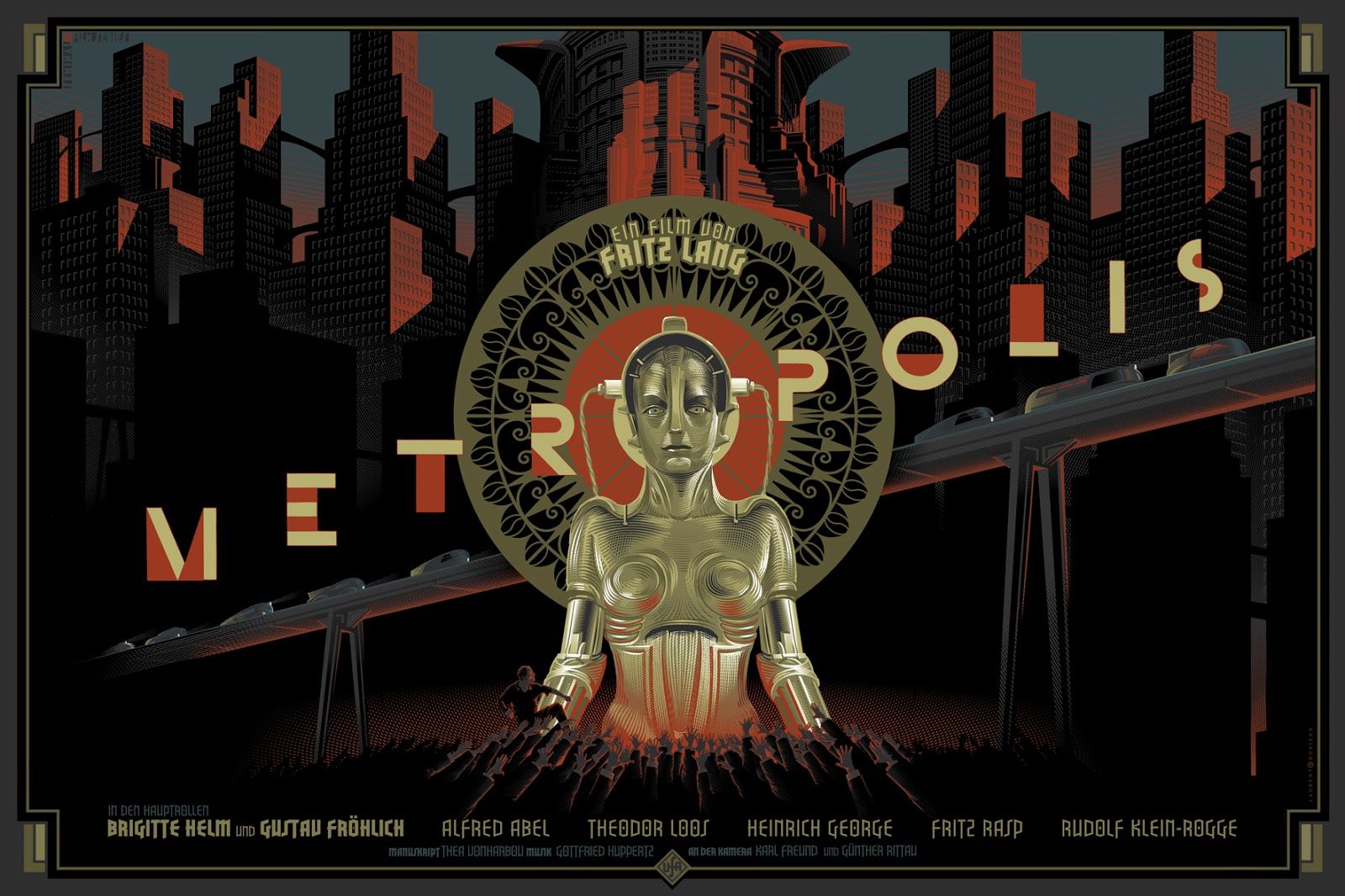 Metropolis Movie Poster
Laurent Durieux
24" x 36" (Screen Print) - Numbered
$65 - Limited to 200
It's not often I stare at a poster and wonder whether any other artist alive today could do as good a job on a movie print as Laurent's done here, but that's exactly how I feel about Durieux's stunning ode to
Fritz Lang's cinema classic
. The artist's style could not be a better fit for the 1927 masterpiece as it recalls another place and time altogether. It seems Dark Hall Mansion didn't want to leave anything to chance when they decided to introduce their Seminal Films series with this incredible work of art, which you and I are lucky enough to have a chance to own.
Dark Hall Mansion on the Seminal Films poster series (taken from the
DHM blog
):
"The aim of Dark Hall Mansion's Seminal Film Series is the very bridging of cinema as art and art as cinema. To create beautiful prints for some of the most resonant American and international films, distilling film and imagery while beholden to no specific screening or advertising obligations. Our aim right from the onset was to honor the tradition of vintage film posters while simultaneously releasing our artists from its commercial constraints. The single goal, to create stunning pieces that are intended, from their inception, to be true works of art that stand alone as just that. The very essence of each film to be distilled and rendered in such a fashion that anyone, even on the most cursory of viewings, will at once appreciate the prints for their visual beauty or in the historical context of what made these films so relevant in the first place.
Key to our approach with DHM's Seminal Film Series is matching artist to film. Nowhere is this more clearly manifest than in our first pairing of Metropolis and Laurent Durieux. The film that almost bankrupt Germany's UFA Studios, its futuristic vision and singularly intense direction by pioneering legend Fritz Lang took almost two years to complete and its monumental influence on artists mining all fields of creative endeavor continues to this very day. Be it Superman creators Siegel and Shuster's naming of their hero's city or the similarity of George Lucas' C-3PO and the iconic Metropolis robot, the impact of Metropolis will be felt for generations to come."
I have the distinct feeling I'm going to be giving lots and lots of money to the folks at Dark Hall Mansion.
Should you be interested in owning one of
theses beauties
, they'll be going on sale Friday (3/29) at 9:30 AM PT through
Dark Hall Mansion's store
for $65. The
poster
measures 24" x 36" and is limited to an edition of 200. For more info on the artist, be sure to check out his
Flickr account
. And for the what's what on DHM, visit
darkhallmansion.com
, their
Facebook page
, and follow
@darkhallmansion
on Twitter.