Fresh off the triumph of their
first Bernie Wrightson print sale
, Nakatomi Inc. is at it again with yet another show-stopping, jaw-dropping
Frankenstein
illustration by the guy who co-created
Swamp Thing
. Can I get a hallelujah?!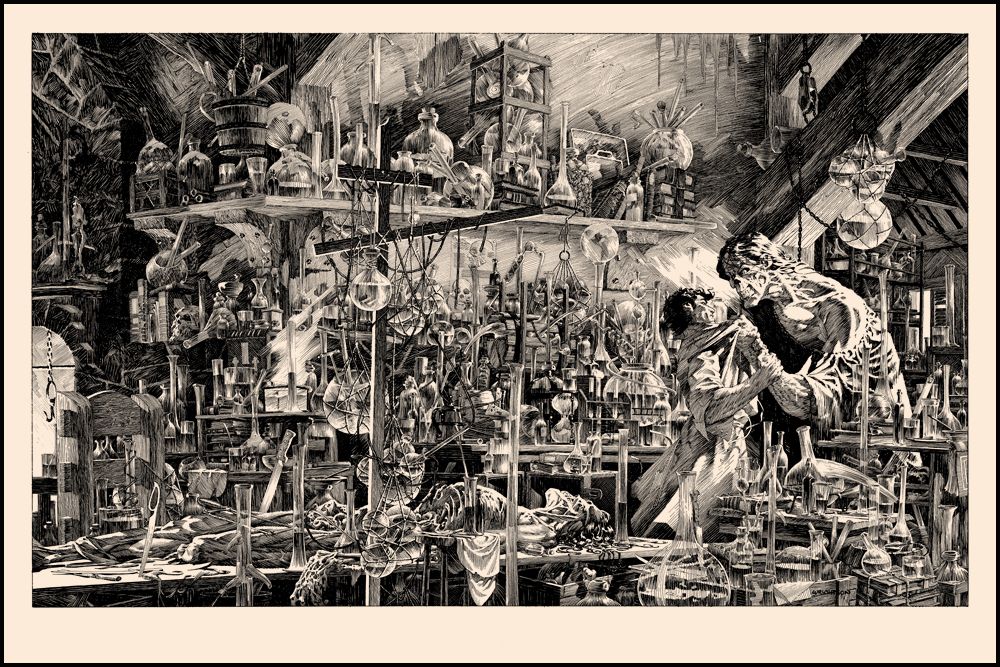 "I Shall Be With You" Art Print
Bernie Wrightson
24" x 36" (Screen Print) - Signed and Numbered
Price TBD - Limited to 200
Inspired By: Frankenstein
I don't mean to beat a dead horse here, but this poster is just as INCREDIBLE as Bernie's
"A Filthy Process."
Utilizing an inordinate amount of detail, the artist has given every bubbling beaker, decomposing fleck of flesh, and lonely ray of light, a life all its own in a way that could only be described as magical. The haunting "I Shall Be With You" illustration manages to evoke a tangible sense of doom and desperation that's sure to please any fan of the "show, don't tell" storytelling philosophy. A picture this detailed is worth far more than a thousand words. Here's hoping this isn't the last we've seen of Bernie Wrightson's illustrated
Frankenstein
from Tim Doyle and company.
"I Shall Be With You"
shall be
available
today (4/2) through
Nakatomi's online storefront
at around 2 PM Central. The
screen print
measures 24" x 36" and is limited to an edition of 200. For more info on Bernie, head over to his
Facebook page
and follow
@berniewrightson
. And to keep up on all future Nakatomi-related shenanigans, make sure you're signed up for their
mailing list
, and are making daily, nay, tri-daily visits to their
Facebook
,
Tumblr
,
Twitter
and
Flickr
pages.