The age of
Metropolis
is upon us. Don't believe me? We have not
one
, not
two
, but three separate print releases for the Fritz Lang film. And you know what? I couldn't be happier. How often do we see a movie from 1927 get this much poster love? I'll go ahead and answer that one: not often enough. Without further ado, I'd like to introduce Peter Gutierrez's stylish
Metropolis
artwork.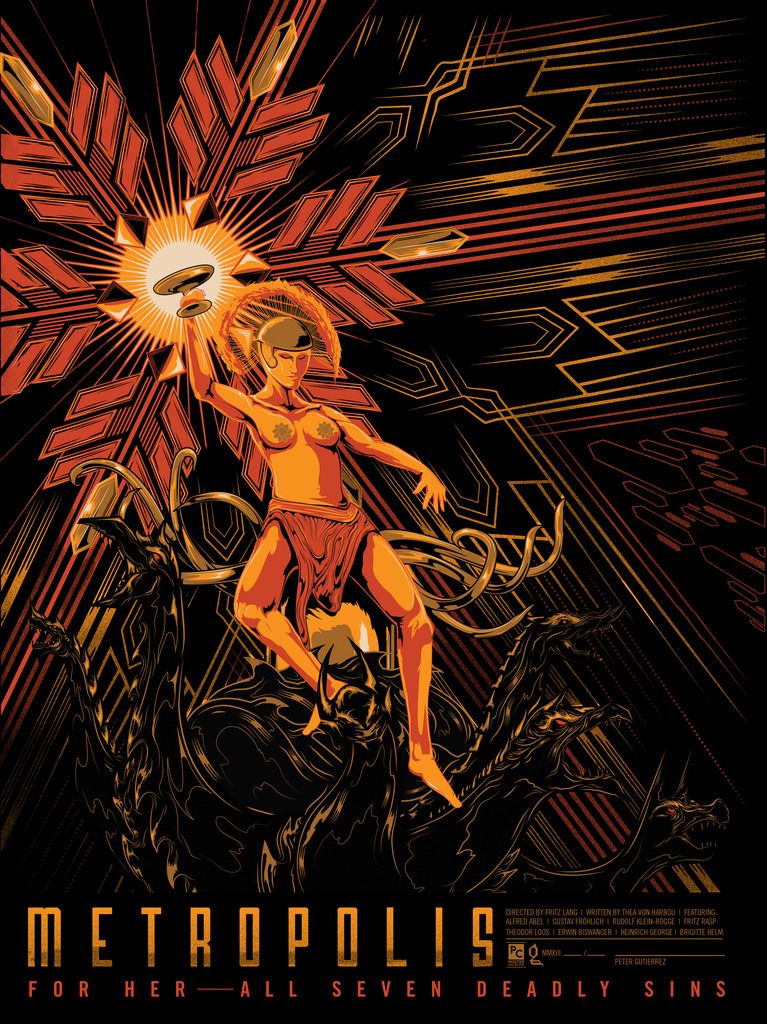 Metropolis Movie Poster (Regular)
Peter Gutierrez
18" x 24" (Screen Print) - Signed and Numbered
$30 - Limited to 90
Metropolis Movie Poster (Metallic Gold Variant)
Peter Gutierrez
18" x 24" (Screen Print) - Signed and Numbered
$40 - Limited to 40
I believe this is the first time I've ever mentioned Peter on Posterocalypse before, but if these prints are any indication of what's to come, it certainly won't be the last. Like a spotlight aimed directly at your peepers, this artwork is bold, bright, and glitzy. It skillfully conveys just how enchanting Brigette Helm was as the dichotomous Marias, a role which would define the rest of her short career. And I love how tactfully Gutierrez depicts
Metropolis'
Cylon temptress, masking her features under the intense light radiating from the raised chalice' o doom, ominously suggesting the destructive power behind RoboMaria's indefinable siren song. If, like me, you want to learn more about Peter's design, I suggest checking out the
Poster Collective's interview
with the artist about his intentions and process. But before I retire for the evening, I want to share a few of the film's screenshots that inspired this print.
Metropolis Screenshot
Metropolis Screenshot
Pretty cool, right?
Peter Gutierrez's Metropolis artwork
goes on
sale
Friday (4/5) at 9AM PDT through the
Poster Collective storefront
. Every
screen print
measures 18" x 24" and is signed and numbered by the artist. For more info on Peter, visit
graphic-black.com
,
dynamicrex.com
, and follow
@umbrapenumbra
. And if you're a fan of this site or of posters in general, head over to
postercollective.com
and start following
@posterpeople
on Twitter.