It's been a long, long while since I last saw the Ozploitation thriller
Razorback
. But what little I remember about the film's homicidal hog, I more than make up for in my absolute certainty that Luke Insect's poster is, and will be, one of the must-have movie prints of 2013. The artwork's a genuine stunner and deserves considerably more attention than it will probably receive. To take it a step further, this hulking composition is ferocious in all the right ways and far more beautiful than any
prodigiously tusked killer pig
has a right to be. In other words: I love it.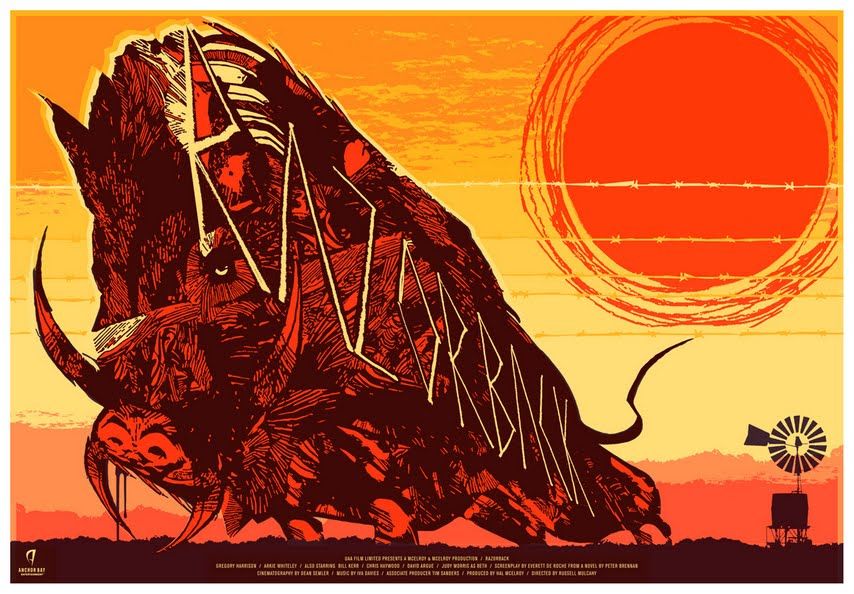 Razorback Movie Poster
Luke Insect
26.5" x 38.5" (Screen Print) - Numbered
£40 (UK) / £50 (International) - Limited to 50
Let's start with the 800-pound boar in the room, shall we? As complicated as the titular swine's construction is (check out some of the close-up shots below and prepare to be astounded), there's something undeniably primeval and maybe even a little mythological about our fanged friend. It's as if the artist took one of the many constellations we learned about as children - like your Ursa Majors (the great bear) and Canis Minors (the lesser dog) or what have you - and gave it a nightmarish, otherworldly form. But Luke didn't just nail the movie's monster. His barren landscape and utilization of incendiary yellows and oranges evoke a hellish wasteland that's as suffocating as it is breathtaking. Again, I'm not sure if you can tell, but I really, really like this poster.
| | |
| --- | --- |
| Razorback Poster Close-Up | Razorback Poster Close-Up |
Artist Luke Insect on his memories of the film and approach to the print (taken from the
FrightFest Originals blog
):
"I am a big fan. I was a child of the 80's. I watched Moviedrome religiously (Director Alex Cox's late-night double-bills of cult classics on BBC2). And I'm pretty sure this is when I first saw Razorback. I knew what colours I wanted to go for before I started - burnt orange sunsets, rusty metallic browns - and I decided to do a 'proper' illustration for the big pig itself! I gave it a kind-of woodcut / lino-print vibe to keep it feeling as organic as possible. As far away from digital computery as possible. But yeah, basically it's all about the big pig!"
And because I just couldn't resist, here's one more close-up shot.