If you visit this site with any regularity, you already know I tend to write reviews for film and television inspired prints that are either currently on sale or are about to go on sale. And while I'll still be pouring the majority of my efforts into those sorts of posts, my daily "Poster Per Diem" feature will focus on awesome prints that have since sold out, never existed in the first place (AKA concept posters) or just bear mentioning. In other words: this is my chance to say, "I never got a chance, for whatever reason, to write about you on this here website, but I think you're really purty and I want to let the world know." Or something like that. Oh, and Per diem is latin for "per day" or "each day."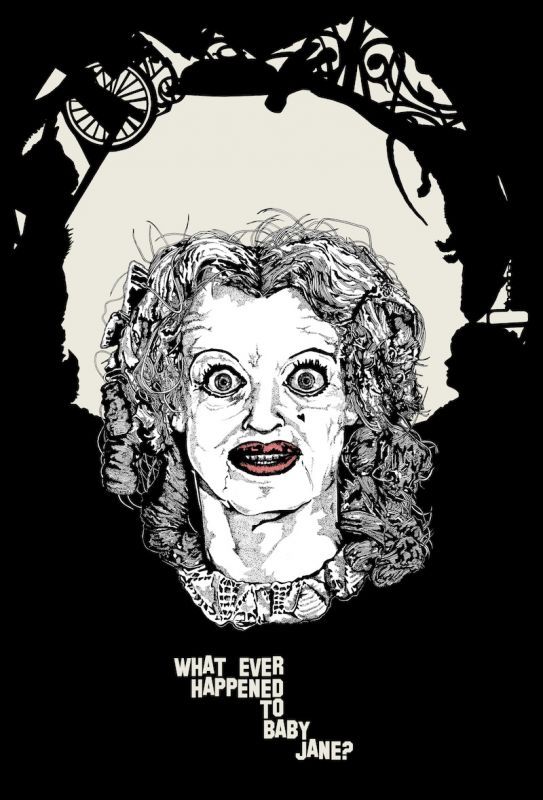 What Ever Happened to Baby Jane Movie Poster
Chris Brake
Multiple Sizes - Open Edition
Priced Depending on Size
I'm about a day behind on my "Poster Per Diems," which means I won't be typing a ton about this print, but I'm pleased as punch to be sharing it with everyone. First things first, if you haven't seen Robert Aldrich's
What Ever Happened to Baby Jane?
, stop reading this right now and watch the film. It's from the 60s, it's black and white, and it's one of the most terrifying / entertaining things you'll ever experience. Bette Davis psychologically and physically tormenting Joan Crawford? Yes, please. I really fell for Chris Brake's
Baby Jane print
because I think he absolutely nailed Baby Jane Hudson's full-on mental collapse in a stylish, if-you-gaze-into-the-abyss-the-abyss-gazes-also-into-you sort of way. Better yet,
this poster
is
currently available
for purchase through
Brake's Society 6 page
in a variety of sizes and prices. To learn more about the artist, visit
chrisbrakeillustration.com
and follow
@chrisbrakeillo
on Twitter.