My daily "Poster Per Diem" feature is focused on awesome prints that have since sold out, never existed in the first place (AKA concept posters) or just bear mentioning. In other words: this is my chance to say, "I never got a chance, for whatever reason, to write about you on this here website, but I think you're really purty and I want to let the world know." Or something like that.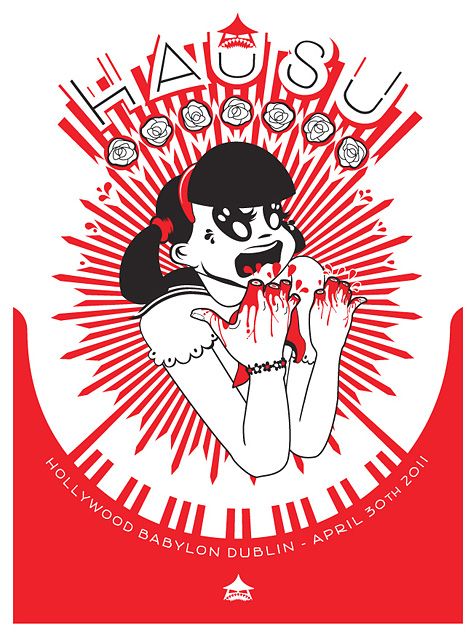 Hausu Movie Poster
Mark Wickham
300 mm x 420 mm (Screen Print) - Signed and Numbered
€20 (~ $26) - Limited to 55
For the folks who haven't yet experienced
Hausu
by Nobuhiko Ôbayashi, here's how I would best describe
the movie
: Picture a scenic hillside in Japan, and on that hillside is a house, and in that house are seven giggly Japanese schoolgirls, but unbeknownst to them the home also accommodates a vengeful disembodied head, a carnivorous piano, a murderous grandfather clock, a man who is at some point turned into a mound of bananas, and a batshit-crazy ghost cat. And just for good measure, all of this surreal lunacy unfolds under a rainbow of psychedelic colors and sounds. To say
the film
is nuts would be an understatement, but it's also a blast to watch and something every cinephile should check out.
In honor of a 2011
Hausu
screening by the Dublin-based
Hollywood Babylon Film Club
, artist
Mark Wickham
created an amazing print that celebrates the film's odd marriage between gore and cutesy Japanese culture to absolute perfection. If, like me, you're a huge fan of the film, you must run, not walk, to the
Hollywood Babylon Big Cartel store
and pick one of
these posters
up for €20 (approximately $26) at once. The
screen print
measures 300 mm x 420 mm and is limited to an edition of 55. To learn more about Mark, visit
nomanshand.blogspot.com
. You can also see what Hollywood Babylon is up to by visiting their
Tumblr
,
Facebook
, and following
@hollywdbabylon
on Twitter.