Summer is icumen in, loudly sing cuckoo. Grows the seed and blows the mead, and springs the wood anew. Sing, cuckoo! Ewe bleats harshly after lamb, cows after calves make moo-- Oh, sorry abou that! I didn't see you standing there. I was just singing a little tune I picked up somewhere or another, but I guess I should get going on this whole review thing.
The Wicker Man
is one of those titles that immediately conjures up two separate and opposing things. You may fondly remember the 1973
cult classic
starring Christopher Lee and Edward Woodward that not only tells an engrossing tale, but also explores a world filled with conflicting beliefs and the sometimes sinister sacrifices required by faith. Or you might immediately recall the 2006
Nicolas Cage-starring remake
which has itself become a cult film of sorts, though mainly because of its "so bad it's good" reputation. While I'm glad we live in a universe where both of these things can somehow harmoniously coexist, I'm even happier to declare that Brandon Schaefer's print honors the former film of the two and is as artful as it is mysterious.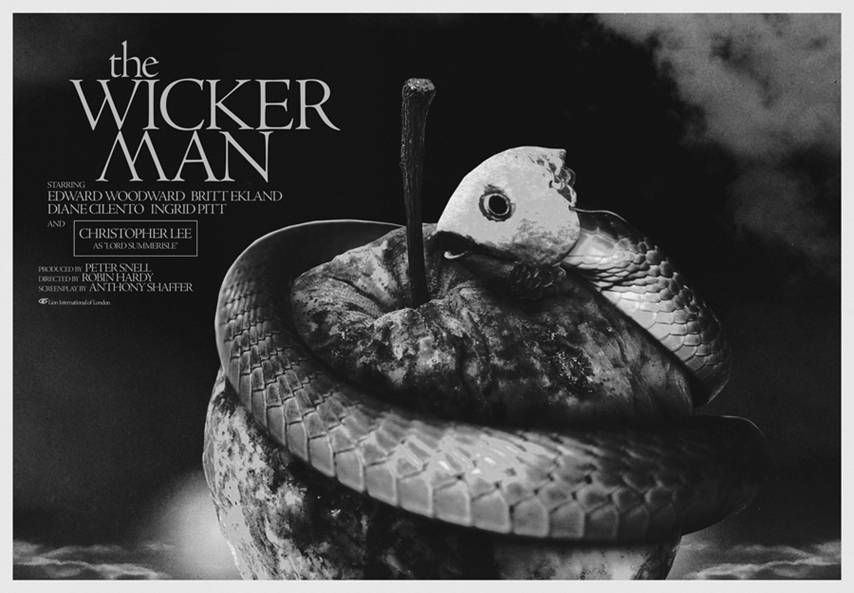 The Wicker Man Movie Poster
Brandon Schaefer
26.5" x 38.5" (Screen Print) - Numbered
£40 (UK) / £50 (International) - Limited to 50
Brandon's poster is rife with symbolism and speaks directly to the film's central themes of faith, temptation, life, and death by cleverly subverting religious iconography (exhibits A and B: the rotten apple and the pseudo-serpent). I'm probably reading a bit too far into this with my next point, but I think it's interesting how, due to the print's monochromatic color scheme, many of its elements seem to be meld together, refusing any clear delineation and suggesting there are no easy answers. Though before I get too serious, let's not forget that while the original
Wicker Man
is a beautiful and terrifying film in many respects, it's also laughably nutty in all the right places, and I think Schaefer has tapped into the strange surrealism that helped make the movie so memorable. But the pièce de résistance here is that this may be the only
Wicker Man
poster that doesn't feature the wicker man, which I think is utterly awesome. Ultimately, Brandon's print offers up a grim, but beautiful interpretation of the film that's sure to spark many a conversation, as great art often does.
Here's what the artist had to say about his original intentions regarding the
Wicker Man
artwork (taken from the
Seek and Speak tumblr
):
"As for Wicker Man, the poster pulls from a lot of different places, but the main thrust plays off of the Christian story of the serpent offering an apple from the tree of knowledge and the consequences that come from taking that deceptive offering. It felt like it synched up with so much that was going on throughout the film. Howie is a devout Christian who, after being deceived and learning the truth about Summerisle, finds himself cast out of the world, alone in a burning effigy, crying out for God. The island of Summerisle is famous for it's apples, stemming from an earthy crunchy set of beliefs. That society is ultimately rotten, however, given the foundations that it's based on. The fish mask on the snake is a nod to the final act of the film which, well…is more than a little bizarre."
If you haven't yet experienced
The Wicker Man
do yourself a favor and watch this hypnotic trailer and then immediately
purchase the film
.