Well, this is certainly one of the cooler things I've seen. I'm sure many people will immediately recognize the name Bernie Wrightson as one of
Swamp Thing's
two co-creators, but what you might not know is that the man also illustrated a version of Mary Shelly's
Frankenstein
, originally published in 1983. No biggie, right? I mean how long could that possibly take? A few nuts and bolts here, a cadaver or two there and....voilà! Wrong. The project actually took seven years to complete, due in large part to the insanely detailed nature of Wrightson's pen-and-ink drawings. To better understand what it is I'm talking about, I'd heartily recommend just skipping all my nonsensical scrawl and simply staring at the beauty that is "A Filthy Process" for the next five hours.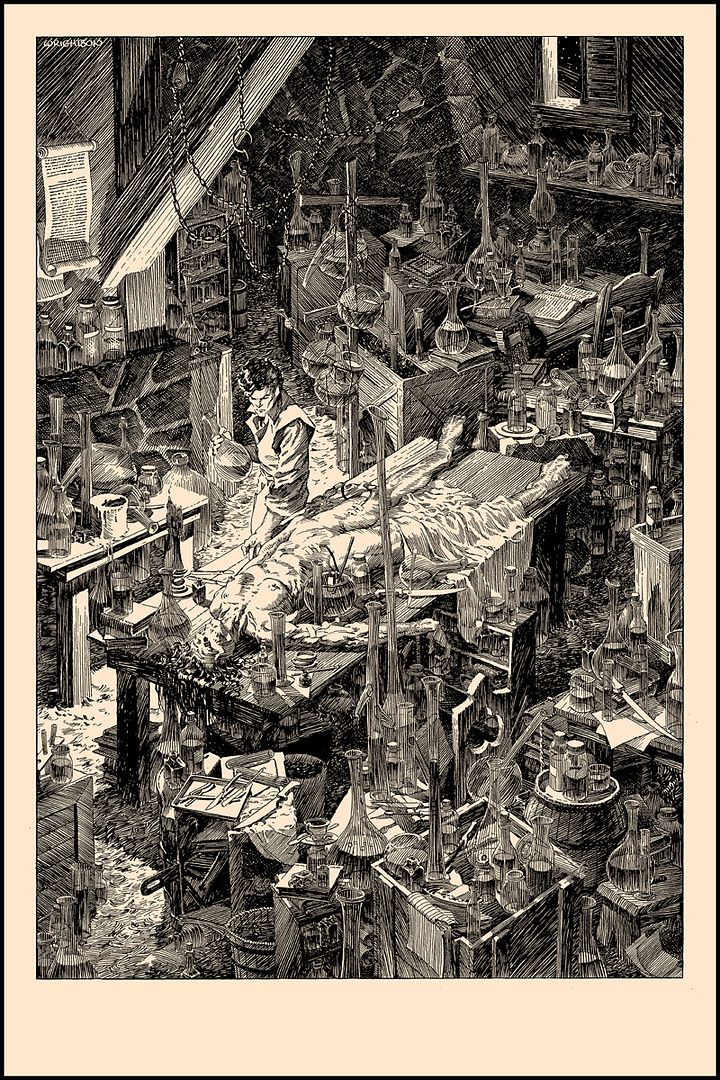 "A Filthy Process" Art Print
Bernie Wrightson
20" x 30" (Screen Print) - Signed and Numbered
Price TBD - Limited to 100
Inspired By: Frankenstein
There's not a single thing I would change about this print. It's perfect as is. The illustration itself is beyond reproach and offers up such a meticulous vision of a single moment, it's mind boggling to think there's an entire book full of these gorgeous illustrations. I'm also a big fan of the paper stock Bernie and Nakatomi Inc chose to use. Like an aged piece of parchment, the Cougar Natural coloring suggests dead languages, forbidden knowledge, and the arcane arts.
Bernie Wrightson's
"A Filthy Process" print
will be
available
on Tuesday (3/12) at 2 PM Central through the
Nakatomi Inc storefront
. The
poster
measures 20" x 30" and is limited to an edition of 100. To learn more about the artist, follow
@berniewrightson
and check out his
Facebook page
. And for more Nakatomi goodness, visit
nakatomiinc.com
and follow
@nakatomitim
on Twitter.