Joshua Budich, continuing his Quentin Tarantino-themed movie poster quest, has hit yet another one out of the park. His latest entry being the film that introduced QT to the world,
Reservoir Dogs
.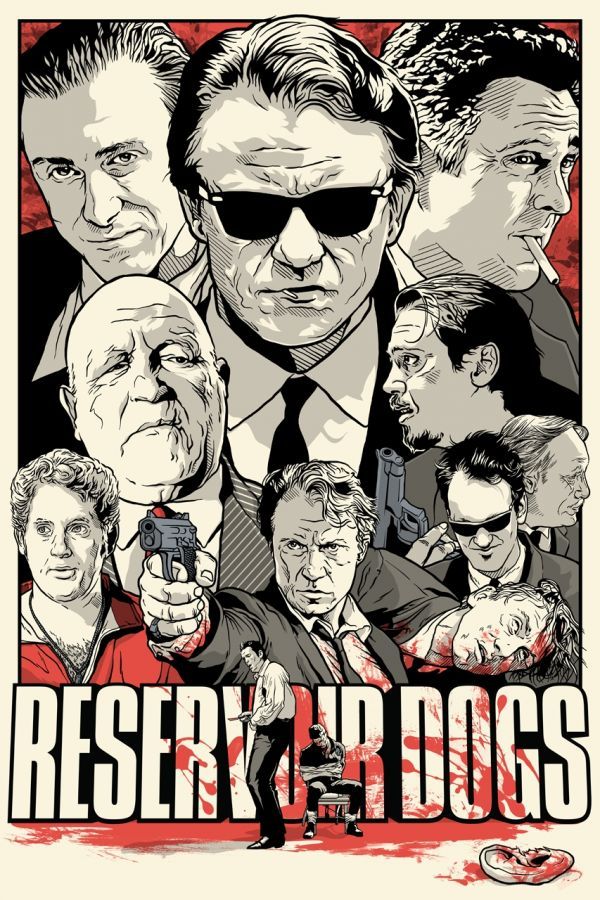 Reservoir Dogs Movie Poster
Joshua Budich
24" x 36"
$60 - Limited to 150
If you already have his
Kill Bill
and
Pulp Fiction
posters (congratulations by the way) you really have no excuse for not getting this. I'd go as far as to say it's your responsibility as an art collector and fan of modern film to own this print. Upon first laying my eyes on Budich's artwork I noticed, and was immediately impressed by, the level of detail and shading on each and every face, which give all of the characters a certain amount of depth and realism. With that said, my favorite elements of the print are the gory "Reservoir Dogs" title work, with its gonzo-esque blood spatter, and the iconic scene (complete with severed ear in the lower-right corner) that plays out between Mr. Blonde and police office Marvin Nash near the bottom of the canvas. Just looking at this poster makes me want to listen to Stealers Wheel's "Stuck in the Middle with You." Is that wrong?
Joshua Budich's
Reservoir Dogs poster
will be available today (8/10) through the
Spoke Art store
at 5 PM PDT. These are sure to go fast, so keep your eyes on the clock and your finger on the F5 key. The
Reservoir Dogs poster
measures 24" x 36", is limited to an edition of 150 and will cost $60. This one is going to look beautiful up close. For more info on the very talented
Joshua Budich
head over to
joshuabudich.com
.