Many people credit
Caddyshack
as Bill Murray's finest film, or at the very least, Carl Spackler as his best character, and while I don't necessarily fall into that camp, it's easy to understand why people feel that way. Before Murray was aloofly navigating Wes Anderson-created existential crises, living the same day over and over again, busting ghosts, or providing the voice for a cat that hates Mondays and loves lasagna, he was tasked with removing a very troublesome gopher from the Bushwood Country Club greens - and it was a ton of fun to watch.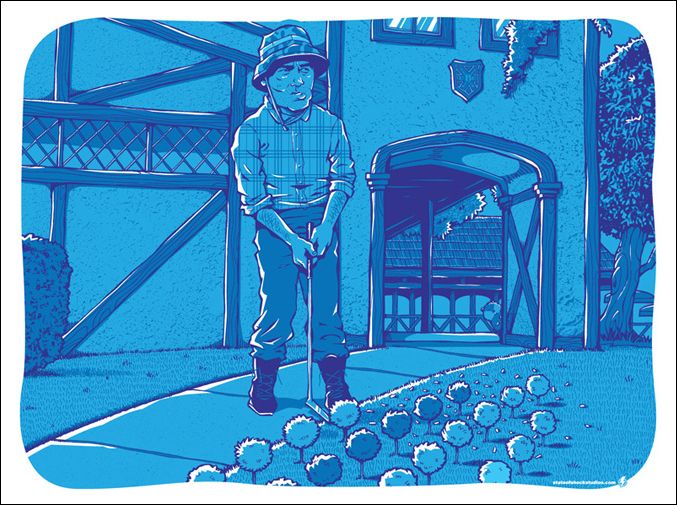 "Carl" Art Print
Darin Shock
18" x 24"
$25 - Limited to 50
Inspired By: Caddyshack
As the second print in Darin Shock's "Greatest Side Characters in Cinematic History" series (with his first being
The Big Lebowski
-inspired epic
"The Jesus"
print), it appears the artist has again caught comedic lightning in a bottle by depicting another great moment from a film that's entirely too quotable. I'm sure I'm not saying anything revolutionary here, but I love the way Darin has captured the often stilted and always manic pose that Murray adopts as Carl for the film. And I really admire the fact that he didn't go with one of the gopher scenes, but instead with the "Cinderella Man" bit, which really speaks to Murray's amazing improvisational abilities as the entire scene was based on two lines of stage direction. I'm already looking forward to the next print in this series.
Darin's
"Carl" print
is available right now through the
State of Shock Studios storefront
for $25. The
poster
measures 18" x 24", is a three-color screen print and is limited to an edition of 50. To learn more about Darin Shock and his State of Shock Studios be sure to visit
stateofshockstudios.com
. By the way, he's still got a few
"The Jesus" prints
available for purchase! You know as well as I do that the only appropriate way to end this post is with a
Caddyshack
quote, so that's exactly what I'm going to do. Enjoy!
"Cinderella story. Outta nowhere. A former greenskeeper, now, about to become the Masters champion. It looks like a mirac... It's in the hole! It's in the hole! It's in the hole!" - Carl Spackler