I'd never heard of Charles Forsman until yesterday, but over the past 24 hours I've become a devoted and devout (redundant much?) follower of the man for two special reasons: his
Raiders of the Lost Ark
/
Popeye
mash-up and his
Jaws
/
Peanuts
mash-up. Behold the majesty of his first print, but don't stare directly at it - your face might melt off (like in that one movie that I can't recall the name of).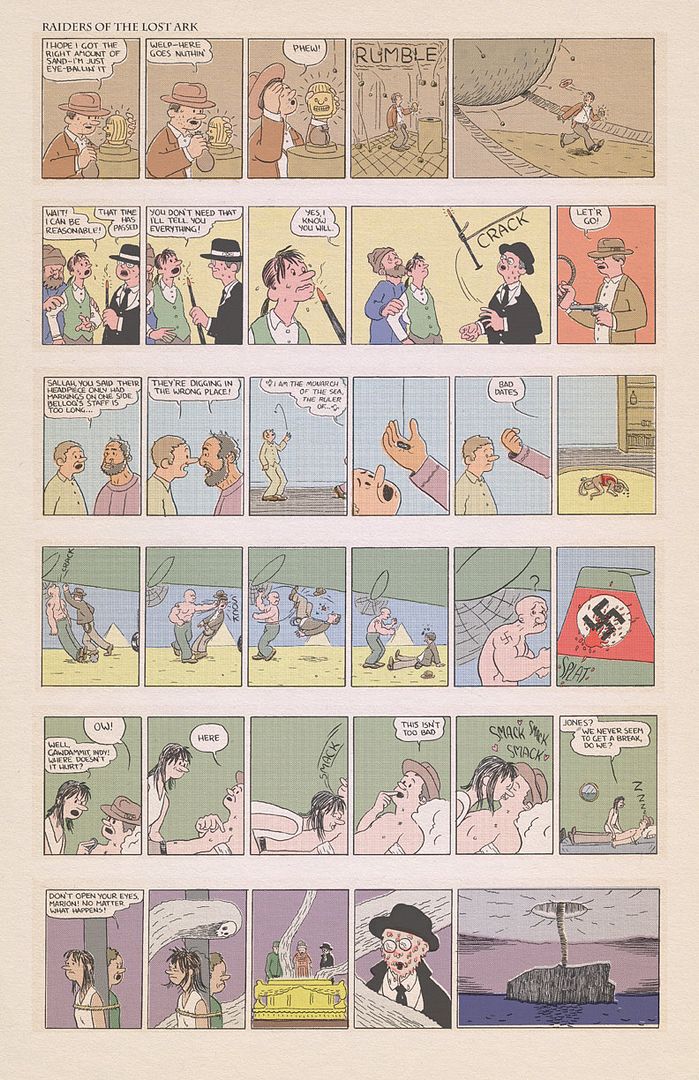 Raiders / Popeye Mash-up Art Print (Second Run)
Charles Forsman
11" x 17"
$15 - Limited to 100
Seriously, this print is just too damn cool. I highly recommend you click the above image to see the print in more detail, you won't be disappointed. I love everything about it from the old timey color palette to Mr. Forsman's uncanny ability to channel E.C. Segar's
Popeye
aesthetic to the world of Dr. Jones. I feel like the artist has just discovered a niche of unfathomable depths and I can't wait to see what mix-and-match he comes up with next. Here's a short summary of what Charles set out to do when attempting this project (taken from his
blog
):
"I drew six scenes from Raiders as daily Popeye strips and tried to color them to look like they appeared in a newspaper from the 30's. I put them all together as an 11" x 17" poster that you can frame, put in your bathroom or place it behind that San Diego magnet on your fridge."
He originally only did a run of 100, but the the demand was so high for the
Raiders / Popeye mash-up
that he decided to do a second run of 100 (though all of the second run prints are labeled as such), which is currently available for a very affordable $15. The
print
measures 11" x 17" and is signed and numbered. I doubt he'll do a third run of these prints (but you never know), so this may be your last chance to
grab one
. Did you hear that? What was that? It sounded ominous and musically iconic...what could it be? Oh it's just Charlie Brown never mind.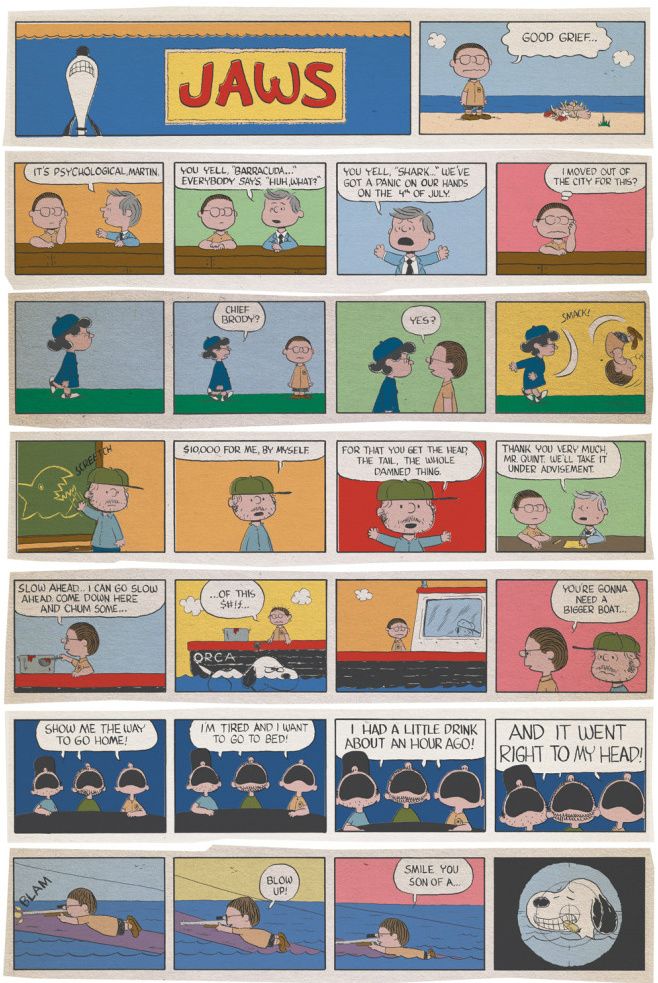 Jaws / Peanuts Mash-up Art Print (Second Run)
Charles Forsman
11" x 17"
$20 - Limited to 100
That's right. He's done it again and it's potentially even more awesome-ful. I love that Snoopy, in this alternate universe, is the shark! And it wouldn't be a proper
Jaws
parody without the "You're gonna need a bigger boat..." line, am I right? This is a must-have for anyone who grew up watching the
Charlie Brown
specials, which I'm pretty sure is everyone. Charles Forsman provides some insight on the mash-up (taken from Charles'
blog
):
"After my Raiders / Popeye strip was so well received I decided to try another combination. After a failed attempt at another combination I decided to try mashing up 2 of my all-time favorites: Spielberg and Benchley's Jaws drawn like Schulz's Peanuts.
Like the last mashup, this one does not try to tell the whole story but rather depict some of my favorite scenes. I am a big fan of Peter Benchley who wrote the original book and actually appears in the movie as a TV reporter. Last summer I read almost every Benchley novel. There are still a few I haven't read but they were all super entertaining if a little dated. Obviously people know Jaws the movie so I did my best to stay faithful to both the movie and Peanuts. I hope it worked and is fun to look at."
Like the
Raiders / Popeye print
, Forsman's
Jaws / Peanuts mash-up
is in its second printing and is limited to an edition of 100 (the artist said he plans to label them as part of the second printing and possibly change some of the colors around). The print measures 11" x 17 and is signed and numbered. To learn more about the artist visit
charlesforsman.com
where he's got some pretty bizarre / funny / sad comics to read. Finally, be sure sign up for his
newsletter
if you want to get a heads up on his next creation.