UPDATE 1 (8/7): All sold out. These went quick! It's a good idea to check Phantom City Creative's store every once and a while, as they may at some point have some of their own copies for sale. Probably wouldn't hurt to sign up for their newsletter while you're at it.
I was going to put the film's full title in the post's heading, but let's be honest,
The Adventures of Buckaroo Banzai Across the 8th Dimension
is a tad too long, and all you really need to read is the titular character's name to know you're in for a strange and hallucinatory trip. That's right, our favorite physicist / surgeon / rock musician (seriously?) has joined the pantheon of cult film characters immortalized via Mondo screen prints. About a hundred questions sound off in my mind, like why and how did this film ever get made? Is that Robocop? Weller, Lithgow, Goldblum, and Christopher Lloyd? Does that even count as a question? Are the Red Lectroids really that bad? But all of those questions are rendered moot when you feast your eyes on
Phantom City Creative's
beautiful poster for the film.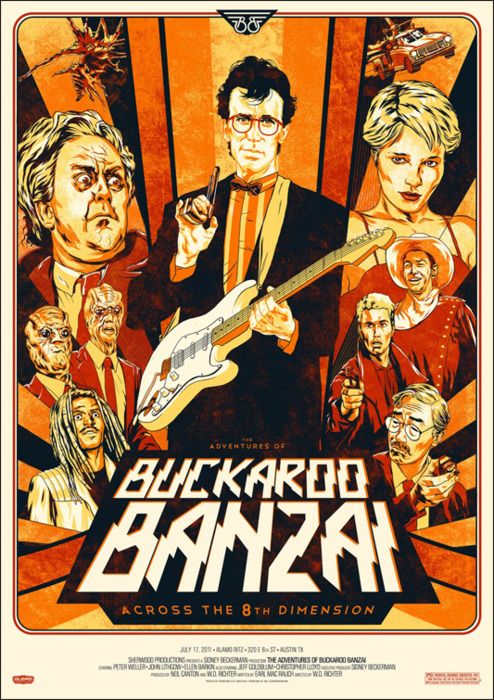 Buckaroo Banzai Across the 8th Dimension Movie Poster
Phantom City Creative
24" x 36"
$45 - Edition of 165
Phantom City Creative has again designed an inspired poster for a cult classic (they also did great prints for Cronenberg's
Rabid and
Michel Levesque's
Werewolves on Wheels
). One of the many criteria I use to judge poster design is the amount of context / tone film artwork can conjure, and whether the image's composition properly expresses a film's essence (alright, even I admit that sounds pompous). Long story short, even if you'd never seen the film before, gazing at this poster, you would immediately understand that
Buckaroo Banzai
is a nutty, fun, out there film. The print's color palette also gives the whole affair an appropriately vintage appearance.
Phantom City Creative's
Buckaroo Banzai Across the 8th Dimension poster
will be available tomorrow (8/4) through
Mondo's
site at a random time (probably around 9 AM PT, but no promises). Stay tuned to
@MondoNews
for the exact drop time. The
Buckaroo Banzai poster
measures 24" x 36", is limited to an edition of 165 and costs $45. To learn more about one of my favorite
design studios
head over to
phantomcitycreative.com
and follow
@PhantomCityCrtv
for more release info.