UPDATE 1 (8/22): Kevin Tong's remaining The Invisible Man prints will be available at a random time tomorrow (8/23) through his online store. The regular version (silver) will cost $80 and the variant (gold) will cost $100. Good luck!
I don't have much more time before I pass out from exhaustion, but I wanted to quickly talk about Kevin Tong's
The Invisible Man
poster.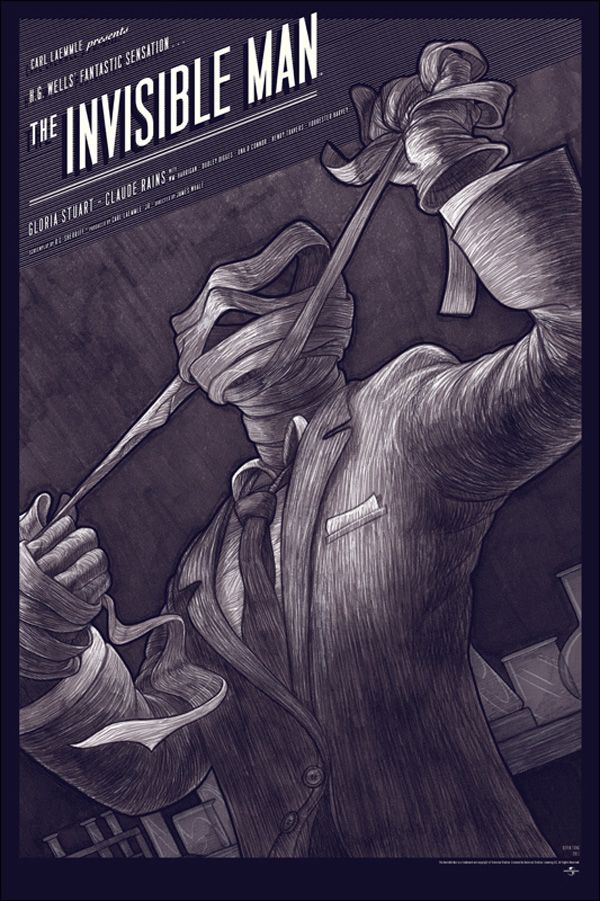 The Invisible Man Movie Posters
Kevin Tong
24" x 36"
$45 - Limited of 285
This is one print I was able to pick up at SDCC (I guess they didn't sell out in San Diego) and I can confidently say it's as beautiful as it looks. In a lot of ways this poster reminds me of something
Rich Kelly
would do due to the pencil-like sketching pattern that makes up Claude Rains' suit and bandages. I'll have to post some close-up shots of this print on my
Tumblr
, but for the purposes of this quick review, I'll just say that the image almost looks like it was intricately designed on a chalkboard. That may not sound like a compliment, but it is - I've never seen anything like it.
Kevin Tong's
The Invisible Man poster
will be available through
Mondo
tomorrow / later this morning (8/11) at a random time. The
poster
measures 24" x 36", costs $45 and is limited to an edition of 285. Just a heads up, they sold a pretty decent amount of these at SDCC, so there's a limited amount to begin with and I'm sure they'll go really fast. To keep up with the release info I recommend following
@MondoNews
. And to learn more about the artist
Kevin Tong
head over to
tragicsunshine.com
. Have a great night!