UPDATE 1 (8/7): The variant is completely sold out, but a few of the regular versions are still available at skuzzles.com. Get 'em while they last.
Skuzzles
, the people behind the very cool Travis Bone
Maximum Overdrive poster
, are at it again. This time with a Godmachine print for the cult classic
Class of Nuke 'Em High
. As Skuzzles is a relatively new company to the movie artwork commissioning / curating scene, you may not have heard of them before, but I think it goes without saying that they're off to a great start.
Class of Nuke 'Em High Movie Poster
Godmachine
18" x 24"
$29 - Edition of 135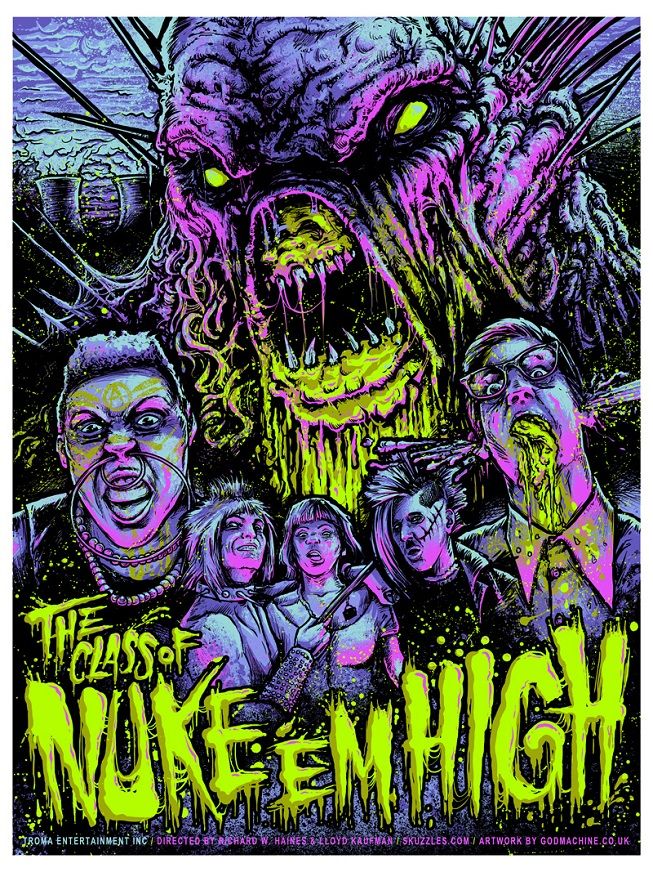 Class of Nuke 'Em High Movie Variant Poster
Godmachine
18" x 24"
$34 - Edition of 65
I almost feel that reviewing a poster like this isn't necessary, but I'm going to do it anyway. The bottom line is this: if you like
Class of Nuke 'Em High
, if you like gory, oozy, exploitative films (i.e., the majority of Troma's output), then you know you need to get this poster the moment it comes out. Godmachine's artwork so perfectly encapsulates the dirty, gross, over-the-top insanity of
Nuke' Em High
it's not even funny (alright, I guess it's a little funny - it is a Troma film after all). You can practically feel the radioactive heat coming from that blinding neon green/yellow ink. I have no idea if this is the case or not, but this poster would be absolutely perfect if the neon green/yellow ink glowed in the dark. This is only the first poster in Skuzzles' Troma poster series, so be prepared to see more awesome, vomit-inducing (in a good way) prints in the near future.
Godmachine's
Class of Nuke 'Em High posters
will be available on Friday (8/5) at a random time through
skuzzles.com
. The regular and the variant
posters
will cost $29 and $34 respectively. Given how much detail and content is packed in these 18" x 24" canvases those prices are downright amazing. I'm not exactly sure how the release announcement will go down, but it probably isn't a bad idea to immediately start following
@SkuzzlesCan
and
subscribe
to their newsletter. For more information on the artist Godmachine check out
godmachine.co.uk
. Can't wait to see what the guys from Skuzzles release next!