UPDATE 1 (8/19): All sold out! I had to go the eBay route to get mine. I'll keep this post updated if Florian announces any extra APs.
I believe this is the third poster in Mondo's Wes Craven Director's Series, with the first two being Alex Pardee's amazing
Scream
and
Nightmare on Elm Street
prints. I'll be honest, I remember watching this movie as a kid and not being terribly impressed. Sure, the boggy swamp setting looked amazing, but the story wasn't really all that terrifying, awe inspiring or interesting. Though even with my aloof disinterest for Craven's film this poster holds a very special place in my heart and you can bet I'll be going for it with the rest of my Mondo-crazed brethren.
Swamp Thing Movie Poster (Regular)
Florian Bertmer
24" x 36"
$45 - Limited to 230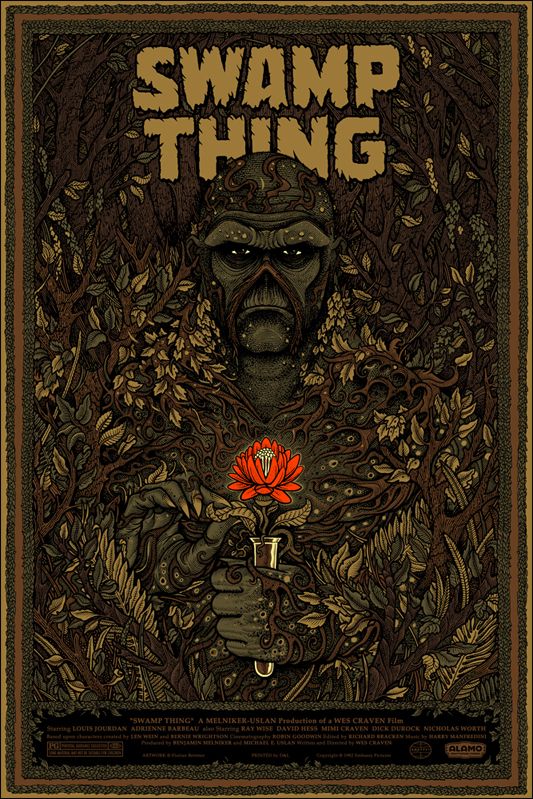 Swamp Thing Movie Poster (Glow-in-the-Dark Variant)
Florian Bertmer
24" x 36"
$80 - Limited to 90
I must own this poster for two very different reasons: Florian Bertmer and Alan Moore. Let's start with Florian, shall we? Florian Bertmer is an artist who could make even a bright sunny day look ancient, worn, and mysterious. That may sound like a negative, but believe me, it's not. Bertmer imbues his subjects with an archaic sense of wonder and importance, often giving them some sort of mystical quality that's damn near impossible to explain. That's one of the many reasons his artwork for Jodorowsky's
Santa Sangre
and
Holy Mountain
, and H.P. Lovecraft's
Call of Cthulhu
works so well. And that's also why, brilliant line work, coloring, and design aside, Florian got everything right about the creature formerly known as Alec Holland; his work conveys a tone that could not be more perfect for our flower power protagonist. Now on to Moore.
Alan Moore's run on
Swamp Thing
(
The Saga of the Swamp Thing
#20 - #64) is the stuff of legends. Moore used Len Wein and Berni Wrightson's origin story of a scientist transformed into a monster, and made it something more important, something genuinely scary and thought provoking. To this day Moore's
Swamp Thing
is one of my top ten comic runs and the character will forever have a place in my heart. Sure, his books may not have had anything to do with the movie, but I think it's probably clear by now that the film doesn't really play any part in why I love this poster so much.
Florian Bertmer's
Swamp Thing posters
will be available through
Mondo
tomorrow (8/19) at a random time. Both
posters
measure 24" x 36", with the regular version costing $45 and being limited to 230, and the glow-in-the-dark variant costing $80 and being limited to 90. For the exact release time be sure to visit
@MondoNews
, and to learn more about artist Florian Bertmer visit
florianbertmer.blogspot.com
. And if you can, I highly recommend picking up all of Alan Moore's
Swamp Thing
run.