UPDATE 1 (8/7): These are all sold out, but I have a strong feeling that at some point in the near future some APs of Edmiston's Nightmare on Elm Street 3 poster will be available through his Etsy store. Keep checking back.
Wow, I'm feeling straight-up prolific tonight.
Jason Edmiston
, the man behind February's gruesome
Maniac Cop 2 poster
has delivered another great Mondo print, this time from a Springwood zip code (that's where the majority of Freddy's killings take place).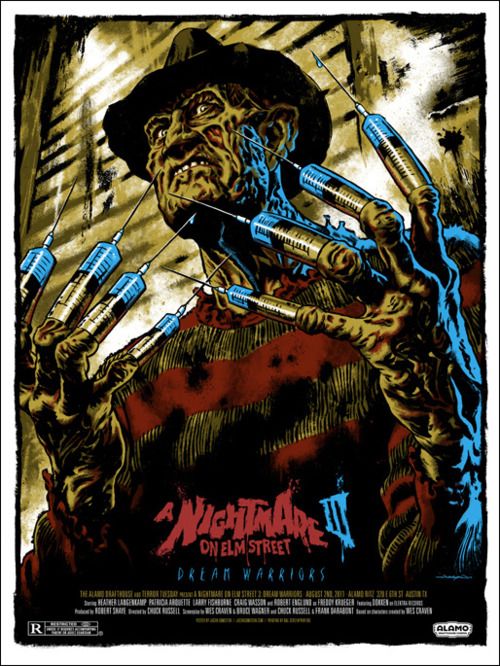 A Nightmare on Elm Street 3: Dream Warriors Movie Poster
Jason Edmiston
18" x 24"
$40 - Edition of 200
When I heard Mondo had commissioned a
Nightmare on Elm Street 3
poster, two iconic death scenes immediately came to mind: the first being when Freddy uses a guy's tendons to control him like a marionette, the second being when Freddy uses a girl's fear of drug addiction and kills her with syringe fingers (i.e., the image depicted in the Mondo poster). And Jason completely nails it. His
Nightmare 3
poster has a grotesque quality to it that really highlights Mr. Kreuger's charred flesh and grimy clothing (fedora and all). I won't go into too much more detail on this one, because I need to get some sleep (hoping I won't run into Freddy), but if you already have the Alex Pardee
Nightmare on Elm Street poster
, then getting this print is a no brainer. Well done Jason!
Jason Edmiston's
A Nightmare on Elm Street 3: Dream Warriors poster
will be available through
Mondo
at a random time tomorrow (8/4). The syringe-friendly
print
will cost $40, measures 18" x 24" and is limited to an edition of 200. I bet this poster looks brilliant up close. Follow
@MondoNews
for the exact release time and be sure to visit
jasonedmiston.com
to see more of the man's artwork (he's still got a few
Maniac Cop 2 APs
for sale!). This seems like the only way I could end this post:
"One, two, Freddy's coming for you.

Three, four, better lock your door.

Five, six, grab your crucifix.

Seven, eight, gonna stay up late.

Nine, ten, never sleep again."
Have a great night everyone!