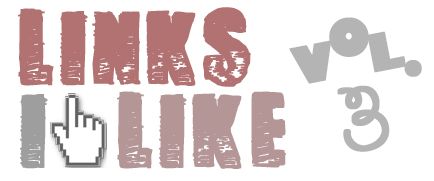 To make a short description shorter, I'll be posting links to websites that I like along with why I like them. Pretty straight forward stuff. Most of the links will probably be poster or film related, but I'll be sure to occasionally throw something weird in the mix, just to keep you all on your toes.
Mr. Hipp Strikes!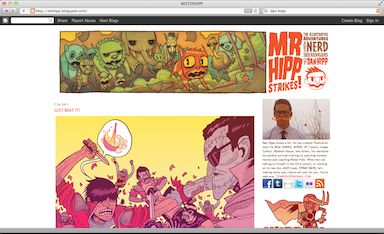 http://mrhipp.blogspot.com/
I wasn't sure what to call Dan Hipp's
blog
, as I'm not completely sure what its official title is, but "Mr. Hipp Strikes!" seemed as good a name as any (I'll tell you why in a second). For those unaware, Dan Hipp is an incredibly talented artist who has done work for a number of awesome companies / publications including,
Wired
, DC Comics and Image Comics. Not willing to simply rest on his laurels as a published artist, Mr. Hipp has created a home for all of the crazy pop culture mishmashes he can dream up, often posting something new every other day, if not every day. I first found out about Dan when I read his and Mark Andrew Smith's
The Amazing Joy Buzzards
comic, but it's the man's regular contributions of artistic brilliance (and lunacy) that keep me coming back for more. While in San Diego a few weeks back (Comic-Con I think it's called), I happily picked up his fantastic new book, titled (wait for it)
Mr. Hipp Strikes!
for a very reasonable price. I think a few are still
available
, so please, do yourself a favor and visit Dan's
digital domain
right now! See how I came full circle there?
Planet-Pulp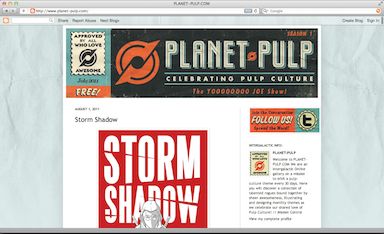 http://www.planet-pulp.com/
I discovered this site about three months ago and have been visiting regularly ever since. The premise behind
Planet Pulp
is that every 30 days or so they choose a pop culture theme (80's action heroes, Star Wars, Saturday morning TV shows, etc.) and then post submitted artwork related to the chosen subject. The artwork is almost always jaw dropping and since the designated theme is constantly changing, nothing ever feels stale or overstays its welcome. A few of my favorites include: Nelson Dániel's "
Sloth
," Brett Parson's "
Dagobah
," Steve Dressler's "
Admiral Animal Traps
" and Jayson Weidel's Pixar-inspired "
Presto
." If you're a fan of places like Gallery 1988 or Mondo, then this will definitely be a
site
you'll enjoy.
Fake Criterions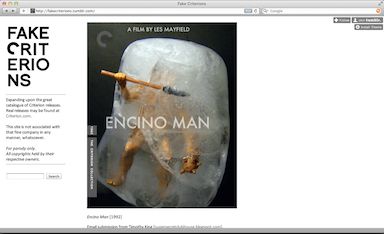 http://fakecriterions.tumblr.com/
This is a Tumblr
blog
, with, you guessed it, fake Criterion packaging. When the
blog
started late last year, it was essentially a place where ridiculous fake Criterion Collection covers could be posted, and when I say "ridiculous," I mean films that would never in a million years be a part of the Criterion Collection. To give you a taste of the built-in hilarity the premise promises and a better idea of the the blog's tone, I present the following for Criterion consideration:
Baby's Day Out
,
3 Ninjas
,
Encino Man
and Uwe Boll's
Postal
. Recently though,
Fake Criterions
has started including posts for good films too, films that could maybe even one day be in the Criterion Collection, like
The Tree of Life
,
Woman on the Moon
and
The Fury
. I'm excited to see how this blog evolves.
Thwipster
http://www.thwipster.com/
You've heard of sites like
Woot!
and
Groupon
before, right? They offer a daily deal or deals at a discounted rate and usually only have a limited supply available (although that doesn't apply as much to Groupon nowadays). Well,
Thwipster
is essentially the Woot! for nerds. "But wait a minute," you say. "Isn't Woot! already for nerds and the like?" Well yes, but to be more precise,
Thwipster
has stuff we would actually want. They offer a comic deal of the day, a collectible deal of the day and a supermega deal of the week, and the deals are consistently fantastic. So far I've ordered Warren Ellis'
Ministry of Space
, Paul Pope's
Batman: Year 100
, and Jodorowsky & Moebius'
The Incal
. I am in no way being paid or compensated for recommending
Thwipster
, I'm just completely enamored with the website as a whole. Step one: sign up for their
newsletter
. Step two: buy, buy, buy. You can thank me later!
What do you think? Know any other good sites?