A quick warning: today's post is another one of those "how has this not sold out already?!" write-ups. As you may know, I'm a massive fan of Martin Ansin's art, and it is for this reason that my mind is boggled by the fact that his amazing
El Topo
poster is somehow still available for purchase. Wait for it…How has this not sold out already?!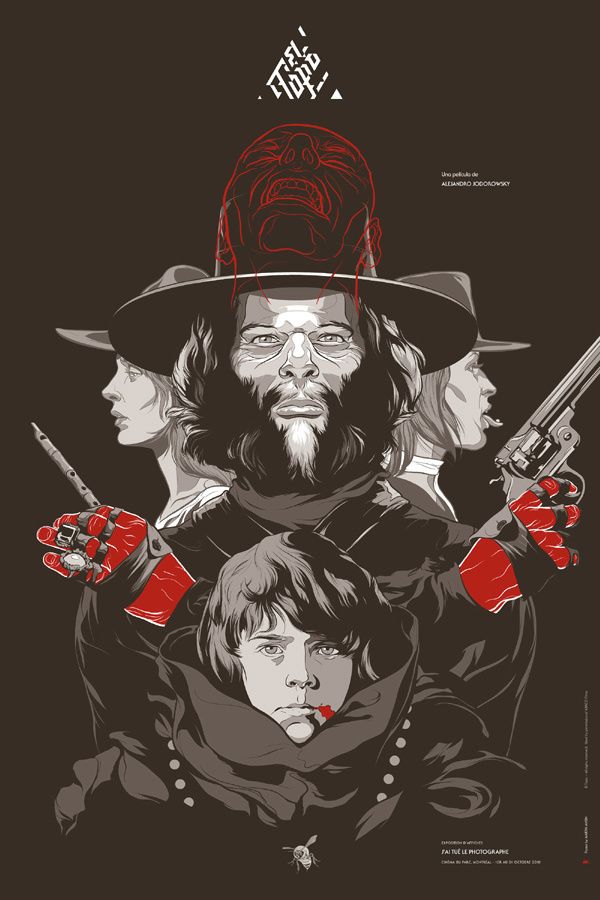 El Topo Movie Poster
Martin Ansin
24" x 36"
$45 - Limited to 265
Where to start with
El Topo
? Alright, how about the fact that it was a groundbreaking cult classic from the mind of renaissance man Alejandro Jodorowsky. Oh yeah, and that the film is about a gunslinger in search of spiritual enlightenment And that John Lennon (of the Beatles) took a liking to the film, and convinced the president of Apple Corps (an entertainment company founded by the Beatles) to distribute the film in the United States. Interested yet? All in all,
El Topo
is a strange and wonderful film that's hard to describe but a delight to watch.
Martin Ansin's
El Topo
poster was commissioned by the
Cinéma du Parc
in Montreal for the "J'ai tué le photographe" poster exhibition in October of 2010. I think it goes without saying that his comprehension and interpretation of Jodorowsky's odd masterpiece is spot on. And I'm not sure I'm expressing this correctly, but I absolutely love the way he's able to capture so much detail and character through his use of shadow and a wonderfully human asymmetrical symmetry.
I think I'll shut up now and let the artist more intelligently wax on about his thought process (taken from
von Scaramouche
):
"The design of this poster is heavily influenced by the symbolism of Jodorowsky's El Topo. Behind the presentation of the characters of the film, lies a geometric arrangement that relates to the Christian and Eastern symbolism in the journey of the main character. The original inspiration for this arrangement came from totemic culture and geometric religious shapes, such as mandalas.
For instance, on this poster the five faces can resemble a Christian cross, hinted at by the lighting on Jodorowsky's face, and relating to the downfall and "rebirth" of the main character at the end of the first half of the film. Also, the composition shows two triangles—described by the hands and bottom face, and the three top heads and hats—forming a shape similar to a unicursal hexagram, allegedly used in mythology to express the belief that one can eventually become some sort of a divine figure, a theme that runs through the film."
Well said Martin! Ansin's
El Topo print
is currently available for purchase at the
von Scaramouche online store
. The
poster
measures 24″ x 36″ and was printed on Lynx opaque white paper stock, with an edition of 265. If you want a
cheaper price
(sans Ansin's signature) it will cost you $45, however if you want the
artist's signature
on your fancy
new print
you'll have to pay $95. As usual, the best way to learn more about the artist is to check out his website at
martinansin.com
and follow him on Twitter
@martinansin
.