Disclaimer: Martin Ansin is my absolute favorite artist working in the poster world today. I pretty much love everything the guy has ever done (especially his Mondo work) and am quite unabashed in my admiration and completely biased obsession with his artistic creations.
Alright, with that out of the way I think I can start talking
objectively
about Ansin's excellent
Mummy
poster.
The Mummy Movie Poster (Regular)
Martin Ansin
24" x 36"
$45 - Limited to 385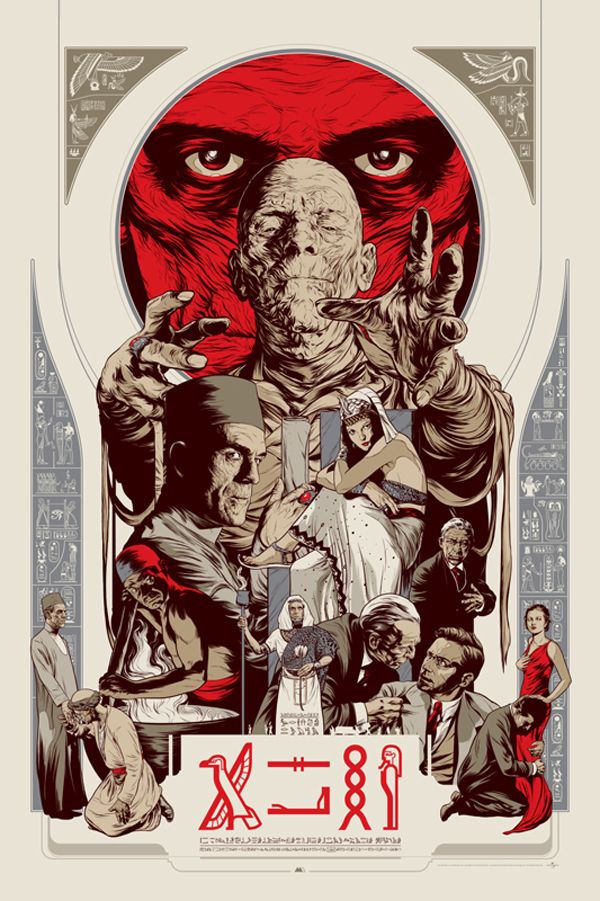 The Mummy Movie Poster (Variant with Hieroglyphs)
Martin Ansin
24" x 36"
$75 - Limited to 150
As some of you may know, I was at this year's SDCC and one of the many benefits of going to the recent Comic-Con was that, for the first time ever, Mondo had a booth on the exhibit floor. This was incredibly exciting both as a poster lover and film fan (kind of sounds like flim-flam), but was also cause for some apprehension. You see, Mondo released two amazing
Martin Ansin wood prints
during SDCC, but no paper-based posters from the artist. I knew in my heart of hearts that surely Justin Ishmael and gang would eventually release these posters in a more traditional paper form, but still, there was that seed of doubt that by not purchasing the wood prints I was somehow missing out on a once-in-a-lifetime chance to own Ansin-created
Mummy
and
Planet of the Apes
artwork. As it turns out, I was right about the
The Mummy
as Mondo has announced two breathtaking additions to Mondo's Universal Horror poster series (
Wolf Man
,
Bride of Frankenstein
,
The Invisible Man
, and now
The Mummy
).
Excessive exposition aside, these posters are fantastic and it's clear Martin is at the top of his game. Just take a look at the insane amount of detail on Imhotep's face - you can see every nook and cranny of the mummy's withered and desiccated visage. And while I think I like the regular version best due to its arid yellow hue, I've got a ton of respect for the truly unique variant poster, which offers more than just a change in color. I'll let Mr. Ansin explain in greater detail (taken from Martin's
website
):
"A variant version has the film title and credits carefully translated to ancient egyptian hieroglyphs by an egyptologist at the University of Chicago, which is completely epic."
Martin Ansin's
Mummy posters
will be available tomorrow (8/11) through
Mondo
at a random time. Both
posters
measure 24" x 36", with the regular edition costing $45 and limited to 385, and the variant edition costing $75 and limited to 150. Be sure to follow
@MondoNews
for the exact drop time and visit
martinansin.com
to see the rest of Martin's portfolio.