When I wrote about Martin Ansin's classy
El Topo poster
last week, I stressed my disbelief that his artwork was still somehow available for
purchase
. Well it's time for me to flex those muscles again. Tim Doyle also created something for Cinéma du Parc's "J'ai tué le photographe" show, which has, since then, sold out through von Scaramouche, but is still available through Doyle's
Nakatomi Inc
. Do you hear that? It's getting louder. Here it comes...How has this not sold out already?!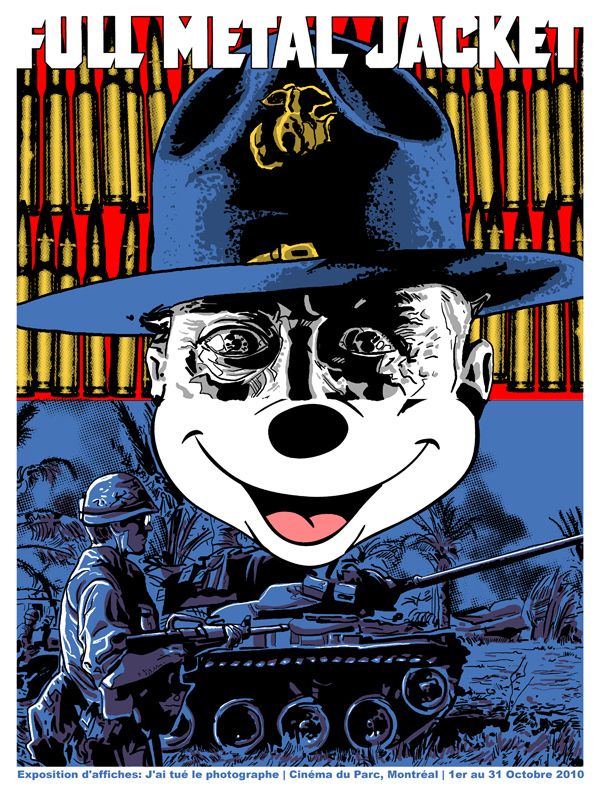 Full Metal Jacket Movie Poster
Tim Doyle
18" x 24"
$30 - Limited to 200
If you've ever seen Stanley Kubrick's
Full Metal Jacket
(and shame on you if you haven't), then you'll immediately understand the division between the top and bottom half of this print. Much like Tim's poster, the film is divided into two parts: the first half taking place at Parris Island where a group of wet-behind-the-ears Marine recruits are going through training, while the second half jumps forward to a war-torn Vietnam and a sometimes sadistic, always world-wary group of vets. This brings me to the biggest reason I like this poster: the schism in style, tone, and execution between the print's two halves.
In the upper half, Doyle uses the face of Gunnery Sergeant Hartman (played by the extraordinary R. Lee Ermey) to practically fill up the entire top section, similar to how Hartman dominates the soldiers' lives. And behind the demanding drill sergeant, Doyle has placed a luminous brassy wall of bullet casings. I'm sure I'm reaching here, but war is a bright shiny thing to these young jarheads at the beginning of the film, a scary thing as well, sure, but exciting nonetheless. Tim Doyle manages to capture both the fear and respect that the recruits have for their teacher / tormentor and inserts the practically glowing ammunition to represent an innocence not yet lost (although Gomer Pyle sees that there's an end to that). The bottom section is sullen, dark, and gloomy, much like Joker in the latter half of the film. And finally we come to Mickey Mouse. Not only is Mickey a uniquely American symbol, but he's also a character that represents optimism, good will, and a lot of other things that seem completely at odds with the movie, and for that reason all the more revoltingly prominent. These two halves, much like the film, come together to create something greater than the whole of their parts and something that definitely needs to be seen to be appreciated. With that said, it's late and I'm tired, so I'm going to take the easy way out and provide you with Tim Doyle's astoundingly more concise and accurate (he did create the thing after all) description of his
Full Metal Jacket
poster and its meaning (taken from Doyle's
portfolio
):
"I saw Full Metal Jacket at WAAAAAYYYY too early of an age, and it formed my opinion on war in a brutal 2 hour salvo. That opinion? It's not for me. As a work of art, the film is a difficult one- the tone shifts considerably at just about the half-way point- it's essentially 2 films that just happen to have the same lead. But both show the complete dehumanization one must undergo in the process of becoming war-ready, and in the execution of it. The vulgar phrase, "Sally-Jane Rottencrotch's pretty pink panties" fall on the ears like the memory of a soft lullaby of wholesomeness compared to the spray of bullets and stacks of human meat later in the film. The ubiquitous MOUSE ends each chapter in the film (in epithet and song) and presents a smiling face, now obscene in it's ineffectual innocence. And to be honest, I think it balances the poster out nicely."
Tim Doyle's
Full Metal Jacket poster
is currently available through his
Nakatomi Inc store
for the low, low price of $30. The
screen print
measures 18" x 24" and is limited to an edition of 200. To learn more about the talented fellow behind this artwork be sure to visit
mrdoyle.com
,
nakatomiinc.com
and follow
@NakatomiTim
.